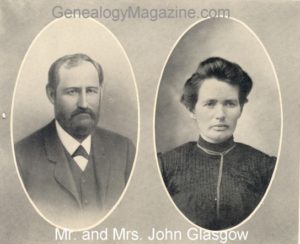 The late subject of this memoir was for a time in active business in Charlie, Clay county, where his settlement was made upon his advent to the county in September, 1893. He was a gentleman of means whose early life had been passed upon the frontier among the rough and uncouth though honest miners of the Rockies and following a streak of good fortune as a prospector he disposed of his valuable mines and decided to pass his remaining years in a less wild and romantic and more civilized community.
Mr. Glasgow was born near Wheeling, West Virginia, on the Ohio river, August 2, 1833. His parents, William and Isabel Glasgow, had three other sons, James, Robert and Henry, the latter of whom was a Colorado miner with our subject a short time, and after the war they came out to Macon county, Missouri, where their remaining years were passed. The life of John Glasgow during youth and early manhood was passed in the east and it was not until the last year of the Civil war that he became identified with the west. In 1865 he went to New Mexico and located at Georgetown, around which he got his first experience as a prospector and miner and where he remained about four years. About 1870 he went into Dolores county, Colorado, was one of the first settlers there and among the first to discover "pay dirt" and prove his locality to be rich in mineral. He was without means other than his burro and camp outfit and the hardships, privations and hopes of the typical miner were his. He was often alone and among bands of Indians, but he persevered to the end and the opening of "Black Hawk," the "Yellow Jacket" and the "Phoenix" marked the successful termination of his career with the pick and pan.
Following the opening of rich silver mines the town of Rico sprang unto consequence and John Glasgow was known among its substantial citizens. One of the avenues of the place was named for him and it was the family regret when with the thousands of dollars for which he sold his interests there he came south to a new country and began a new business in life. The store he opened in Charlie was one of the best stocks ever carried there and he erected a new building in which it was housed. He conducted his establishment some five years and afterward occupied himself with his land interests near by. He was a man with a large heart and good intentions but was a victim of a habit acquired among his comrades in the mines and himself was the worst enemy he had. He died January 30, 1901, at Charlie, and soon thereafter his family became residents of Henrietta.
Mr. Glasgow was twice married, and by his first wife left a son William, of Fort Worth, Texas. While on a visit east he met Eliza Moore and February 7, 1882, they were married at Bellaire, Ohio. Mrs. Glasgow is a daughter of Jonathan and Miranda (Street) Moore, the father of West Virginia birth and the mother of Muskingum county, Ohio. The mother died December 13, 1878, and the father then married Ella Dunlap and is now a resident of Urbana, Ohio. The Moore children were: John, of Newcastle, Pennsylvania; Ella, born January 1, 1862; Henry, who died leaving a family at Newcastle, Pennsylvania; Mary, wife of Hill Floersch, of New York City; Harriet, now Mrs. John N. Reid, of Rico, Colorado; and George E., of Rico, who married Josie Kostor.
Mrs. Glasgow's family numbers the following children: Jonathan, born in 1884; Mamie E., born December 23, 1886; Isabel, born April 27, 1889; Mabel, born January 18, 1892, in Atlanta, Georgia, and Robert Lee, born at Charlie, Texas, December 21, 1895. The education of her children has been the subject uppermost in the mind of Mrs. Glasgow a farm of four hundred and eight acres on the Big Wichita bottom and one of a quarter section lying near Charlie, both rich and productive places when the seasons do their best.
Mr. Glasgow was an old soldier. He enlisted in the Union army from Missouri, fought at Vicksburg among other engagements and sought the west upon his discharge form service after the war.
Source: B. B. Paddock, History and Biographical Record of North and West Texas (Chicago: Lewis Publishing Co., 1906), Vol. II, pp. 634-635.