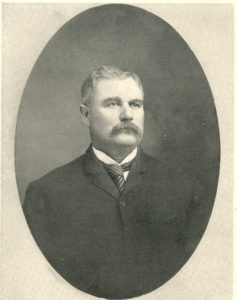 The name of John H. Wright is deeply engraved on the pages of Tarrant county's history, for through many years he has been a most important factor in the financial and agricultural interests of this section of the Lone Star state. The splendid success which has come to him is directly traceable to the salient points of his character. With a mind capable of planning, he has combined a will strong enough to execute his well formulated purposes, and his great energy and perseverance have resulted in the accumulation of a handsome property, which places him among the substantial citizens of the community.
The Wright family is of English extraction and came to this country more than two hundred years ago. Uriel Wright, the famous St. Louis lawyer, was a descendant of the first Wright family to come to America, and it was he who made the now famous speech which was delivered in St. Louis in the celebrated Kerstang Shaw breach of promise case, and which was translated into every language of importance. Grandmother Wright was a descendant of Chas. Porter of Old Williamsburg, Virginia, who also was of English stock.
Mr. Wright is a son of Dr. W. S. and Sallie (Hinch) Wright. The father was a physician, and during the infancy of their son John the family home was removed from Jackson county to St. Joseph, Missouri. At the outbreak of the Civil War Dr. Wright enlisted as a surgeon in one of the Confederate regiments of General Price, there being a distant relationship existing between the Price and Wright families, and he served about two years, when he was arrested in St. Louis, Missouri, as a spy and held for one year in the city; when he was transferred to the Alton (Ill.) military prison remaining there until his captivity had rounded out two years, four months and eleven days, the major portion of which was at Alton. Shortly after his arrest in St. Louis, he was tried by court martial and sentenced to death. Rumors had gone out that he has a child in Jackson county, Missouri, and Col. Lipcomb and Colonel James O. Broadhead, both of the Federal Army, who had taken a personal interest in the Doctor's behalf, accordingly wrote to Miss Alice Wright, of Jackson county, an aunt of our subject, and instructed her to bring the boy to St. Louis, in order to ascertain if there was any truth in the rumor. The boy came and it was previously arranged that six men should be taken into a room, after which the subject of this sketch should be brought in and told to go to his father. Immediately upon entering the room he ran to his father saying, "There is my papa," and this, too, at the age of five and one-half years, and at the time he had not previously seen his father for more than one year. This act at once removed all doubt as to the Doctor's having a child in Missouri and he was released from the sentence.
After the close of the war he took up his abode in Louisiana, maintaining his residence in new Orleans, Shreveport and other places in the state until the early '70s, when he came to Texas. After a residence here of several years he removed to Bozeman, Montana, and from there to Butte, where he died in 1882. His wife, who is also deceased, was born and reared in Bayou Sara, Louisiana.
John H. Wright, a son of this worthy couple, was born in Jackson county, Missouri, May 28, 1857, received his educational training in New Orleans, Shreveport, Nacogdoches, and his first location in Texas was at Nacogdoches, where he resided for four years. In 1875 he came to Mansfield, Tarrant county, which has ever since been his home and where he has met with such splendid success. His first business venture was as a clerk, and later he was able to enter the mercantile business in a small way for himself, about 1884, his firm being known as Wright & Martin. From this small beginning has grown the large and important concern of which he is now the head, and which was established in 1884. He is conducting a general department establishment known as the Daylight Store, one of the largest mercantile houses in Mansfield. For a number of years Mr. Wright has also been connected with the banking interests of Tarrant county, and his ability as a financier has made him a leader in financial circles. In 1895 he was instrumental in the establishment of the first bank of Mansfield, the oldest banking house in the city. On the first of January, 1898, he brought about a reorganization of this institution, remaining its president. In his banking business he follows a safe yet progressive policy, and has made the institution one of the leading financial concerns in this part of the state. The agricultural development of the county has also claimed a part of the time and attention of Mr. Wright, he being interested in the rich farming lands around Mansfield, owning six hundred acres of the rich, black soil.
Mr. Wright married Miss Lu Halsell, a native daughter of Dallas, and they have five children: Alice, Frances, Hattie, Lucian and William. Mr. Wright takes a deep interest in everything pertaining to the welfare of his town and county, and contributes liberally to the support of all measures for the public good. His career has been one of almost phenomenal success. Entering upon his business life in Tarrant county at a small salary, he has steadily worked his way upward overcoming many difficulties and obstacles in his path and advancing step by step along the tried paths of honorable effort until he has reached the goal of prosperity. Mr. Wright lives in the handsomest home in Mansfield, which he erected at a cost of fifteen thousand dollars.
Source: B. B. Paddock, History and Biographical Record of North and West Texas (Chicago: Lewis Publishing Co., 1906), Vol. II, pp. 194-196.