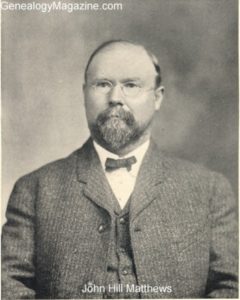 JOHN HILL MATTHEWS. A just tribute to those whose lives have been inseparably connected with substantial development of a community and the noontime of whose careers has been reached in the complex service of man and his municipality prompts us to a personal reference, the subject of which forms a centerpiece in the beautiful civil and commercial mosaic, set in Bowie's domestic escutcheon. It is our privilege, in this instance, to take up only one of these settings, for it marks plainly a character forming one of the main supports to the town in its march from hamlet to city and from an infant village to a strong and vigorous rural metropolis.
John H. Matthews, as events have shown, has been a positive force, a tower of strength and a shining light in Bowie's urban development and to its achievement as an important trade center he has given, unstinted, of his energy, his money and his time. Becoming identified with it, as he did, when it was a vigorous infant, in 1882, he has been one of its full majority it presents a healthy, growing corporation and bids defiance to all rivals.
While not a native Texan Mr. Matthews has been a resident of the state since 1871, at which date his parents settled on a farm, and amid rural surroundings he grew up. The accumulation of wealth was not one of the family peculiarities and our subject faced the world at the age of seventeen with little learning, poor in body and poor in purse. He was bent on winning his way in the world and it is strange that the first permanent position which he secured was with a company whose influence so markedly shaped the course of his life and guided it into channels of usefulness. From his Grayson county home he went to Gainesville, in 1879, and applied there to the lumber firm of Lyon & Gribble for work. He was hired and made wagon man, lumber piler and all-round yard helper, and at once felt, no doubt, that his star of empire was about to rise. He had so applied himself and mastered the essential details of the business that when the company established its yard in Bowie he was placed in charge of it. From 1882 to 1890 he made his employers' interest his own and was rewarded the latter year by being taken into the firm and Lyon and Matthews then began doing business in Bowie. In 1900 this partnership into the hardware and implement business, as it is broadly understood in Texas, and the business of Lillard & Company in Bowie was purchased and this, with its various enlargements and extensions, has come to be the most extensive and important mercantile house in the city. Branch lumber yards have been established in Bellevue, Texas, and Hobart, Oklahoma, and it the latter city a branch of their mercantile house was also founded.
Forsythe county, North Carolina, was Mr. Matthews' native place and his birth occurred June 14, 1861. As an active business man, in early life, his father, James E. Matthews, was a merchant. The latter was born in Henry county, Virginia, in 1830, and accompanied his parents into North Carolina in boyhood. He grew up in the latter state where he acquired a fair education in the common schools. His father, William Matthews, was a farmer and saw mill and grist mill man who died at about fifty-six years of age, and his mother was a Miss Staples who passed away after rearing a large family of children.
In his early life James E. Matthews got into politics, being elected to the lower house of the North Carolina legislature, as a Whig, before he was twenty-one years old. He entered mercantile pursuits in the town of Stokesburg, but retired from it before the outbreak of the rebellion. During the war he was a colonel of a Confederate regiment and was in the service throughout the struggle.
The issues of the war and its results changed his political views and he became a Democrat and as such was elected to the state senate of North Carolina. He was repeatedly returned to the senate, a fact of sufficient moment to insure us of his reliability and usefulness as a legislator. When he came to Texas he soon got into politics and was elected from Grayson county to the popular branch of the Texas legislature, where he served two terms.
In 1853 James E. Matthews and Miss Susan Cole were married. Mrs. Matthews resides with her son in Bowie, while her husband passed away January 13, 1894. He was a Mason and an Odd Fellow and member of the Methodist church. Of their many children George W., of Temple, Texas, was the oldest; then James F., of El Reno, Oklahoma; Robert F., of Grayson county; John H., our subject; Christopher C., of Kansas City, Missouri; Mrs. E. K. Flenor, of El Reno; Mrs. Ida Adkinson, of Grayson county; Mrs. Ella M. Wilson, of Dye Mound, Texas; Walter R., of Bowie, and Thomas J., of Montague county.
May 7, 1883, John H. Matthews and Miss Mary Lucia Hubbard were married in Bowie. Mrs. Matthews was a daughter of Dr. Socrates Hubbard, a New York man who, some years later, took his family to California and at Pasadena himself passed away. Mrs. Hubbard was a Snowden and of her six children Mrs. Matthews was her only daughter, and was born at Quincy, Illinois, in 1861. September 26, 1904, Mrs. Matthews died, leaving two surviving, Robert Leslie and Erminie, a son and a daughter.
Mr. Matthew's identity with Bowie dates from its inception. He was one of its organizers and held some position in the city government for sixteen years. He was mayor for ten years and actively promoted its waterworks, school houses, etc., and held out a welcome hand to everything calculated to benefit and further the welfare of the town. He donated a year's time and a few thousand dollars in cash as a member of the committee selected by the corporation to visit Topeka, Kansas, in the interest of securing the Rock Island railroad for Bowie. He is a Royal Arch and Knight Templar Mason, serving long as master of the lodge and as high priest of the chapter and has several times attended the State Grand Lodge as a delegate. He is an Odd Fellow and a Pythian Knight, and a Methodist. For twenty years he has been superintendent of the Sabbath school and is steward and district steward of the church and was a delegate to the Methodist General Conference at Richmond, Virginia, in 1886.
Source: B. B. Paddock, History and Biographical Record of North and West Texas (Chicago: Lewis Publishing Co., 1906), Vol. II, pp. 449-450.