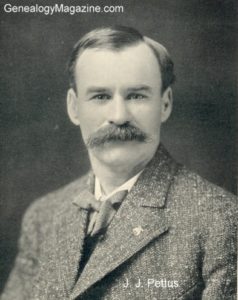 The ancestry of the Pettus family can be traced back to England, whence representatives of the name emigrated to the United States, settling in Virginia. John Pettus, the great-great-grandfather of our subject, married Miss Susanna Winston, a descendant of a distinguished family. The children of this marriage were: Thomas T., born April 17, 1755; Sarah, September 7, 1757; Amos, August 17, 1761; John Pettus, August 17, 1765; Susanna, April 20, 1769; Overton, August 16, 1770; Mary, December 7, 1772; Horatio, April 15, 1775; William, June 9, 1777; Elizabeth, November 11, 1781. The descendants of these ten children are in almost every southern state, being perhaps most numerous in Alabama, Tennessee, Texas and Mississippi.
Horatio Pettus, the great-grandfather, born April 15, 1775—just four days before the battle which inaugurated the Revolutionary war—was a native of Lunenburg county, Virginia, and after arriving at years of maturity was united in marriage to Miss Mary Poindexter, a daughter of Phillip Poindexter, of Virginia. Their family included Winston P. Pettus, who was born in Charlotte, Virginia, on the 4th of March, 1806. He married Miss Mary D. Williams, daughter of Amos and Mary Williams, who went to the frontier with Daniel Boone.
Colonel Thomas F. Pettus, son of Winston P. and Mary D. Pettus, was born in Florence, Lauderdale county, Alabama, August 12, 1828, and remained in his native state during his youth and early manhood. He became a prominent factor in public affairs in early life and was elected doorkeeper and sergeant-at-arms of the Alabama senate for the season of 1851-2. The following year he was chosen colonel of the Eleventh Regiment of Alabama Militia. A stanch adherent to the principles of the Whig party during its existence he did much to mold public thought and opinion in the localities with which he was connected and throughout his entire life has been a man of influence. In 1859 he removed to Mississippi, settling in Jackson and soon afterward he took up his abode in Morton, Scott county, Mississippi, where he resided for fourteen years except for a short period spent as a member of the Confederate Army. He raised the first company that was mustered in for war, May 23, 1861, and was elected its captain. In August, 1861, his company was in Lynchburg camp of instruction and became Company H of the Twentieth Mississippi Regiment. From that point he was ordered to West Virginia with his troops and joined General Lee's command. He was affected with hemorrhage of the lungs and for this reason was discharged from the service after a connection of only a few months with the army.
In 1865 Colonel Pettus joined Major J. R. Stevens and Robert Willis in the establishment of a firm for the conduct of a general mercantile enterprise under the style of Pettus, Stevens & Company, and was identified with its interests for about six years, or until 1871, when he sold out his partnership with his brother, Horatio O. Pettus. In 1873 he removed to Newton, Mississippi, taking charge of the business established there under the firm style of Richardson & Company. He managed this until 1881 and in 1883 he sold his interest to W. B. Richardson, while in 1884-5-6 he engaged in the purchase of cotton as a commission merchant. He was thus an active factor in commercial circles from the time of his military service until 1887, when he disposed of his business interests upon receiving his appointment to the consulate in China. In September, 1886, he was appointed by President Cleveland consul to Ning-Po and arrived in China of that year. He served for four years, or until June, 1890, when he was removed by President Harrison, owing to the change of administration. He was a delegate to the Democratic national convention in 1884 and again and again served as a delegate to state conventions and is widely recognized as an influential and prominent representative of his party, having from the time of the dissolution of the Whig party been a stanch advocate of the Democracy. He has been called to a number of local offices, serving as mayor and notary public of Newton, Mississippi, his election to the former office occurring in 1892, 1894, 1895, 1896 and 1897. Following his return from China he removed to Albany, Texas, in March, 1899, feeling that the dryer climate of this state would prove beneficial to his health. He was engaged in the dry goods business there from the 1st of January, 1890, until August, 1904, when he removed to Moran, where he has since conducted business as a dealer in dry goods and groceries, being one of the leading representatives of commercial interests in his part of the state. His life has been one of great activity, actuated by a spirit of definite and immediate service. He was one of the trustees of the Jackson (Mississippi) insane asylum, resigning that office in January, 1899, upon his removal to Texas. Colonel Pettus is a worthy member of the Methodist Episcopal church, South, has been identified with the Masonic fraternity since 1851 and holds membership relations with the Knights of Pythias and the Knights of Honor. His life has been one of untiring activity and he has ever been accorded the respect and honor of his fellow men because of an upright career and fidelity to every duty.
While living in China Colonel Pettus lost his first wife, who bore the maiden name of Annie M. Cowley and was a daughter of the late Steven Cowley, of Virginia. Her birth occurred in Portsmouth, Virginia, and she died in China on the 19th of January, 1888, when forty-seven years of age. By this marriage there were five children, three sons and two daughters, of whom two sons and a daughter are yet living: J. J. Pettus, of Sweetwater; Frank P., of Moran, Texas; and Mrs. W. C. Sanders of this state. Those deceased are Bessie L. Burke and Stephen W. Following his return from China Mr. Pettus married Mrs. Elizabeth Hart at Hot Springs, Arkansas, on the 1st of September, 1901.
John Jones Pettus, was born in Scott county, Mississippi, on the 19th of October, 1862, acquired his early education in the common schools of Scott and Newton counties. At the age of fifteen years he entered his father's store, receiving therein practical business training. He was thus engaged until 1886, when he came to Texas, spending one year in Decatur, after which he removed to Mojave, California, and for two years was in the employ of the Southern Pacific Railroad Company as billing clerk in the freight department, returning thence to Decatur, Texas.
In January, 1890, he formed a co-partnership with J. M. Bennett and W. B. Portwood for the conduct of a dry goods business at Waxahachie, Texas, under the style of Bennett, Pettus & Company. He sold out to his partners and in 1892 he formed a partnership with his father and conducted a dry goods business in Kansas City, Missouri, under the style of Pettus & Company.
On the 21st of February, 1894, Mr. Pettus was married to Miss Rose Lillard, a daughter of J. W. Lillard, then of Nevada, Missouri. In 1896 he removed to Albany, Texas, where he became manager of a dry goods store and subsequently he conducted similar enterprises in Abilene and Merkel. In March, 1901, he came to Sweetwater, where he entered into partnership with S. A. Lillard, of Decatur, and they purchased the dry goods stock of Wight & McHan. In 1902 they erected their present building, which was constructed of rock and is located in the center of the business district of the city. They do both a retail and jobbing business under the name of Lillard & Pettus, but in their advertisements are known as the Sweetwater Mercantile Company. Their trade is drawn from a wide area covering several counties and theirs is the largest mercantile house in this part of the state. In connection with their store they also own a ranch in Nolan county and are quite extensive dealers in horses, mules and cattle. Their business methods are in keeping with modern ideas of progress and will bear the closets investigation and scrutiny. Utilization of opportunity and an earnest desire to please their patrons, straightforward dealing at all times and unremitting diligence and the strong and salient characteristics in the business career of the Sweetwater Mercantile Company.
Unto Mr. and Mrs. Pettus have been born four children, three sons and a daughter, Thomas Warren, Annie Margaret, John Jones, Jr., and Thurmond Lillard. Fraternally Mr. Pettus is connected with the Masonic lodge and chapter in Sweetwater, with the commandery at Abilene and with Hella Temple of the Mystic Shrine. He also affiliates with the Knights of Pythias and the Woodmen of the World. A typical American business man, alert and enterprising, he has steadily worked his way upward in commercial circles from the position of a humble employe[e] until he stands at the head of one of the large mercantile establishments of western Texas, having the entire management of the business. Energetic and reliable, he possesses in large degree those qualities that are essential to success and has found that prosperity is ambition's answer.
Source: B. B. Paddock, History and Biographical Record of North and West Texas (Chicago: Lewis Publishing Co., 1906), Vol. II, pp. 512-514.