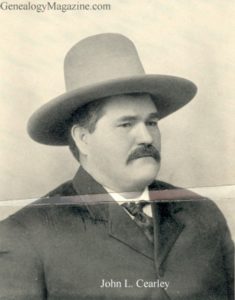 The position of sheriff of Wise county, which John L. Cearley of this review holds, represents the climax of achievement in a life obscured by the lack of opportunity and filled with the hard and slavish demands of toil. It represents the accomplishment of results in the face of apparently insurmountable difficulties and demonstrates the ultimate possibilities of a man of purpose hemmed in by the chains of poverty and intellectual darkness. It represents the grand finale in a continuous and monotonous performance of a quarter of a century on the stage of life in which the chief actor has been roustabout, property man and curtain-raiser all in one.
But while Mr. Cearley was climbing this apparently movable stairway to the realms of the upper-world of affairs he profited by the mental and physical bruises he experienced as the child profits by its first mental awakenings, and when he arrived at the threshold of the door openings to the goal of his life ambition he was prepared to assume his new responsibilities with credit to himself and with satisfaction to his admiring friends.
As has been intimated the life or our subject has been one of intense industry and that of the rural sort. The farm was his birthplace, playground and almost described the limits of his school, for he did pass three months during his boyhood within the walls of a country school. He accompanied his father's family into Denton county in 1869, and into Wise county in 1879, and on a wooded farm on West Fork the years of his minority were completed. He was born in Carroll county, Tennessee, November 16, 1860, and was reared under the influences of a Christian home. His father was a Missionary Baptist minister, the Rev. John W. Cearley, well known over the counties of Denton, Clay, Cooke, Wise and Jack as a powerful and successful agent and ambassador of the Lord who was often moderator of the Baptist Associations over these counties and in other ways intimately connected with the work of the church.
Rev. Cearley was a native of Virginia in 1819, a son of Luke Cearley, who settled in Dyer county, Tennessee, where his son was a youth and was there a farmer and stockman in moderate circumstances. The latter died in Dyer county, Tennessee, in 1871, at seventy-six years of age. He was twice married and by whom the Rev. Cearley alone reared a family. By his second marriage a number of children were born and lived in their native state. Rev. Cearley married, in Mississippi, Milly, a daughter of Rev. Mr. Booth, a Baptist preacher whose son, the Rev. Howard Booth, was a prominent divine throughout portions of Mississippi. Mrs. Cearley died in Tennessee, in 1860, having been the mother of: Phillip, who died in Rock Island, Illinois, a prisoner of war; Abijah, who died in 1864; J. Frank, who died in 1899; and Mary, wife of Isaac McCormick, who passed away in 1874, and John L., the subject of this review. Rev. Cearley chose for his second wife Lucy Taylor, who bore him: James, who died unmarried; Samuel, who died in 1870; Fannie, wife of J. L. Laboon, of Chickasha, Indian Territory; Cora, of Bridgeport, Texas, wife of P. A. Largent, and Roswell, who died unmarried. Again, and for the third time, Rev. Cearley took a wife, his last one being Jane Gentry, who bore him no family. The venerable father of this family died February 7, 1901, aged eighty-two, full of years and having lived a busy and most useful life. He was educated very little beyond what experience taught him, was an able bible scholar, an entertaining and fluent talker and a man of eloquence in the pulpit or other places of public address.
John L. Cearley lived on the farm until he assumed the sheriff's office in 1902 and with its monotonous affairs he contended himself with clearing up and bringing under tillable subjection a heavily timbered farm. On the West Fork between Bridgeport and Chico lies the homestead where he and a brother expended the power and strength of their youth while converting forest into farm. He was elected constable of Precinct No. 7 in 1886, and filled the office efficiently for ten years, all the while carrying on the work of his farm. In 1898 he was defeated for sheriff by a small vote and he bided his time for years and was easily nominated and elected in 1902. He was re-elected in 1904 and his administration has been one of the most competent and efficient in the history of Wise county.
December 2, 1888, Mr. Cearley married, at Chico, Texas, Effie, a daughter of Robert W. Dickinson, formerly from Obion county, Tennessee. Mrs. Cearley was born in Tennessee in 1870 and she and Mr. Cearley are the parents of: Maggie F., Ora T., and Hallie Geneva. Mr. Cearley is a Mason and a Knight of Pythias and a member, with his family, of the Missionary Baptist church.
Source: B. B. Paddock, History and Biographical Record of North and West Texas (Chicago: Lewis Publishing Co., 1906), Vol. II, pp. 320-321.