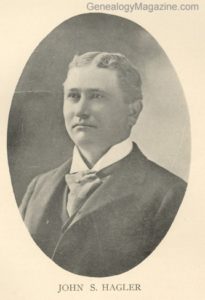 JOHN S. HAGLER, of Fort Worth, one of the distinguished lawyers practicing at the Texas bar, the exercise of his native talents and his acquired ability gaining him prominence, is a native of Montague county, Texas, born March 4, 1867, his parents being Captain David S. and Sallie M. (Dennis) Hagler. The father was born in Alabama but in early youth came to Texas, arriving in this state in 1836. He located first in Lamar county, where he lived until July, 1858, when he removed to Montague county, becoming one of its first settlers and organizers. Captain Hagler was one of the old-time Texas Rangers and organizers, and was the captain of a company of Rangers that was in service on the Texas frontier for several years. He built the first plank house in Montague county, hauling the lumber all the way from Jefferson, Texas, and guarding it from the Indians, who would have taken it from him. He was a very prominent and influential citizen in Montague county, exercising strong influence in behalf of improvement and progress and there he resided until his death, which occurred in 1873. His wife was a native of Lamar county, Texas, and her father, a native of North Carolina, was one of the honored pioneers of the Lone Star state. Mrs. Hagler is still living.
In addition to his other business interests Mr. Hagler was largely interested in cattle and John S. Hagler was practically reared in the saddle, running cattle as a cowboy. He attended school in Montague county until he was seventeen years of age and from that time until he attained his majority he was a cowboy on the plains of Texas, making a trip or two with cattle over the trail to Montana. On attaining his majority he was married to Miss Sallie C. McLain, a daughter of L. L. McLain, at one time sheriff of Montague county.
About this time Mr. Hagler turned his attention to the real-estate business in Montague, Texas, and his marked enterprise, close application, and keen business discernment, soon gained him success and thereby was laid the foundation of his present prosperity. While he was engaged in that business his wife died, passing away on the 4th of May, 1892, leaving three children: Lura, Marina and David S. Theirs had been a most happy married life and Mrs. Hagler's many excellences of character had also endeared her greatly to a large circle of friends as well as to her immediate family.
Following the death of his wife Mr. Hagler entered upon the study of law in the law department of the University of Texas, at Austin, and completed the course by graduation in 1894. He then took up law practice at Bowie, where he remained until 1899, when he removed to Fort Worth, and where he has since lived. While still a resident of Montague county and even prior to the time that he entered law school he had formed a partnership with Judge Silas Hare, of Washington, D. C., who at that time was a member of congress. It was through Judge Hare's efforts, assisted by Governor Throckmorton, that a bill was introduced and passed by congress providing for the adjudication of the Indian depredation claims of Texas citizens. When the Federal soldiers stationed along the Texas frontier were withdrawn the Indians of New Mexico, Indian Territory, and other government reservations continually harassed the people along the Texas frontier. The began their work of depredation in 1865 and not only stole horses and cattle valued at millions of dollars but also jeopardized the lives of the citizens and many murders resulted. This constant warfare of the red men against the white race was continued until 1874, when the government brought them into subjection. These Indian depredations claims are for cattle and horses stolen and for other damage done during those years and their payment by the government, in accordance with the bill introduced by Judge Hare is in Mr. Hagler's opinion one of the most beneficent pieces of legislation ever enacted for the Texas people, as it has been the means of distributing more than a million dollars among a class of people who were instrumental in opening up, settling and improving the great frontier, many of whom have become poor and are deserving of this restitution. Mr. Hagler's law practice is almost entirely taken up with these Indian depredation claims. He is still associated with Judge Hare, who lives in Washington and attends to the management of their legal business in that city.
As the years have passed Mr. Hagler has made judicious investment in real-estate and is now the owner of a ranch in Foard county, in Montague county, and in Tarrant county. He has herds of cattle upon these ranches and his stock raising business is a source of gratifying income to him. He also figures in financial circles as the president of the First National Bank, at Crowell, Foard county. His chief business, however, is the practice of law.
Nature bountifully endowed him with the peculiar qualifications that combine to make successful lawyer. Patiently persevering, possessed of an analytical mind, and one that is readily receptive and retentive of the fundamental principles and intricacies of the law; gifted with a spirit of devotion to wearisome details; quick to comprehend the most subtle problems and logical in his conclusions; fearless in the advocacy of any cause he may espouse, and the soul of honor and integrity, few men have been more richly gifted for the achievement of success in the arduous difficult, profession of the law.
Source: B. B. Paddock, History and Biographical Record of North and West Texas (Chicago: Lewis Publishing Co., 1906), Vol. II, pp. 200-201.