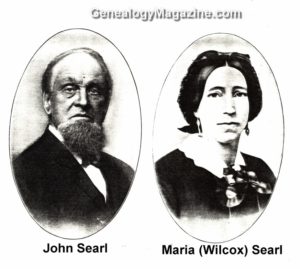 John Searl, now retired from active business life and residing just outside the city limits of Rockford, where he owns a tract of land of fifteen acres, upon which he has built a fine home, also has other realty possessions in Winnebago county, being the possessor of a fine farm of two hundred and thirty acres on section 9, Rockford township, which land he has rented for several years. He came to Winnebago county in 1850 from his native country of England. His birth occurred in Cornwall, in 1835, his parents being Walter and Ann (Philp) Searle [sic], both of whom died in England, but three of their children came to the new world. The brother of our subject, Walter Searl, located in Winnebago county about 1850, and for a time followed his trade of carpentering but afterward gave his attention to farming. He died about ten or twelve years ago, leaving three sons and a daughter, all of whom were born in this county— John F., William, Frank and Annie—all yet residents of Rockford. The sister, Sarah, became the wife of William F. Matthews and is now residing in Rockford.
John Searl spent his early youth in England, where he acquired his education in private schools and when a young man he crossed the Atlantic to the new world, hoping to find better business advantages in America, where advancement is more quickly acquired and returns follow more readily upon the exercise of industry and enterprise. He is a carpenter by trade and followed that pursuit both in Canada and in Winnebago county. Removing from the Dominion to the United States he took up his abode in this county where about twenty years ago he purchased his present farm and for a long period he continued actively in its operation and improvement. He has made his home at his present residence, however, for a long period and at this writing is leaving the farm work entirely to others, receiving a good rental from his land which is rich and valuable and in his present home he has fifteen acres of land well laid out and adjoining the city limits of Rockford so that while enjoying the advantages of a rural home he also can secure those of city life with little effort.
Mr. Searl was united in marriage to Miss Maria Wilcox, a native of Cornwall, England, their wedding being celebrated at Beloit, Wisconsin, in 1853, but he made his home in Rockford, however. Mrs. Searl departed this life about nine years ago, when more than sixty years of age. In politics Mr. Searl has always been a republican, giving his support to the party since becoming a naturalized citizen of the United States. The hope that led him to seek a home in America has been more than realized and he has never had reason to regret his determination to cross the Atlantic for here he found the business opportunities he sought and which are always open to young men of ambition and determination. Thus making the most of his advantages he steadily worked his way upward to a position of affluence.
Source: Charles A. Church, Past and Present of the City of Rockford and Winnebago County County, Illinois (Chicago: S. J. Clarke Publishing Co., 1905), p. 342.