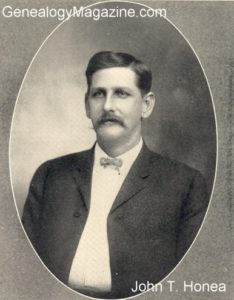 JOHN T. HONEA, for fifteen years an honored resident of Tarrant county, is a man who has been conspicuously useful to his fellow citizens in an official capacity. He is now serving Tarrant county for the second term as sheriff, and it is only necessary to quote a brief newspaper item that appeared some time since to show the excellence of his record and his worth in public office. " 'Conditions are distressingly good from a moral standpoint,' said Sheriff John T. Honea to-day to the Telegram, in referring to arrests that have been made during the past few months. At the present time there are only about thirty-five prisoners confined in the county jail, the smallest number in the two years of Mr. Honea's administration. Heretofore the smallest number confined in the jail has not been less than fifty. 'There is very little crime at this time,' added the sheriff. The commissioner's court took occasion yesterday to compliment the sheriff on the fact that during his two years of service not a single damage suit had been filled against him."
Born at McKenzie, Carroll county, Tennessee, in 1864, Mr. Honea is the son of Dr. David F. and Martha J. (Roach) Honea. His father, a native of Alabama, lived practically all his life in Tennessee, where he was a successful medical practitioner. He died at his home in Carroll county, Tennessee, aged forty-six, in 1876. The mother died on the 26th of July, 1905, aged sixty-seven years, and is buried beside her husband, in Carroll county, Tennessee. She is a sister of the late Judge Roach of Weatherford, Texas.
Mr. Honea first came to Texas when he was fourteen years old. He spent about a year at Clarksville on the Red river, then went to Weatherford about the same length of time, after which he returned to Tennessee. In 1884 he came back to this state and finally located in Arlington in Tarrant county in 1890, has ever since been a resident of this county. He began his official career as constable of Arlington, and was also marshal of that town during the time when it was noted for being a "tough" place, a condition which he did much to better. In 1896 he was appointed deputy sheriff of Tarrant county, Sterling P. Clark being sheriff, and continued under Mr. Clark for two years, after which he was deputy constable for two years. In 1900 he was candidate for the Democratic nomination and elected, in November, 1904, for a second term. As indicated above he is the only sheriff in the history of this county who has not had a damage suit filed against his office, and this brought out the complimentary motion for him at the meeting of the county commissioners in November, 1904.
Mr. Honea takes an active interest in the affairs of his county and city, and is a man of broad-gauge principles and of absolute integrity. He is a member of the board of trade, and has affiliations with the Woodmen, the Red Men and the Eagles.
Mr. Honea has been twice married. His first wife was Miss Maggie Parker, whom he married in Carroll county, Tennessee, in 1885. She passed away in 1897 leaving three children, Otis, Archie and Olga. Mr. Honea has since married Miss Laura Roak, in this county. Mr. Honea has distinguished himself by putting down all gambling in the city of Fort Worth, being the only man to every succeed in so doing. He is a man of sterling worth, keen foresight, energetic to a marked degree and a man who prosecutes all criminals with firmness, and takes delight in seeing the law enforced.
Source: B. B. Paddock, History and Biographical Record of North and West Texas, Vol. II (Chicago: Lewis Publishing Co., 1906), pp. 97-98.