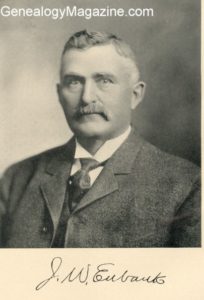 JOHN W. EUBANK, county surveyor of El Paso county, Texas, is one of the citizens that Kentucky has furnished to the western section of this great state, for his birth occurred in Barren county, near Glasgow, October 26, 1854. There he was reared to farm life, completing his education in the Glasgow Normal school at Glasgow, from which he was graduated in the class of 1878, after having prepared for teaching and for civil engineering. He followed the former profession for a time in Barren county and then came to Texas in 1879, settling at Fort Worth, where he secured a position as teacher in the third ward school. In the meantime construction work had begun westward from Weatherford on the Texas & Pacific Railway, and in May, 1880, he joined the engineering corps of that road in surveying the line westward through Texas, being associated with the engineering corps until the road was completed to El Paso in 1881. It is a matter of interest that few now recall that the original survey for the Texas & Pacific Railway did not terminate at El Paso, but the corps of which Mr. Eubank was a member surveyed the line still farther westward to Globe, Arizona, but no construction work was done beyond El Paso.
On the completion of the road to this point Mr. Eubank located in the city, where he has since permanently made his home. He was first elected county surveyor in 1886 and served the regular term of two years and in 1904 he was again chosen to that office, which he is now occupying at the present time. In 1890 he was appointed assistant chief engineer of the Mexican Northern Railway and assisted in locating the line and in building the road, in which work he was engaged for about two years. Previously, in 1889 and 1890, he was chief engineer for the irrigating canal that was built at that time in eastern Texas in the early '90s but returned to El Paso, whence he went into Mexico again as mining engineer of some mines which were being promoted by a Kansas City syndicate in the Sierra Madre country. As surveyor Mr. Eubank has laid off nearly all of the additions to El Paso. At present he is a large stockholder in the Compana de Transportes de Sierra Mojada, a company which owns an extensive tramway for hauling or in the state of Coahuila, Mexico, a proposition that is bringing Mr. Eubank rich financial returns.
Mr. Eubank was married in Michigan September 19, 1888, to Miss Jessie Stanfield, and they have one daughter, Eleanor. Mr. Eubank is a member of the Pioneer Association of El Paso. In his active business career he has done much for the promotion of projects that have led to the substantial upbuilding of the western country and has gained a wide and favorable acquaintance as a reliable and capable business man. He has seen almost the entire growth of this section of the state as it has been reclaimed from the free range for the purposes of civilization and transformed into fine ranches and farms, dotted here and there with thriving towns, villages and cities, containing all of the industrial and commercial possibilities and interests known to the older east.
Source: B. B. Paddock, History and Biographical Record of North and West Texas (Chicago: Lewis Publishing Co., 1906), Vol. I, pp. 647-648.