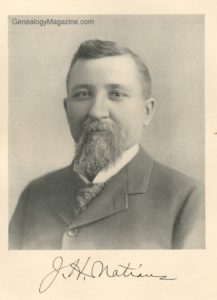 JOSEPH H. NATIONS, a well known stock man of El Paso, was born in Gonzales county, Texas, January 5, 1857, a son of Eli and Eliza (Woodruff) Nations. The father was a native of Mississippi and in the early forties came to Texas, settling in Gonzales county. His wife was born in Texas. They are now living in El Paso and are among its pioneer settlers. She belongs to one of the well-known pioneer families of Texas. She was born prior to the establishment of the Texas republic, lived under that brief regime and her father was a participant in the events which brought independence to the state. Her half sister was the wife of Anson Jones, one of the earliest governors and contemporary of Samuel Houston.
Throughout his entire life Joseph H. Nations has been connected with the live stock interests of this state. He was one of the prominent cattle men of the early days in western Texas, coming to this part of the state before either the Southern Pacific or the Texas Pacific Railroads were completed. He operated largely in the Pecos river country and still owns a large ranch in Pecos county. He located permanently in El Paso in the winter of 1887, and has there since made his home. He has been an is yet extensively interested in stock, being largely engaged in sheep raising in New Mexico and in addition he has large cattle interests in Texas. He is the owner of the J. H. Nations Meat & Supply Company, which business is conducted in his building, known as Nations Block, located in the heart of the business section of El Paso, at No. 214 San Antonio street. He has made extensive and judicious investment in real estate in El Paso, principally in East El Paso, where he has been associated with the Newmans and others prominent in the development of residence property there. He is president and stockholder in the Highland Realty Company, the best improved addition to El Paso.
Mr. Nations was married to Miss Ida M. Hicks, of Lavaca county, Texas, and they have four daughters, Josephine, Annie, Catharine and Mary. Mr. Nations is a most generous and benevolent man and has a standing offer in the local papers to supply meat free to the worthy poor. He is unassuming in manner and free from ostentation, but is widely recognized as a prosperous and successful business man, and a gentleman of genuine, personal worth, whose life exemplifies many sterling traits of character, and he fully merits the confidence which is uniformly given him.
Source: B. B. Paddock, History and Biographical Record of North and Western Texas (Chicago: Lewis Publishing Co., 1906), Vol.II, pp. 480-481.