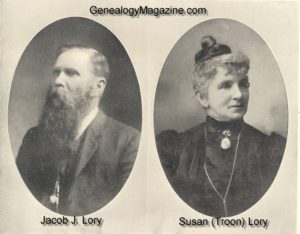 JUDGE JACOB J. LORY is now a retired cattleman of Wichita Falls, and during the years of his active career was extensively identified with the live-stock industry in North Texas, beginning at a time when the country was in the rough and participating in the pioneer development and up building of an immense and fertile territory. In fact, Judge Lory has nearly always lived and carried on his chief work in comparatively new centers of civilization and has thus been among those who prepare wild countries for the age of enlightenment and progress which follows the pathfinders.
Mr. Lory was born in Cornwall, England, in January, 1839, being a son of Richard and Nancy (Jose) Lory. Both his parents were natives of Cornwall, and in 1859 came to the United States and located with their family on a farm in Grant county, Wisconsin. His father farmed there during the remainder of his active career, and finally retired and lived in ease until his death, in 1900, aged eighty-six years. His wife also passed away at the old home in Wisconsin, aged sixty-five years.
Mr. Jacob J. Lory was a boy of ten years when he crossed the Atlantic to the scene of his future activity, and the greater part of his education was obtained in the schools at Platteville, Wisconsin. His earliest years were passed on a farm, and he learned agricultural pursuits as a part of his business training. He remained on his father's farm until he was twenty-six years old, and for three years of that time was engaged in farming for himself. He then moved over into northwestern Iowa and located at the town of Pomeroy in Calhoun county. This was then a new town, and he was one its first citizens. He built the first store building there and established a mercantile business. When he settled there the railroad had not reached the place, but during his eight years' connection with the village quite a center grew grew [sic] up and he was prominently identified with its activity and progress. It was due to ill health that he left this Iowa home, and he and his wife came to northern Texas, living for the first year in Gainesville, Cooke county. Cooke county is now one of the thickly populated parts of the state, but when he came some twenty-seven years ago, the inhabitants were few and the land was largely unfenced range, fit especially for the grazing of cattle and sheep. Mr. Lory started a sheep ranch two miles from St. Jo, in the northwestern part of the county. In 1879 he moved into Archer county and bought a larger ranch, on which he continued the sheep industry. Sheep-raising continued as his chief work until 1891, at which time he turned his attention to the raising of cattle, and from that time until his retirement he was one of the successful cattlemen of Archer county. He engaged in the industry on an extensive scale, and he was well fixed financially when he gave up active work. In November, 1898, he left his ranch and moved to Wichita Falls, where he has made his residence ever since. He has an attractive and comfortable home in this city, and spends considerable of his time in cultivating a pretty garden of fine fruit trees, flowers and vegetables. He is now living alone, for his home was deprived of his wife and companion on June 20, 1902, at the age of fifty-three years. Her maiden name was Miss Susan Troon, and she was also a native of England.
Judge Lory is a Republican, but while living in the Democratic county of Archer, in spite of his private political views, he was elected to the office of county commissioner and served as such for two terms. In Wichita Falls, where he is looked upon as a most valuable citizen, he is a member of the city council. He is the owner of valuable business property in this city, and his concentration of energy during his early years and his excellent business control have left his later years in the high tide of prosperity. He is honored and respected for his personal opinions, and his integrity and sterling citizenship are in constant evidence.
Source: B. B. Paddock, History and Biographical Record of North and West Texas (Chicago: Lewis Publishing Co., 1906), Vol. II, p. 664.