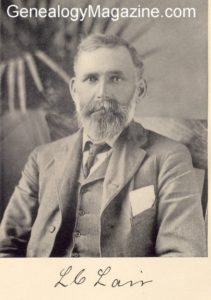 JUDGE LYCURGUS C. LAIR, one of the representative citizens of Randall county, Texas, where he is well known as a stock farmer, is also identified with the business interests of Canyon City. He was born at Wild Goose Shoals, on the Cumberland river, in Russell county, Kentucky, March 21, 1848, a son of Dr. William Dixon and Narcissi (Barger) Lair. The father, who was of Scotch descent, removed with his family from Kentucky to Texas in 1857, locating first in Grayson county, where the family made their home for over a year, removing on the expiration of that period to Collin county, establishing their residence twelve miles north of McKinney. There Mr. Lair spent the remainder of his life, passing away in death on the 3d of June, 1887. During the long period of over fifty years he was a medical practitioner, having met with a high degree of success in his chosen profession. Mrs. Lair long preceded her husband to the home beyond, dying in Grayson county, in 1858.
Lycurgus C. Lair was but a lad when the family established their home in the Lone Star state, and within its boundaries he has ever since resided. After attending the common schools near his home, he entered the common schools near his home, he entered Lodonia Academy, in Fannin county, where he enjoyed superior educational privileges, and after leaving the school room turned his attention to farm pursuits, remaining at the old homestead until about 1876. In that year he embarked in the mill and grain business in Anna, Collin county, thus continuing for fourteen years. In November, 1891, he went to the Plains country, purchasing land in Randall county, but in the following January returned with his family, and since that time has resided in Randall county. His home is located two miles south of Canyon City, where he owns a section of land, productive and well cultivated, on which he raises alfalfa and the crops adapted to this section of the country, also doing a general stock business. He has done much to demonstrate that this is a region suitable for general farming and cotton-raising, and capable of supporting a large population. The judge also has an office in Canyon City, where he conducts a general real estate and live stock commission business, meeting with a well merited degree of success in all his undertakings.
In 1874, in Collin county, Texas, Judge Lair was united in marriage to Miss Elizabeth J. Parris, and they have become the parents of eight children. In his fraternal relations Mr. Lair is connected with the Masonic order, and religiously is a member of the Baptist church. In 1896 he was elected county judge of Randall county, to which high office he was twice re-elected, serving in all for six successive years. He is numbered among the leading and substantial citizens of Randall county, prominent alike in social, political and business circles.
Source: B. B. Paddock, History and Biographical Record of North and West Texas (Chicago: Lewis Publishing Co., 1906), Vol. II, p. 607.