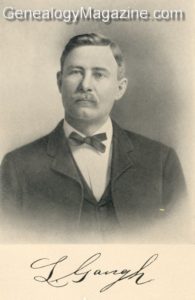 JUDGE LYSIUS GOUGH is a well known lawyer and business man of Hereford, Deaf Smith county, and is another one of the enterprising and forceful men who are responsible for the present rapid rate of development of the great Panhandle country. Judge Gough's life history is an interesting and edifying story of progress from one point to another, in which the lack of early advantages, instead of proving a detriment, merely added a spur to his ambition for success on the higher planes of life. He is a self-made man, and thereby all the more useful as a citizen in working out the problems of the community.
He was born in Lamar county, this state, July 29, 1862, being a son of Asher and Elizabeth (Martin) Gough. His father, a native of Kentucky, came to Texas in 1845, the year of admission to the Union, and spent two years in Lamar county, principally for the purpose of prospecting the conditions and opportunities of the country. In 1857 he located permanently in that county, the Gough home being twelve miles west of Paris. He was a farmer by occupation, and his death occurred in Lamar county in 1886. His wife, a native of Illinois, died in 1898.
The son, Lysius has always taken much comfort from the fact that he was reared in a home of Christian parents and under moral and wholesome influences. He learned to work on the farm at an early age, and industrious habits were among the best assets of his early career. Educational facilities were indeed meager in his community, and when he left home at the age of fourteen he could barely read, and did not know enough handwriting to make it legible. Certainly he must have had courage, persistence and energy to make the winning fight which later placed him in the legal profession.
On leaving home he worked for a year on a farm, and at fifteen took the trail as a cowboy, a career that he followed until he was of age. Most of this time he was with the noted cattle firm of Gunter and Munson, who in 1881 fenced two hundred and ninety thousand acres in the Panhandle, known as the A. Anchor ranch. The log ranch house where the cowboys used to assemble is still standing at Canyon City. In 1882 young Gough brought a large outfit up to the Panhandle, and for the following years herded cattle all over the country where Canyon City, Hereford and Tulia now stand.
During all this career as a cattle ranger Mr. Gough did not cease to be agitated by his aspirations for a broader sphere of usefulness, and in particular he longed to supply his early deficiencies in education. Oftentimes when alone in his watches his fertile mind became busied with the composition of verses, which, on account of his inability to write, he could not then commit to paper, but which he remembered until after he had mastered handwriting and then put them down as impressions of his thoughts while on the trail. After returning to their headquarters the boys sometimes indulged in "entertainments," of an impromptu nature, and Judge Gough often figured in these affairs by reciting poems and otherwise contributing to the delectation of the audience. Although for six years leading the wild and unrestrained life of the plains, he throughout conscientiously abstained from swearing and the use of tobacco and liquor, but as he did not obtrude his morality upon others he was none the less popular among his fellows, and his independent and sturdy qualities have gained him esteem wherever he has gone.
In the fall of 1883 Judge Gough left the employ of Gunter and Munson, he then being twenty-one years of age, and in December of that year he entered the school at Roxton, Lamar county, his old home. His eagerness for learning overcame all the natural difference he would have an associating with children so much younger than himself, and only he can estimate how hard it was for him at first in entering the primary grades and studying the same lessons which were assigned to his schoolmates of eight or ten years of age. But he was not of the kind to abashed by this. He made rapid progress, and in the fall of 1884 he went to Pilot Point in Denton county, where he made arrangements with Dr. Eddleman to work nights and mornings for his board, and in addition swept out the school and did other manual duties for his tuition, a program that he continued until he was through school. In 1889 he took charge of the school at Pilot Point Institute, in which he had been a student, and among his pupils were fourteen who had been in advance of him in 1884. Previous to 1889, however, he had studied at Denton under Colonel J. E. Hughes, another noted teacher, at Gainesville. At Pilot Point his first instructor has been Professor Davidson.
In the spring of 1890 Mr. Gough had to relinquish his work of teaching on account of poor health caused by his hard work. About the same time he received by the government appointed to take the census in Pilot Point. In August, 1891, he resigned the office of justice, and passed the examination and was admitted to the bar at the county seat, Denton.
The scene of his first life work seemed now the best field for his professional endeavors, and he accordingly returned to the Panhandle, now just entered upon its course of rapid development, and on September 3, 1891, located at Dimmitt in Castro county. He taught the first published school in that county, and when the county organization was effected, December 18, 1891, he was elected the first county judge, Dimmitt being made the county seat. He held that office from December, 1891, until November, 1898. He also bought and improved a ranch four miles from Dimmitt, and made his home on this place.
November 16, 1898, Judge Gough moved to Hereford. The railroad had been completed to that town only the previous to October, and when he arrived there were just six houses to mark the townsite. In the following December he opened a law and real estate office, and in May of the next year he formed a partnership with Judge C. G. Witherspoon. Besides their large general law practice, the partners have complete abstracts of Deaf Smith and Castro counties, and represent a number of strong fire insurance companies, and a general real estate business is also transcribed by the firm.
Judge Gough was one of the founders of the Panhandle Christian College, which, largely owing to his efforts, was established at Hereford in 1902, and which is now a flourishing institution. He is a trustee of the college and has devoted both time and money liberally to its welfare. Naturally, education in general has a[l]ways gained his attention and support, and he carried around the subscription paper by which money was raised to build the first schoolhouse in Hereford, and he has ever since interested himself in the public schools of his town. He is a valued member and a worker in the Christian church at Hereford.
Judge Gough was married at Pilot Point, December 23, 1886, to Miss Ida Russell, and they had a happy married life of almost twenty years. Mrs. Gough died July 4, 1904, leaving six children: Earl, Leron, Irma, May, Roy and Coralee.
Source: B. B. Paddock, History and Biographical Record of North and West Texas (Chicago: Lewis Publishing Co., 1906), Vol. II, pp. 588-590.