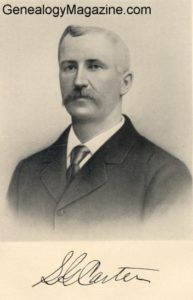 JUDGE STERLING G. CARTER, stock farmer and real estate man at Miami, Roberts county, is one of the best posted and widely experienced men on the history and widely experienced men on the history and affairs of this section of the state, having been closely identified with the Panhandle in all its various aspects for over twenty years. Though now just in the prime of his energies and his years, he has passed through a large and prosperous career, and his sphere of usefulness has not been restricted to any one department of endeavor.
A fine example of the energetic and enterprising southerner, he was born in Warren county, Georgia, November 15, 1851, and his entire life has been spent south of Mason and Dixon's line. His parents were Wiley and Sarah (Rivers) Carter. His father, also a native of Warren county, in the early fifties moved to Sumter county, Georgia, and there continued his activity as an extensive cotton planter and slave owner until his death. The mother was also born and died in Georgia.
The well remembered plantation in Sumter county was the scene of Judge Carter's early rearing, and from the time he was able to interest himself in serious pursuits he became identified with the cotton business. When he was twenty-one years old he married Miss Mary H. Cheves, and a short time later, in 1873, they transferred their home from Georgia to the Lone Star state, where it was their intention to go to housekeeping and establish a home. Locating first at Bluff Springs (now Bluffdale) in Erath county, Mr. Carter, in partnership with Captain Freeman (firm name Freeman and Carter) was in the mercantile business for three years. In the meantime he had been getting a bunch of cattle together and gradually worked into the cattle business in Stephens county. His next choice of activity was the contracting business, which the building of railroads through this section of the state offered him. He received a grading contract on the Texas and Pacific Railroad, which was then building west from Fort Worth, and in that work he followed the road until it reached Dead Man's Cut, on the far edge of the plains. On returning to Fort Worth he met Morgan Jones, who was then building the Fort Worth in a northwesterly direction to Denver, and who gave Mr. Carter a graduating contract on that road. When Wichita Falls was reached there was a lull in the construct earthwork, and Mr. Carter then contracted with the Franklin Land and Cattle Company to construct earthwork water tanks on that company's extensive pastures in the Texas Panhandle. During the eighteen months of his engagement in the work he was in Roberts, Hutchinson, Carson and Gray counties, having come up here in 1883, and has ever since been identified with the famous Panhandle district. When he had completed the water tanks he started the cattle business on his own account, becoming a successful cattleman in the Panhandle. He began his operations on twenty-four sections of land, but gradually decreased this vast domain, as he wished to go into stock farming and raise thoroughbred stock. His present homestead which is located in Roberts county two miles of Miami consists of two sections. He has a number of registered thoroughbred Red Polled cattle, and has made a specialty of crossing these with other thoroughbreds, such as Herefords and Shorthorns, as well as "scrub" cattle. Judge Carter is also known as one of the most enterprising and progressive men in this section of the state in experimenting with and growing various farm crops, for the purpose of demonstrating what a good country surrounds Miami for general stock-farming, and his efforts along this line have been of great value to all lines of industry and the general prosperity and welfare of the state. Experience has made him a most ardent exponent of the growing, in this part of the state, of the non-saccharine sorghum crop, Kaffir corn, milo maize, and other forms of rough feed stuff. In an essentially treeless and barren country he has contributed lasting value by the raising of many forest trees, black locust, catalpa, shrubbery, has a fine vineyard with thirteen varieties of grapes, raises strawberries, blackberries, gooseberries, currants, the finest of vegetables, and splendid rose bushes and other flowers—all making beautiful home surroundings and also demonstrating in unmistakable way the adaptability of this country to all purposes of a purely agricultural region.
While the interests cited in the foregoing paragraph have occupied most of Judge Carter's time and attention, he has likewise devoted some of his efforts to public affairs and has several years been honored by public office in Roberts county. He was first a special constable; in 1892 was elected county treasurer, and continued to serve in this capacity for six years. Previous to this, in 1890, he was appointed sheriff and tax collector, and in all these positions he performed his duties with substantial benefit to the county and state. He held the office of sheriff for two years. In 1898 he was elected county judge, and by re-election in 1900 held this office for four years. His official record has thus been a long and honorable one. In addition to the management of the stock farm, he has a real estate business in town, the firm being S. G. Carter and Company, his partner being Jerome Harris, and they carry on a very profitable general real estate business.
By his first wife Judge Carter had three children: namely, William S., Mrs. Bena H. Kinney, wife of J. E. Kinney, a Miami attorney, and Hugh G. After the death of his first wife he married her sister, Miss Loua E. Cheves, and they are the parents of one little girl, Musa B.
Source: B. B. Paddock, History and Biographical Record of North and West Texas (Chicago: Lewis Publishing Co., 1906), Vol. I, pp. 283-284.