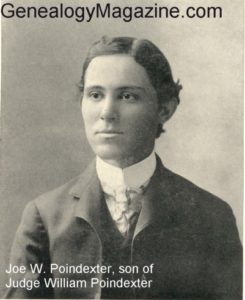 JUDGE WILLIAM POINDEXTER, prominent as a practitioner of law at Cleburne and also widely known in political and fraternal circles, was born at Paris, Texas, on the 2nd of January, 1854. He is descended from an old Virginian family. His paternal grandfather, Rev. James Poindexter, was a Baptist minister, who was born in Virginia in colonial days and at the outbreak of the Revolutionary war espoused the cause of the colonists, serving under General Washington and being present at the surrender of Cornwallis at Yorktown. He married a Miss Kraft and in their family were eight children: Thomas C., John, George, William, Sam, Elbert, Sarah and Martha.
Thomas C. Poindexter, the eldest of this family, was born in Sullivan county, Tennessee, August 17, 1816, and in his native state was married to Miss Nancy White, a daughter of Benjamin F. White, a Baptist minister. The wedding was celebrated in 1 839 and in 1844 they came to Texas, settling that portion of the state known as Denton county; but the Indians proved such a menace to life and property, especially to stock-raising interests, that they removed to Paris, Lamar county, in 1846 and for about seventeen years were residents of that locality. The year 1863 witnessed their arrival in Johnson county, settling near Alvarado, where Thomas Poindexter continued to make his home until his death. In early life he had learned carpentering and cabinet making and followed those trades in connection with his stock-raising interests until 1861, when he turned his attention to farming. His economy, industry and well directed labor proved the basis of his success. With his family he was generous and the poor and needy found in him a good friend. In all of his business dealings he was strictly honorable, his word being as good as any bond that was ever solemnized by signature or seal. For almost a half century he held membership in the Masonic fraternity and for thirty-five years was identified with the Cumberland Presbyterian church. His life was indeed upright and honorable at all times and he not only labored for his own welfare but also contributed in substantial measure to the improvement and progress of the state. As a pioneer settler he bore the hardships, trials and dangers of frontier life when the safety of the settlers was continually menaced. He voted for and was a witness to the organization of the government under Henderson, there being only nine thousand five hundred fifty-eight votes cast in that election. The entire population of the state was but one hundred and thirty-six thousand at that time and there was not a railroad or telegraph within its boundaries. He lived to see a remarkable change in all this, for the lands were reclaimed for the purposes of civilization and the various modern improvements known to the older east were introduced. He passed away April 29, 1889, and his wife, who survived him for several years, died on the old Poindexter farm at Alvarado in 1897. In their family were eight children.
William Poindexter, the seventh in order of birth, spent a portion of his youth in Lamar county, but came with his parents to Johnson county in 1863. His preliminary education was acquired in the common schools near Alvarado and he received ample training in farm life. He continued his literary studies in the college at Mansfield, Tarrant county, Texas, from which institution he was graduated in June, 1873, when, desiring to prepare for the bar, he went to Kentucky and entered upon the study of law at Edmonton, Metcalf county, under the direction of his brother-in-law, Judge R. B. Dohoney. In 1874 he was admitted to the bar, but desiring still broader knowledge to fit him for his chosen calling he entered the law department of the Cumberland University of Lebanon, Tennessee, from which he was graduated in 1875. He then returned to Texas and located for practice in Cleburne. After a brief period he joined Colonel Amzi Bradshaw of Waxahachie in the establishment of the firm of Bradshaw & Poindexter, having charge of the interests of the firm in Johnson county. This relation was maintained until 1880, when he formed a partnership with Judge S. C. Padelford that last for twenty years, being dissolved in 1900. This is one of the strongest law firms of Texas, noted throughout the state. Judge Poindexter's practice has connected him with a large part of Johnson county for a third of a century. He has won for himself very favorable criticism for the careful and systematic methods which he has followed. He has remarkable powers of concentration and application and his retentive mind has often excited the surprise of his professional colleagues. As an orator he stands high, especially in the discussion of legal matters before the court, where his comprehensive knowledge of the law is manifest and his application of legal principles demonstrates the wide range of his professional acquirements. The utmost care and precision characterize his preparation of a case and have made him one of the most successful attorneys in Cleburne. In no instance has his reading ever been confined to the limitations of the question at issue. It has gone beyond that and compassed every contingency and provided not alone for the expected but for the unexpected, which happens in the courts quite as frequently as out of them. His logical grasp of facts and principles and of the law applicable to them has been another potent element in his success and to his perseverance and indomitable energy he owes his advancement as well as to his keen and brilliant mind.
In the line of his profession Mr. Poindexter has been called to official service, having been elected district judge in 1898 and serving for four years on the bench of the eighteenth judicial district, comprising at that time Hill, Johnson and Bosque counties. He was a prominent candidate for the Democratic nomination for congress in 1902 and again in 1904 and for many years he has been a leading, effective and influential campaign speaker in Texas.
Judge Poindexter has extensive city property interests in Cleburne, having erected several business houses here besides his beautiful home on North Main street. Until recent years he also owned a fine ranch in Johnson county and he now owns a cattle ranch in Shackelford county.
On the 9th of September, 1879, Judge Poindexter was united in marriage to Miss Mary Chambers, who died in July, 1897. She was a daughter of Colonel B. J. Chambers, the real founder and promoter of Cleburne. By this marriage there is one surviving child, a daughter, Harriet. The other children of the union have passed away, including Joseph William Poindexter, who was a young man of great promise and fine attainments and died at Austin, Texas, while a student in the state university, December 15, 1901. He was at that time eighteen years of age, having been born at Cleburne, February 21, 1883. He was graduated in the spring of 1900 at Cleburne high school, winning the state university scholarship, and in the fall of the same year he entered the university, matriculating for the bachelor of arts degree. That he was very popular with his fellow students is shown by the fact that he was the treasurer of his class and an officer in one of the Greek letter fraternities. He was also a devoted member of the Cumberland Presbyterian church and of the Young Men's Christian Association, being an active worker in each. At the funeral services at Austin following his death the president of the university faculty and the pastor of the church of which he was a member paid high tribute to the deceased, saying that he was one of the most prominent and promising students of the institution and the one whose loss was felt the most. A young man of highest character with splendid physical future awaited him. He possessed laudable ambition guided by an unswerving loyalty to the right, and his mental development was equaled by his moral progress. His loss came as a great blow to his family and to his many friends throughout the state. For his second wife Judge Poindexter has chosen Melissa Smith, a daughter of Dr. Louis Smith, a prominent old-time citizen of Alvarado. After the death of Mrs. Poindexter's mother Dr. Smith married Miss Lightfoot and subsequent to his death she became the wife of S. R. Corgan, a prominent banker and cattleman of Brownwood.
Mrs. Poindexter was reared by her two step-parents and is a graduate of Daniel Baker College at Brownwood and also of the North Texas Female College at Sherman. She is an accomplished musician and vocalist and a lady of superior culture and natural refinement.
Judge Poindexter has attained high rank in Masonry and is past eminent commander of the local commandery. He has been grand orator of the grand lodge of Texas and delivered the oration of the laying of the corner stone of the Masonic Temple at Waco, also at the dedication of the building. He is a man of personal appearance, over six feet in height and well proportioned. He has a clear, resonant voice, well modulated, which adds greatly to his effectiveness as an orator. With strong mental perceptions, he has trained his mind to act quickly and readily and his keen insight in manifest in his ready mastery of every question, political or otherwise, that is presented to him for solution. He has won distinction at the bar and on the bench and is today one of the strongest representatives of the legal fraternity in Texas.
Source: B. B. Paddock, History and Biographical Record of North and West Texas (Chicago: Lewis Publishing Co., 1906), Vol. I, pp. 291-293.