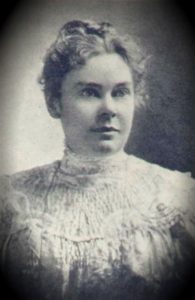 Lizzie Borden—the name conjures up graphic scenes of a half-crazed woman wielding an axe in fury as she viciously murders her father and stepmother. This murder mystery is a Hollywood dream come true. And over one hundred years after this double murder, the mention of Lizzie Borden still generates debate as to her guilt or innocence. Did she or didn't she?
By Rhonda R. McClure
Copyright © 1996, 2014—All rights reserved
Do not post or publish without written permission
Never can we be sure of the answer to that question. The 1892 deaths of Andrew Jackson Borden and his second wife, Abby Durfee Gray, has so many unanswered questions, that even today there will always be those who feel the Lizzie was innocent. On the other side are those who will point to her very different lifestyle after her acquittal which they claim proves her guilt. Perhaps the biggest question of all is the Borden family.
Had Lizzie's father not been the prominent person he was, it is little doubt that there would have been such a media blitz. Andrew J. Borden was the eighth generation descendant in America when he was born in Fall River, Bristol County, Massachusetts, in 1822. He was the son of Abraham Borden and Phebe Davenport. The first Borden to set foot in Colonial America was Richard Borden, born in England, who died in 1671 in Portsmouth, Rhode Island. His son, John, was one of the original landowners in Portsmouth, when it incorporated in 1638. It was not long before the Bordens owned considerable land on both sides of the Taunton River. This good fortune would not bless each generation though. Andrew's father was a fish peddler. And this may very well have been what prompted Andrew to strive at making money, though it was evident that he felt it was not good to enjoy that money.
Andrew Borden married Sarah Morse on 25 December 1845. He had three daughters by this marriage, and they were the only children he had. Or were they? Emma Lenore Borden was born 1 March 1851 in Fall River, Massachusetts. Alice Esther was born on 3 May 1856 in Fall River and died on 10 March 1858. Lizzie Andrew was born 19 July 1860 in Fall River. Sarah (Morse) Borden died 26 March 1863, six months shy of her fortieth birthday. Andrew Borden married Abby Durfee Gray on 2 June 1865.
There has been much conjecture about this second marriage. No children resulted from this union, and it has been said that Andrew married Abby so that he could get a cheap housemaid and a mother for his daughters. Whether or not this is true will never be known, but there was no surprise or conjecture by the townsfolk when no additional children were born.
Because Andrew's daughters all died without issue, it is not possible to be directly related to Andrew. However, it is possible to be descended from other Bordens who were related in Fall River. In 1890 all of them were related in some fashion. Some perhaps in more intricate ways than originally suspected.
A search of the 1850 federal census for Fall River finds 38 households with Borden families. Interestingly enough, while you can locate Andrew Borden (age 54) with his wife, Phebe (Davenport) Borden (age 60), and two daughters (Laura Ann, age 24, and Phebe A., age 21), son Andrew is nowhere to be found in this particular census, though he would have been married for five years already.
When following up on some of these families in other sources, there are certain surnames that begin to come up quite often. Among them are Gray, Davenport, Durfee, and Hathaway. In fact, some of these surnames seem to reappear in strange coincidence, if some of the books written about the murders are to be believed.
In 1991, Arnold L. Brown's Lizzie Borden: The Legend, The Truth, The Final Chapter was published by Rutledge Hill Press (Nashville). Reviews were understandably tough, as this book claimed a total stranger (at least to the Lizzie Borden experts) was responsible for the murders of Andrew Borden and his second wife. Much of the book rehashes the murder, the trial and the so-called evidence. Here and there the author inserts comments to remember a certain name or an address, as it will be important later on.
However, it is not until you get to Chapter 17 that you learn of William Borden and that he is the one the author says is responsible for these grisly murders. Through reminiscences of one Henry Hawthorne, son-in-law of Ellan Egan, a resident of Fall River, we learn of what appears to be a very disturbed man. He is described as crazed-looking, easily brought to anger and whose best friend was apparently an axe. In fact, one of his jobs was bringing down horses with his axe. He was said to be so good that he could do it without splattering the horse's blood.
How convenient that this William Borden was handy with an axe, could bring down a horse by bashing the skull with little blood spilling, and was quick to anger. What a perfect profile for a murderer. But it gets better.
Ellan Egan apparently had been walking along Second Street at the time of the murders. She saw a very scary man in the Bordens' yard while passing their house. She described him as the devil himself, dressed in a unique duster and carrying a burlap sack over his shoulder. It would not be until 1921, 29 years after the murders, however, that she would tell anyone about this person she had seen. And only after putting two and two together with the reminiscences of her son-in-law Henry who had grown up with one William Borden.
Chapter 18 of this book looks at William's life by trying to find vital records, hospital records and such to find more about him. His death certificate as detailed on page 301 of the book says that he died on 17 April 1901 at the age of 45, that he was born in Fall River to Charles L. Borden and Phebe Hathaway. Mr. Brown is not a genealogist, though, as is evidenced by his leaping assumptions after locating some birth records for the children of Charles Borden:
| | | |
| --- | --- | --- |
| Name | Birth Date | Mother's Name |
| Hannah H. Borden | 21 September 1844 | Phebe |
| Eliza A. Borden | 21 May 1848 | Phebe |
| Eliza Borden | 23 May 1850 | Phebe |
| (Male) Borden | 27 December 1860 | Peace |
"There are no birth records for William S. or Charles and there is no explanation for why there are two Elizas," writes Brown. "The available information from the Fall River City Clerk's office is not as complete, nor does it fit together as neatly as we might hope." Brown says that the unnamed male Borden is "more likely to be Charles than William because William's death certificate gave his age as forty-five, which would put his birth in 1856." (Brown, Lizzie Borden, p. 302.)
Of course when referring back to the 1850 census, you find the family of Charles and Phebe on page 158:
Fall River, Bristol, Massachusetts, household 804, family 1240, page 79, National Archives microfilm M432-308:
| | | | | |
| --- | --- | --- | --- | --- |
| Name | Age | Sex | Occupation | Birthplace |
| Charles Borden | 38 | Male | Carpenter | Rhode Island |
| Phebe Borden | 32 | Female | | Massachusetts |
| Charles Borden | 12 | Male | | Massachusetts |
| Amanda M. Borden | 7 | Female | | Massachusetts |
| Hannah M. Borden | 5 | Female | | Massachusetts |
| Eliza Borden | 1 ½ | female | | Massachusetts |
This shows us that Charles is not (Male) Borden as Arnold Brown asserts in his book. Charles was born in 1838, two years after Charles Borden and Phebe Hathaway married in 1836. Charles, Sr. appears to be the son of Joseph Borden and Susan Church.
Further research of the census records should prove interesting as we watch the family grow. William should appear in the 1860 census and then at least one additional child in the 1870 census. I question the one year difference of (Male) Borden and Joseph H. Borden. I wonder if either they were twins (or one of the dates is a typo) or if in fact, (Male) Borden was finally named Joseph H. Borden.
When the author tried to get a birth certificate for William Borden, he ran up against a law that requires that birth certificates for illegitimate children be sealed and not made available. According to Henry Hawthorne, one time an intoxicated William supposedly said to his axe (yes, he was apparently often talking to his axe), "You knew my father and that fat sow he married when he should have married my mother. Of course you knew them; you were there when they died!" And that is the crux of the entire book; that William was the illegitimate son of Andrew Borden and Charles's wife, Phebe Hathaway.
Let's look at this for a moment. At the time of William's birth, Andrew was still married to his first wife, Sarah, who gave birth to Alice Esther in 1856. It was not until the 1860s that Andrew was a widower. And by then, assuming William was indeed Andrew's offspring, Charles had already adopted William. In one section of this book, it is stated that Deacon Charles Borden adopted William, but in another section, the author assumes that because no birth certificate has been found for William, that Charles refused to legitimize William's birth.
Because he is not a genealogist, he has not relied on as many records as a genealogist would. Mr. Brown has also made some sweeping assumptions based on what evidence, or lack thereof, he has found.
Another book is David Kent's Forty Whacks, New Evidence in the Life and Legend of Lizzie Borden (Emmaus, Penn.: Yankee Books, 1992). This book concentrates more on proving that Lizzie could not have committed the crime. Kent's book looks at the reporting done by Fall River's Daily Globe in which Lizzie was constantly crucified. In fact, the Globe would publish an annual article, more aptly termed an editorial, about Lizzie twelve years after the murders. The Daily Globe published many questionable articles about Lizzie during the investigation and the trial. Some of its published "facts" were proven to be false.
Many of the books written about Lizzie Borden appear to have some hidden agenda. So they must be weighed with that agenda in mind. After having read Mr. Brown's book, I am intrigued in this mystery more than ever. I am looking forward to researching the various records that genealogists use to try to prove or disprove his assertions as to the parentage of William Borden. While it may be true that William Borden did murder Andrew and Abby, too many questions still remain about William for me to accept this particular book on face value.
Perhaps what makes Lizzie Borden such a fascinating subject is the fact that we will never be able to say for sure who killed her parents and why. But more than one hundred years later, many are still researching and writing and questioning.