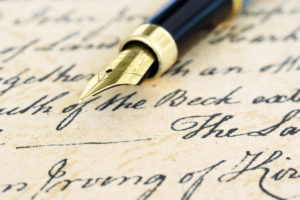 "Any abstract is at best, but a skeleton of the original record." 
By JAMES PYLANT
Copyright © 2006—All rights reserved
Do not post or publish without written permission
Genealogists—amateur and professional—owe a debt of gratitude to those who take the time and effort to compile abstracts of will books and loose papers. Such references are more detailed than general indexes to will books, which are found in most county record offices. These indexes have their limitations, for typically the testator and the administrator or administrators are named; heirs and witnesses are not. Published abstracts or summaries of will books are more commonly compiled because full transcriptions are far more tedious and lengthy, not to mention more expensive to print. Still, the abstract has its limitations. However, as with any published genealogical reference, its intention is to act as a guide to the originals and not replace original research.
One entry in Blanche Adams Chapman's Wills and Administrations of Isle of Wight County, Virginia, 1647-1800 includes a brief summary of the testament of one James Pyland, dated 20 March 1727/28 and recorded 22 April 1728. Heirs are named as "wife Elizabeth; son James, my box of doctor's instruments; daughter Ann; son Thomas; son William, daughter Katherine; son Edward." Witnesses Robert Butler and Ann Fones are named, and the volume and page number are cited.1 Yet, without examining the original will, the researcher is missing vital clues, such as the indication that the "wife Elizabeth" is not the mother of James Pyland's children. The actual will states:2
I Give unto my Loving Wife Elizabeth one large Desk [and] one negro boy named sam to her and her heirs forever & if she [should] dye in her widowhood and without heir my Desire that the negro boy Sam and the other Legacies may return unto my Children. . .
Blanche Adams Chapman's abstract cites an account inventory of James Pyland's estate, noting that the examination was signed by Elizabeth Briggs.3 Since Pyland named wife Elizabeth as his executrix, the appearance of Elizabeth Briggs suggests that the widow remarried. However, by examining the will a copy of the original account inventory, we find stronger evidence that widow Elizabeth has remarried. James Pyland's will makes a provision to "my loving wife Elizabeth one pound ten shillings in Cash to buy one new bed tick [bedding]."4 The estate account shows that the sum of one pound ten shillings was "given [to] Eliz.a Briggs to buy a Bed Tick."5 James Pyland chose wife Elizabeth as his executrix, which explains why the account's examination was signed by Elizabeth Briggs.
Had the original documents not been scrutinized, descendants of James Pyland might conclude that his wife Elizabeth was the mother of his children. In the foreword to Wills and Administrations of Isle of Wight County, Virginia, 1647—1800, Blanche Adams Chapman cautioned that, "Any abstract is at best, but a skeleton of the original record," adding that she hoped her work would serve as an index.6 Chapman knew that her book—like any published reference—cannot replace the original documents.
NOTES AND REFERENCES