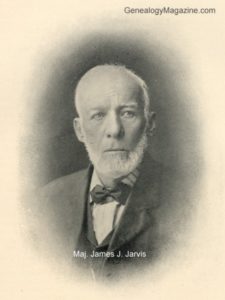 MAJOR JAMES JONES JARVIS, for half a century a member of the bar of Texas, though his extensive business and real estate interests have for many years absorbed all his time and energies, prominent as a soldier, a legislator, and one of Fort Worth's most esteemed men of affairs, was born in Surry county, North Carolina, April 30, 1831, a son of Daniel and Lydia (Jones) Jarvis. Receiving his early education in his native state, in Tennessee, and in Illinois, whither his parents removed when he was about twenty years old, he began reading law at Urbana, the latter state, and, acquainting himself with the machine work of practice by performing clerical work in the clerk's office, he was admitted to the bar by the supreme court of Illinois in 1856. Then going south to Shreveport in the following winter, he determined to go to Texas. He at first thought he would travel by horse, but, having only one hundred dollars, decided to save his cash and started out afoot, walking from Shreveport to the east fork of the Trinity in Collin county, and thence retracing his steps as far as Quitman in Wood county, where he located and began his practice. When he reached the town he had sixty dollars, but loaning fifty-five to a friend, commenced his career with only five dollars in his pocket. He soon won an enviable standing at the bar, serving for two years as county judge and two years as district attorney for the Sixth judicial district. In 1872 he went to the then very new town of Fort Worth.
It was here that he displayed the foresight and good judgment which have resulted in placing him among the wealthy men of North Texas. Having saved a few thousand dollars from his practice, he showed his faith in the future of Fort Worth by investing it all in real estate, and is now of one of the largest tax payers in Tarrant county. He owns one of the principal blocks of ground in the business part of the city, on Main and Houston streets, some of the leading banks and business houses being located on his property. He owns a fine ranch of five thousand acres in Hood and Erath counties, where, in association with his son Van Zandt, he indulges his passion for stock-raising, handling only the finest grades of short-horn cattle and fine strains of horses. The Jarvis homestead is a beautiful tract of one hundred and sixty acres lying three miles north of Fort Worth, on which is not only his own elegant residence, but also the beautiful homes which he has built for his son Van Zandt and for his daughter, Mrs. Burgess. These residences and their surroundings form an estate of extreme beauty and landscape effects.
A few years after establishing himself in practice there came to Mr. Jarvis the call of patriotism. In 1861 he entered the Confederate army as a volunteer in Company A, Tenth Regiment of Texas Cavalry, Ector's brigade, Van Dorn's corps, Beauregard's Army of the Tennessee. He served as adjutant and major of his regiment. After the battle of Corinth the troops with which he was connected were transferred to General E. Kirby Smith, and Mr. Jarvis served with that army and took part in its battles through the whole of General Smith's campaign in Kentucky, participating in a number of engagements. On the evacuation of Kentucky he was also in the battles of Murfreesboro and Jackson, being slightly wounded in the former. He came home on furlough just before the close of hostilities, and was at home when the Confederate armies surrendered. As an active Democrat, believing earnestly in both the theoretical and practical value of the grand principles of the party, Major Jarvis has rendered signal service to his state and community. In 1886 he was elected to the state senate from the Twentieth district (Tarrant, Wise, Parker and Jack counties), receiving his nomination by a majority of twelve hundred. In the regular and extra sessions of the Twentieth and Twenty-first legislatures he was chairman of the committee on finance; was second on judiciary committee No. 1; and a member of the committees on internal improvements, education, public debt, frontier protection, retrenchment and reform, and engrossed bills—committees that transact nine-tenths of all the business that comes before the senate. He was the author of a number of salutary laws during these sessions, among other one enacted by the Twentieth legislature requiring assessors and collectors to report their collections under oath and requiring them to send all money collected directly to the treasurer of the state instead of the comptroller, as formerly. The effect of this bill was the speedy collection of a surplus in a previously depleted treasury. Although he had retired from the practice of his profession a number of years prior to his entrance into the legislature, his exceptional learning and abilities as a lawyer were well known to and recognized by his colleague, and this fact, combined with his reputation as a financier, sound Democrat and man of sturdy and unbending patriotic purpose, caused them to accord him the position of a leader in their deliberations and won for him their sincere esteem and friendship.
Notwithstanding his recording the field of the law, politics and finance, Major Jarvis is no doubt best known to the people of Texas as a whole, and is gratified to be able to base his principal claim to their esteem, because of his active interest in and liberal contributions to the cause of higher Christian education in the state. He purchased the buildings and grounds and donated to the Christian denomination the well remembered Add-Ran University, which, after a most successful history under the leadership of Addison and Randolph Clark, was destroyed by fire in March, 1904. This institution was beneficiary of Major Jarvis' liberality to the amount of over twenty thousand dollars. A fine representative of the successful modern man of affairs, Major Jarvis' opinions and advice carry weight wherever expressed. Of late years he has delivered to the students and young people of this state many addresses and inspiring educational talks, and, drawing his material from the deep wells of his own experience, he has in this way accomplished as much for the permanent uplift and building of character as he has by his more material contributions.
Mr. Jarvis was married in 1866 to Miss Ida Van Zandt, daughter of Isaac Van Zandt, who was once minister from Texas to the United States and who was appointed by President Sam Houston to negotiate the treaty under which Texas became a member of the American Union. Distinguished not less by her own personality and accomplishment than by her relationship and such a character of early Texas history, Mrs. Jarvis has co-operated heartily with her husband in his life work and also has directed her talents along independent lines. She is a highly educated woman, being a graduate of Franklin College, Tennessee, at the graduating exercises of which institution in May, 1905, she delivered an address. She is president of the woman's board of missions of the Christian church for Texas. In the literary circles of her state Mrs. Jarvis is best known as the author of "Texas Poems," published in 1893, which contains many beautiful poems of the highest merit, and which, with her other contributions to literature, places her among the leading literary women of the south.
Mr. and Mrs. Jarvis have three living children, Van Zandt, Daniel Bell, and Mrs. Lennie Flynn Burgess.
Source: B. B. Paddock, History and Biographical Record of North and West Texas (Chicago: Lewis Publishing Co., 1906), Vol. I, pp. 189-190.