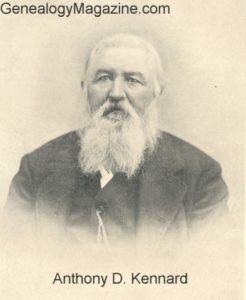 MARCUS L. KENNARD, numbered among the pioneer settlers of Johnson county, is a well-known representative of agricultural interests and also a prominent factor in financial circles, being vice-president of the Farmers & Merchants National Bank at Cleburne. His life record began in Grimes county, Texas, on the 23d of March, 1850, his parents being Anthony Drew and Sarah (Smith) Kennard, natives of Alabama. The paternal grandfather, Anthony Drew Kennard, Sr., was born in Tennessee and having arrived at years of maturity was married there to Sarah Moore, a native of the same state. They afterward went to Alabama where the birth of Anthony Drew Kennard, Jr., occurred in 1818. At a later date they returned to Tennessee, and in 1830 came to Texas, settling in Grimes county, where the father of our subject was reared to manhood. His educational privileges were afforded by the common schools and at an early day he served as a soldier with the Texas troops, being actively engaged in military service for two years, during which time he participated in several skirmishes with the Indians. When be again took up the work of civil life he gave his attention to farming and stock-raising in Grimes county, continuing his residence there until 1853, when he received two grants of land from the state of Texas for military service previously rendered. One tract was located in Grimes county and the other in Grandview in Johnson county and to the latter property Mr. Kennard removed in 1853, taking up his abode, however, upon land which was given him by his father-in-law, Mr. Smith. For several years he remained upon this ranch and then removed to a place nine miles from Cleburne, where he was extensively engaged in stock-raising. In 1854 he held the office of county commissioner and was recognized as a leading and influential citizen of that community. In 1858, however, he went to Jack county, Texas, where he carried on stock-raising and also engaged in the manufacture of salt. In 1859, however, on account of Indian troubles he sought safety for his family by returning to his former location in Johnson county, and after two years he bought a tract of land that adjoins the farm upon which Marcus L. Kennard now resides. He continued the further improvement and development of that property up to the time of his demise, which occurred October 21, 1885. During the period of the Civil war he joined the Home Guards and for a short time was in the state service. He was well known as an extensive land speculator, making judicious investments and profitable sales and he was regarded as one of the most prominent and influential residents of the county, which he assisted in organizing. There were hardly one hundred voters in the county at that time. In all the work of public progress and improvement he was deeply interested and his efforts proved a potent element for good along lines of general upbuilding. In 1841 Anthony Drew Kennard was united in marriage to Miss Sarah Smith, daughter of David and Elizabeth (Pugh) Smith, natives of Alabama, in which state Mrs. Kennard was born in 1822. When a young lady of seventeen years she accompanied her parents to Texas, the family home established in Austin county, but her father died in Grimes county in 1853, while on a business trip there, passing away at the home of Anthony Drew Kennard, Sr., the paternal grandfather of our subject. Mr. Smith had extensive property holdings in Johnson and Ellis counties, covering a large acreage. He rendered military service in his native state when a young man by aiding in the subjugation of the Indians and after coming to Texas he was engaged in locating certificates in the name of the county. He and his wife reared a family of nine children: John, deceased; Nancy, the deceased wife of W. D. Cornett; Jane, who became the wife of Reason Wooley, and has also passed away; Mrs. Sarah Kennard, who has now reached the advanced age of eighty-three years; George W., Elijah, James and David, all deceased; and Maria, the wife of J. T. Quinn of Ellis county, Texas. Mr. and Mrs. Anthony Drew Kennard, Jr., were the parents of six children: David S., who was captured at Arkansas Post and died at Camp Douglas, Chicago; Elizabeth and Michael, both deceased; Rachel V., the deceased wife of T. M. Westbrook; Marcus L., of this review; and Nancy M., the deceased wife of M. Hart. The father was a member of Gran[d]view lodge No. 266, A. F. & A. M., also the Royal Arch chapter No. 69, and the commandery at Cleburne.
M. L. Kennard spent the days of boyhood and youth in Johnson county, Texas, pursuing his education in the schools of Waxahachie and Cleburne. When twenty-one years of age he started out upon an independent business career, giving his attention to farming and stock-raising, but continued to make his home with his father until twenty-six years of age, when he removed to the place which he now owns, then comprising two hundred acres which was given him by his father. He has since increased his property holdings, however, until within the boundaries of his farm are now comprised ten hundred and seventy-three acres in the midst of which stands an attractive residence while in the rear are good barns for the shelter of grain and stock. In fact, he has a splendidly equipped property supplied with all modern conveniences and accessories. There is running water supplied by deep wells and he has telephonic communication, so that it is possible for him to superintend the business of the ranch although living twenty miles away. Country life in Johnson county is no longer a synonym for isolation for it is established with all modern conveniences and comforts, for the agriculturists of this section of the state have kept in touch with the general progress. Mr. Kennard also owns in Johnson county a ranch of four thousand acres, of which two hundred and fifty acres has been cultivated. He likewise has an interest in lands in other places. He is engaged in the feeding of beef cattle as well as in other agricultural pursuits, feeding in the winters of 1905-06 about six hundred and fifty head of cattle. His efforts have been extended to other lines of activity and his name is an honored one on commercial paper. In financial circles he is well known and he is now the vice-president and one of the directors of the Farmers & Merchants National Bank of Cleburne, which is capitalized for one hundred thousand dollars and has a surplus of fifty thousand dollars.
In 1873 Mr. Kennard was united in marriage to Miss Virginia Pinson, of Anderson county, Texas, a daughter of T. L. and R. A. Pinson, in whose family were three children: Lourissa E., the wife of G. F. Holmes; Virginia A., now Mrs. Kennard; and Nathan M. Mr. Pinson was twice married, his second union being with Mrs. Gamble, by whom he had two children: Ida, the wife of J. T. Wright; and J. J. Pinson. The marriage of Mr. and Mrs. Kennard has been blessed with children: Larissa E., Marcus Earl, Sadie, Anthony Drew and Sterling Allen. The wife and mother died December 10, 1891, and Mrs. Kennard has since wedded Miss Ola Holmes, the eldest daughter of Lourissa E. and G. L. Holmes. The children of this marriage are Ranald Reagan and Douglass Pinson, but the latter is deceased.
Mr. Kennard is recognized as a man of much activity in business, of keen discernment and laudable ambition, who, through the utilization of opportunities has gained a position of prominence as a representative of agricultural and banking interests. He has so directed his labors as to win success and is justly numbered among the representative men of western Texas.
Source: B. B. Paddock, History and Biographical Record of North and West Texas (Chicago: Lewis Publishing Co., 1906), Vol. I, pp. 540-542.