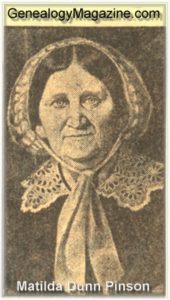 Mrs. Joab Pinson (Matilda) was one of the brilliant matrons of the days of stately wealth and position in Dallas [Alabama], having come here around 1810 with her husband and who established what came to be known almost throughout the state as the Pinson place, of about 3,000 acres.
Mrs. Pinson was a lady of culture and education, a daughter of the Dunns of Twigg county, Georgia. She was well and widely read, and erudite in science and history.
Her wealth and immense, having from 250 to 350 slaves, and possessing her own stage coach in which she traveled in style and state to the old home in Georgia on an annual trip as regular as the year rolled around.
She maintained her household with old time magnificence, and had large oil portraits painted of all her children, and relatives.
A daughter, Amanda, married Dr. E. R. Childers, of the noted Childers brothers who settled in Selma and Summerfield from 1820 to 1830, a brother of Dr. N. Childers, one of the founders of the Alabama Medical Society.
A portrait of Mrs. Pinson done in oil on a canvas about four feet square, hangs in the parlor of her grandson, Q. F. Childers (Frank) in his home at 507 Union street. A portrait of her daughter Amanda and her husband Dr. E. R. Childers, both of the same size, hang in the home of H. E. Childers (Earl) at 1610 Lapsley street.
The old Pinson estate has been broken up, and part of it is now owned by Gus King.
Source: "Drove to Georgia in Private Coach With 4 Horses," Selma Times Journal, Wed., 2 November 1927.