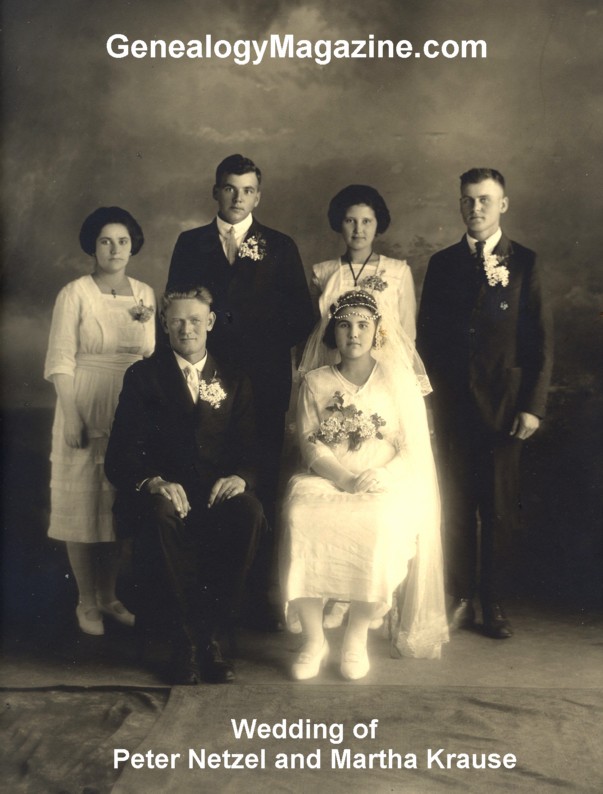 Ref. No.
P001-543
Subject
evidently Peter Netzel and Martha Krause
Location
unknown
Date
ca. 1920s
Caption
none
Notes
A photocopy of an undated and unidentified newspaper clipping found in the portrait folder states:

PRETTY CHURCH

WEDDING

______

The Marriage of Peter Netzel and

Miss Martha Krause was Solem-

nized at the Lutheran Church

Yesterday Afternoon

______

One of the prettiest of June weddings that month of brides and orange blossoms, was that which united the hearts of Miss Martha Krause daughter of Mr. and Mrs. August Krause, of Agenda, and Peter Netzel, a young farmer of that same community at the Lutheran Church at Butternut yesterday afternoon.

The service which was at 2:30 was conducted by the Rev. Mr. Schneider, of Park Falls who officiated in the absence of the Rev. Mr. Volz, the bridal party arriving at the church by auto decorated with ribbons indicative of the event.

The bride was most beautifully gowned in white and wore a veil, carrying in her hands the conventional brides' bouquet.

She was attended by Miss Gertrude Schultz, a neice [sic] and Miss Elizabeth Duenz, of Glidden, both of whom were gowned, like the bride, in white.

The groomsmen were William Krause and Carl Holt.

Following the ceremony the bridal party repaired to the home of the bride's parents in the town of Agenda where the wedding dinner was served to the guests followed by dancing and a midnight lunch.

Among the out of town guests present were, Mrs. Leubke, and Mrs. Schwantes, of Spencer; [Mrs.] Schuette, of Highbridge, sisters of the bride and a number of friends and relatives of both the contracting parties.

Both the bride and groom were raised in the town of Agenda and are among its well known people.

The groom served his county in the recent war, since which time he has been farming with his father.

Mr. and Mrs. Netzel will make their home in Agenda.