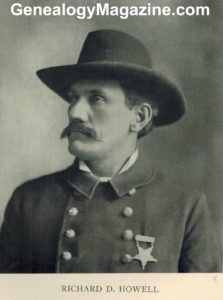 RICHARD D. HOWELL, the first and only city marshal of North Fort Worth, having occupied the position continuously since 1902, is a native of Tennessee, his birth having Occurred in Hardeman county in 1868. His parents were D. C. and Nancy J. (Jones) Howell, both of whom were born in Tennessee, whence they came with their family to Texas in 1881, settling on a farm in Ellis county about twelve miles south of Waxahachie. In 1883 they removed to Montague county, but in 1885 the parents returned to their old neighborhood in Hardeman county, Tennessee, where the father and mother are still living, the former at the age of seventy-eight years.
Richard D. Howell, however, continued to reside in Texas after his parents' departure from the state in 1885. He returned, however, to Ellis county to work in the cotton crop, for the crop in Montague county that year was a failure. Since that time he has been engaged in various pursuits and business enterprises in this state. At one time he was a cow puncher on the plains and again he engaged in the operation of cotton gins, while for some years he was connected with railroad building. He remained in Ellis county during a portion of the year 1886 and then worked on the construction of the Santa Fe railroad. In 1888, however, he returned to Ellis county, but the same year went to southern Texas, being engaged as construction man and bridge man on the building of the Southern Pacific Railway for two years. In 1892 he came to northern Texas, locating on a farm in Tarrant county near Arlington. He maintained his residence at that place from 1892 until July 2, 1900, since which time he has been a resident of North Fort Worth.
Here Mr. Howell operated the engine at the Orthwein Elevator until it became the property of the Rosenbaum interests, when he began work on the construction of the big plant erected by Swift & Company, packers, being the second man engaged on that work. His time and attention were thus occupied until December 2, 1902, when he was elected city marshal of North Fort Worth, being the first to hold the position. In fact, the organization was completed by that election. He was re-elected in April, 1903, and again in 1904 for a term of two years, and by virtue of the first two elections he was also city assessor and collector, but the duties of the latter positions became separate under a later law and Mr. Howell now devotes his undivided attention to the office of city marshal. He was a very efficient assessor and collector, leaving the office with a clean and honorable record, and as police official at the head of the North Fort Worth department he has discharged his duties fearlessly. He has had much to contend with in a new town which is rapidly growing and to which a lawless element was attracted, thereby requiring strict and constant surveillance. In the consensus of public opinion he is a most capable official, justly meriting the trust reposed in him.
Mr. Howell was married near Arlington in June, 1893, to Miss Mattie A. Brandon, who died at her home in North Fort Worth, March 11, 1905. His niece, Miss Fannie Howell, now resides with him. Mr. Howell is a member of the Knights of Pythias fraternity and the Woodmen of the World and is a gentleman who enjoys in high measure the good will and respect of those with whom he has been associated. He is proving a most loyal and efficient officer, his record as city marshal being most creditable.
Source: B. B. Paddock, History and Biographical Record of North and West Texas (Chicago: Lewis Publishing Co., 1906), Vol. II, pp. 246-247.