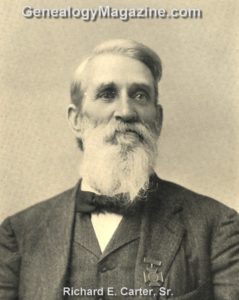 RICHARD E. CARTER has been an active factor in the upbuilding of Abilene, [Taylor County], since the founding of the town and is today a prominent real estate dealer here. He is a typical American business man, forming his plans readily, executing them with determination, and so controlling his interests by sound judgment, that his labors are attended with gratifying financial reward. A native of Virginia, he was born in Amherst, county, May 1, 1842. The Carter family has a complete geneological [sic] tree of the paternal ancestry, called the "American Carter tree." It dates from 1642 and extends down ten generations. According to this tree the founder of the family in America was John Carter, who came from England and settled in Corotoman, Virginia. He was married five times, but only had children by one wife, Sarah Ludlowe. His son, Robert Carter, called "King Carter," married Judith Armistead, and then Betty Landon, and was the father of nine children, one of whom became the wife of George Braxton, of Virginia, and his son, Carter Braxton, was one of the signers of the Declaration of Independence. A great-great-grandson, A. C. Braxton, of Staunton, Virginia, was one of the committee sent to notify Judge Alton B. Parker of his nomination for the presidency, in the campaign nomination for the presidency, in the campaign of 1904. Another descendant of Robert Carter was Anne H. Carter, the mother of General Robert E. Lee. General and President William Henry Harrison, and his father, who as at one time governor of Virginia and a signer of the Declaration of Independence, together with Benjamin Harrison, late president of the United States, were descendants of another branch of the Carter family. Still another branch has Anna H. Carter, who married General Harry Lee, father of General Robert E. Lee. Her father, Charles Carter, of Shirley and Edward Carter, of Blenheim, Virginia, grandfather of Champe Carter, father of Richard E. Carter, were brothers and were both sons of John Carter and Elizabeth Hill of Shirley. About fifty of the ex-governors of the various states are represented on this family tree. The mother of Richard E. Carter, of Abilene, bore the maiden name of Mary Wright Ellis Montgomery, and was born in Amherst county, Virginia. Her mother died in Virginia, being on a visit there, while her husband, Judge Thomas Montgomery, was representing Kentucky in Congress from Stanford. Being left an infant she was reared by relatives, the Ellises, in Virginia, and she was married to Champe Carter in the Old Dominion. She was the mother of ten children—eight sons and two daughters—and six of these sons served in the Confederate army, four in the Fifteenth Texas Volunteer Infantry and two in Parsons' Texas cavalry. Champe Carter was a lawyer by profession and practiced in Virginia, Kentucky and Texas. He removed to Kentucky in 1847 and the latter state in 1859, settling at Milford, Ellis county, and he died at the home of his son, Richard E. Carter, of Chappel Hill, Washington county, Texas, in 1873, while on a visit there.
Richard E. Carter, reared under the parental roof, was a young man of twenty years when at the beginning of the 1862 he offered his services in defense of the Confederate cause and became a member of Company E, Halbert's Company, Fifteenth Regiment and Texas Volunteers, McCulloch's, Walker's and Moulton's Divisions. There were four brothers in this company: E. H., of Waco; Champe, of Franklin, Texas; Powie E., of Waco, and R. E., of Abilene, all from Milford, besides Reverend Thomas M. and Charles Lee, in Parsons Cavalry. A remarkable fact is that although he and two brothers were wounded and more than two-thirds of mess No. 7, composed of fourteen soldiers, were wounded, and although they marched about eight thousand miles as infantry and suffered all the hardships of war, each member of the mess, numbering fourteen, returned home alive. At the Dallas and New Orleans reunions Mr. Carter was made Adjutant General of Mount's Division Organization, with the rank of General.
Richard E. Carter was married in October, 1870, to Miss Olivia M. Stanchfield, of Chappel Hill, Texas, whose grandfather, Captain W. J. E. Heard, commanded a company at San Jacinto under General Houston. He was living at that time at Galveston, and afterward removed to Chappel Hill, Texas, where he made his home for ten years. He then took up his home on a plantation below Eagle Lake, in Wharton county, where his wife died in 1885. She was the mother of four living children. Mr. Carter was again married in 1888 to Ella M. Montgomery, whose parents came from Carolina to Mississippi, living in this state prior to removing to Guadalupe county, Texas, in 1852.
In 1890 Mr. Carter took up his abode in Abilene, which he began the real estate business, which he has since conducted. He is thoroughly posted concerning the lands of Western Texas, making a close study of his business, and he is today a representative man of Abilene. His business methods are such as will bear the closest investigation and scrutiny, and he possesses also a strong determination that enables him to overcome all difficulties and obstacles in his path. From his boyhood days he has been a member of the Presbyterian church, and for a number of years has been one of its ruling elders. He is a whole-souled man, whom it is a pleasure to meet, for he ever has a hearty greeting for his friends, and his social qualities, as well as his business activity, have made him a popular and valued resident of Abilene.
Source: B. B. Paddock, History and Biographical Record of North and West Texas (Chicago: Lewis Publishing Co., 1906), Vol. I, pp. 437-438.