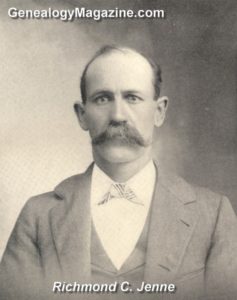 RICHMOND CUTTER JENNE. There has been no death more uniformly regretted throughout Wichita county than that of Richmond Cutter Jenne, who was one of the most highly respected, influential and prominent citizens—a man whom to know was to honor and esteem because of his upright life, his fidelity to duty, his loyalty in citizenship and his faithful discharge of every obligation that devolved upon him. He was born in Norwich, Vermont, October 10, 1862, a son of Lemuel R. and Katharine (Cutter) Jenne, both of whom were also natives of the Green Mountain state. The father was a prominent civil engineer and railroad man of Vermont and in November, 1876, he removed from New England to Texas with his family, that his sons might have better business opportunities in the new and growing country. They settled in Tarrant county near Fort Worth, and there began farming and stock-raising, the sons assisting their father in his agricultural pursuits. Lemuel R. Jenne continued to engage in farming there until 1878, when he was called to his final rest. His wife survived him for a number of years and removed with her sons to Wichita county, where her death occurred in May, 1901. They had one daughter, Mrs. I. N. Stewart, of St. Louis, Missouri, and three sons, Frank T., who was born in Norwich, Vermont, in 1856, Richmond Cutter, born October 10, 1862, and Lewis B., born in Norwich in 1865. The children were educated in their native town, receiving good school privileges and after the removal of the family to Texas they became associated with their father in farming and stock-raising. An ideal family and business relation existed between them and the three brothers continued their interests together until the death of Richmond C. Jenne, and since that time Frank T. and Lewis B. Jenne have been associated in business. They recognized the possibilities of this new country and in January, 1886, removed from Tarrant to Wichita county, settling six miles north of Wichita Falls. They made judicious investment in land and became the owners of seventeen hundred acres, the ranch being about six miles north of Wichita Falls. At once they began to improve this, turning the first furrows in the fields, which are now extensive and well cultivated, yielding golden harvests in return for the care and labor bestowed upon them. In addition to this they became extensively engaged in stock-raising, having good grades of cattle, and their annual sales of stock brought to them an excellent income.
On the 5th of September, 1901, Richmond C. Jenne was united in marriage to Miss Nannie M. Gardner, a daughter of M. J. Gardner, and they became the parents of one child, Alice Elanora, who was born April 1, 1903. In his family Mr. Jenne was a most devoted husband and father, his interest centering in his home. He possessed strongly domestic tastes and put forth every effort in his power to enhance the welfare and promote the happiness of his wife and the interests of his little daughter, to whom he was most strongly attached.
Mr. Jenne was prominent in public life in the county, exercising strong influence in community affairs. At the time of his death, which occurred on the 24th of March, 1904, he was serving his second term as county commissioner and no more competent official had ever occupied that position. With an extraordinary grasp of details and comprehensive knowledge of conditions his service proved of much value to the county and his aid was always of a practical and progressive character. He likewise filled the position of school trustee for a number of terms and was instrumental in developing the Freberg school into one of the best of the county. He was ever deeply interested in all that pertained to public progress and improvement and his aid and co-operation were never sought in vain in behalf of any movement that tended to advance the general welfare. His Christian faith was manifest in his daily life and was also indicated by his membership in the Freberg Methodist Episcopal church, to which he contributed generously. He also took a helpful part in the various church activities, served as one its trustees and did valuable work in connection with the erection of the house of worship. He continued to carry on his business until a week prior to his death, when feeling ill a physician was summoned. Pneumonia developed and although every effort was made to check the disease he passed away on the 24th of March, 1904. The funeral services were conducted by the Rev. F. L. Farrington by a large concourse of people, for no man in Wichita county was held in higher esteem than was Richmond C. Jenne. A genial nature, kindly disposition and deference for the opinion of others had endeared him to all with whom he came in contact and his many sterling qualities of heart and mind had gained him a circle of friends which are co-extensive with the circle of his acquaintance.
Since the death of their brother Frank T. and Lewis B. Jenne have carried on the business and are the proprietors of one of the best ranches in this part of the country. They are both men of marked enterprise and excellent executive force, carrying forward to completion whatever they undertook to completion whatever they undertook and they, too, enjoy the regard to those with whom they have been associated in business and in social life.
Frank T. Jenne was married on the 24th of November, 1901. Jennie Fammen, a native of Germany, and they have one child, Theodore Rosefeld Jenne, born on the 31st of October, 1902. Lewis B. was married October 10, 1899, to Rachel Dunn, a native of Missouri, and their one child, Mary Catherine Jenne, was born on the 26th of November, 1902.
Source: B. B. Paddock, History and Biographical Record of North and West Texas (Chicago: Lewis Publishing Co., 1906), Vol. II, pp. 644-645.