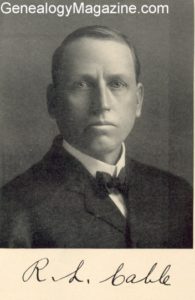 HON. ROBERT L. CABLE, representing his district in the twenty-ninth general assembly of Texas in 1904 and 1905, figures prominently in political and agricultural circles in Montague county, his genuine worth being widely acknowledged by his fellow men, who recognize his devotion to the welfare of the state and his active and effective service in behalf of the general good. He was born in Wataga county, North Carolina, on the 8th of October, 1867, and was reared to agricultural pursuits. His parents, Casper T. and Lucinda (Hamby) Cable, were native of Tennessee and the paternal grandfather, likewise born in that state, was of German and English descent. He successfully and capably managed his farming interests and died in Tennessee. His children were: Clabe, who remained a resident of North Carolina; Benjamin, and Casper T.
Casper T. Cable was born and reared in Tennessee and after arriving at years of maturity was married there to Miss Lucinda Hamby, who was descended from an honored old southern family, the Hambys being widely known and highly respected. She had one brother, Thomas Hamby, who died in Dallas county, Texas. At the time of their marriage Mr. and Mrs. Casper Cable settled upon a farm, where they remained until after the close of the Civil war. Mr. Cable was a strong advocate of the secession movement and exerted his influence and energies in behalf of the Confederate cause. Being a cripple, however, he could not carry arms upon the field of battle, but he acted with the Home Guards and in many other ways did useful service for the Confederacy. After the close of hostilities he exchanged his farm in Tennessee for a tract of land in North Carolina, to which he removed. His place in Tennessee had greatly depreciated in value because of the ravages of war and he hoped to gain a new start in North Carolina, nor was he disappointed in this, for he met with a fair measure of success during the years of his residence in that state. In the fall of 1878, however, he sold out there and came to Texas, settling first in Tarrant county, where he raised a crop. He then bought a farm in Clay county, to which he sold out, and in 1881 bought land in Montague county, upon which he took up his abode, making it his place of residence until the time of his death, which occurred in 1891, when he was seventy-two years of age. He had made excellent improvements upon the home farm and was quite successful in his agricultural pursuits, devoting his attention to the tilling of soil and the raising of crops. His political allegiance was given to the Democracy and he was a member of the Masonic fraternity, while both he and his wife were members of the Missionary Baptist church. She survived him but a short period, also passing away in 1891. In the family of this worthy couple were eleven children: Jacob, who died in 1884, leaving a wife and six children; Thomas, who resides in Oklahoma; Samuel, also living in that territory; Joseph, a farmer of Montague county; Roby, who is living in the Creek Nation in Indian Territory; Robert L.; Henry, whose home is in the Cherokee Nation; Adam, living in the Creek Nation; Matilda, the wife of L. Cable; Mary, the wife of R. Anthony; and Nancy, the wife of J. W. Cook. All remained and all are yet living, with the exception of Jacob and Matilda.
Robert L. Cable accompanied his parents on their various removals until the family home was established in Montague county. Here he was reared in manhood and yet resides upon the old homestead, which is situated six miles south of Saint Jo. He employs a good man to care for the place, while he merely gives his supervision to the farm. He received a liberal elementary education and he gives much of his time to reading, keeping well informed on questions of state and national importance of the present time and also studying the history of the county in past years. He is thoroughly informed concerning the annals of Texas and believes that the state has a bright future before it, for he recognizes its possibilities and opportunities. He has utilized much of his time in promulgating his ideas and his knowledge concerning a progressive, yet safe and conservative, policy in the administration of the affairs of the state. He has always taken an active interest in the Democratic party and has used his influence to promote its growth and insure its success. Upon its ticket he was made a candidate for the legislature and being elected served during the session of 1904 and 1905. While a member of the house he took an active and helpful part in much constructive legislation and did conspicuous and valuable service as a member of the committee on agriculture and roads and bridges. He introduced a number of important bills including the anti-free pass bill. He worked earnestly for every measure which he believed would prove of benefit to the state, acquitting himself with credit and making a record entirely satisfactory to his constituents. He is today regarded as one of the prominent, honored and influential residents of Montague county, his business interests and his activity in public life making him a valued resident of this community.
Source: B. B. Paddock, History and Biographical Record of North and West Texas (Chicago: Lewis Publishing Co., 1906), Vol. I, pp. 470-471.