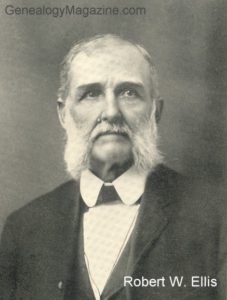 ROBERT WALLER ELLIS. The gentleman whose name stands at the head of this article and who has the proud distinction of being mayor of Abilene, is one of the oldest settlers of this community. He was born in Macon, Georgia, April 26, 1847. His father Thomas Major Ellis, was a native of Virginia and in early manhood he wedded Miss Eliza Cunningham, who was born and reared in Georgia. In their family were eight children but Robert W. is now the only surviving member of that household.
His parents died when he was quite young and in his boyhood days he acquired a common school education partly in Alabama and partly in Georgia. The Civil war was disastrous to the family's finances and because of this he was thrown upon his own resources at an early age of twelve years so that whatever success he has achieved or enjoyed in life is attributable entirely to his own effort. While the war was in progress, in 1863, having arrived at the age when his service would be accepted, he volunteered to join the Confederate army and aid in defense of the south. He was enthusiastic and patriotic in support of his loved southland and he joined the Confederate forces at Dalton, Georgia, where General Joe Johnston's command was stationed at that time. This was just after the hard fought battle of Chickamauga and the army was rested there on its retreat. Mr. Ellis was assigned to the ranks of Company B, Thirty-sixth Alabama Regiment of Infantry, in General Clayton's Brigade, composed of the Eighteenth, Thirty-second, Thirty-sixth and Thirty-eighth Alabama regiments, the same forming a part of Stuart's Division. He participated in all of the fights of his regiment up to and including the battle of Nashville and following this engagement the army retreated to Tupelo, Mississippi, where his brigade was detached and sent to the defense of Mobile, being there placed under the command of General Morry. After the battle of Mobile the remaining forces were sent to Meridian, Mississippi, where occurred the surrender to General Canby, U. S. A., on the 10th of May, 1865. Mr. Ellis was a faithful soldier, promptly executing every order that was given him and he received two promotions for bravery and gallantry while facing the enemy as an uncommissioned officer. After the war closed and peace was declared throughout the country every soldier boy of the south laid aside his weapons and his uniform and sought employment in the various occupations of life. Mr. Ellis engaged in clerking in a wholesale grocery store at Macon, Georgia, owned by J. H. Anderson & Son, with whom he remained until 1878.
It was in that year that he came to Texas, settling first at Fort Worth, where he engaged in the grain business. Not long afterward he transferred his business to Abilene, becoming a resident of this city in 1884. Here he has since remained, carrying on an extensive business in grain, hides and wool. He built the business block on North First street in 1891 and in addition to this he owns other property in this city.
Mr. Ellis was married in 1884, in Weatherford, Texas, to Miss Mary A. Lotspeich, a native of Sweetwater, Tennessee, and they have one son, Buford L. Ellis, who was born in December, 1886. Mr. Ellis is fraternally connected with the Knights of Pythias, having joined the order in the '70s, his membership being now with Star of the West lodge, No. 142, of Abilene.
In his political affiliation he has always been a Democrat and aside from party politics he has taken an active interest in the welfare, progress and growth of the city. He was elected alderman of Abilene in 1892 and for eight or nine years served as a member of the city council. In educational affairs he has taken more than a friendly interest in the work, giving much more than a friendly interest in the work, giving much of his time and efforts for the improvement of the school system and during three years he served on the city school board, using his influence and support in every way to further the cause of education here. In the spring of 1904 he was nominated as candidate for mayor and was elected by a large majority, since which time he has been chief executive of the city, discharging his duties with credit to himself and satisfaction to his constituents. He is practical in all that he undertakes, giving a businesslike administration and he has thoroughly informed himself concerning the needs and possibilities for public improvement. He is recognized as a leader in community affairs, wielding a wide influence and his championship of progressive, public measures has been a valuable element in Abilene's substantial improvement.
Source: B. B. Paddock, History and Biographical Record of North and West Texas (Chicago: Lewis Publishing Co., 1906), Vol. I, pp. 611-612.