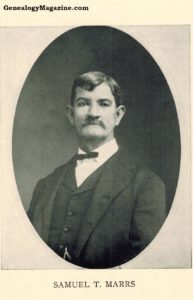 One of the most honored citizens of Mansfield, Samuel T. Marrs is a native of Tarrant county, his birth having occurred on his father's farm six miles east of Mansfield, and in this portion of the Lone Star state his entire life has been passed. His father, A. K. Marrs, was born and reared in Kentucky, of Scotch ancestry, and was numbered among the early Texas pioneers of 1857, at which time he located on a farm near Mansfield in Tarrant county, there spending the remainder of his life. He was a Confederate soldier of the Civil War, serving throughout the conflict, and the hardships and exposure which he suffered afterward regained his full strength and vigor. After coming to Texas he was united in marriage to Miss Nancy Ragland, a native also of Kentucky, but her parents' arrival in Texas antedated that of Mr. Marrs.' This worthy pioneer couple nobly performed their full share in the development of their community, and were loved and honored by all who had the pleasure of their acquaintance.
Their son, Samuel T. Marrs, was born May 18, 1859, and was reared to mature years on the old homestead farm, receiving his educational training principally in Mansfield. When the time came for him to enter upon the active duties of life for himself he chose the occupation of his father, and farming has always claimed his time and attention. In this field of endeavor he has been eminently successful, and his operations are conducted on strictly business principles. He is now the owner of five farms, the homestead being located east of town, in the neighborhood of his birthplace. The first business venture of Mr. Marrs outside of his farming operations was as a buyer and shipper of livestock at Mansfield, in which he was successfully engaged for some years, and he then turned his attention to the grocery business. Eighteen months later, however, he abandoned that occupation for a short time, and in April, 1904, he organized and became the president of the First National Bank of Mansfield, which has had a prosperous and successful career, and the duties of which now occupy all of his attention outside of his farming interests. The capital stock of the bank is twenty-five thousand dollars, the majority of which is owned by Mansfield citizens and surrounding farmers. This is regarded as one of the most reliable financial concerns of the county, and its constantly growing business attests its popularity.
Mr. Marrs married Miss Mattie C. Back, a daughter of Major Back, and they have had seven children, the living being Gordie M., Nona L., Autie M., Eula, Maggie L. and Ruth. The third child, Ora, is deceased. In his fraternal relations Mr. Marrs is a prominent Mason.
Source: B. B. Paddock, History and Biographical Record of North and West Texas, Vol. II (Chicago: Lewis Publishing Co., 1906), pp. 222-223.