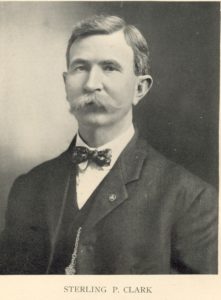 STERLING P. CLARK. Born in 1861, on his father's farm in the northern part of Tarrant county, Sterling P. Clark has been identified by almost lifelong residence with this part of Texas and as one of the leading exponents of the cattle industry, as also by reason of the prominent part taken by him in public affairs, he is one of the best known and most honored citizens of Tarrant county and the city of Fort Worth.
Mr. Clark is a son of the late Pressley H. and Jane Blakely (Johnson) Clark. His father and mother were both born and for many years lived near Hopkinsville, Christian county, Kentucky, came with his family, wife and one daughter, Sarah Ann, now Mrs. D. E. Wolf of Hemphill county, Texas, to this state in 1856 and became one of the pioneer settlers of Tarrant county. Three children were born in Texas: John W., Mattie T., now Mrs. T. D. McLaughlin of Snyder, Oklahoma Territory, and our subject. Their first home was near Birdville, the old county seat, and later they removed to the northern part of the county, on Henrietta creek, six miles northeast of Blue Mound, to the farm on which Sterling P. was born. A successful farmer and stockman, the father lived in Tarrant county during a period which would class him among the pioneers, and along with other settlers, in the early days had many a brush with the Indians, on one occasion being captured by the redskins; Dr. Barkley, the father of Lon Barkley, of Fort Worth, being his fellow victim in this incident. During the Civil War Pressley H. Clark enlisted from Tarrant county in the Sixth Texas Cavalry for service in the Confederate army. John W. Clark, a brother older than Sterling, who died in 1883, was a member of the famous Texas Rangers and saw service against the Indians in West Texas. Both the parents spent the latter years of their lives in Tarant county, the father dying at the age of seventy-seven and the mother at eighty.
The son Sterling was reared in the really primitive environments of Tarrant county, at a time when the county had advanced little from its pioneer status, and he received only what schooling was available in the northern part of the county when he was a boy. One of the incidents of his early boyhood reveals in a striking way the rapid progress and development that in the course of less than forty years have transformed this part of Texas from a wilderness into one of the principal industrial and commercial points of the great southwest. Reference is made to an adventure which he and another boy of similar age experienced in being chased by a band of Indians when they were only a short distance from their homes, and, although they made good their escape, the incident was one not likely to be forgotten. This occurred in 1869. Mr. Clark has had a full quota of experience as a cowboy in West Texas, and the cattle industry is familiar to him in every detail. At the age of twenty-one he engaged in the drug business at Keller, Tarrant county, but, his health failing him in this occupation, he soon engaged in the cattle business and has made this his permanent vocation. Of late years his interests have expanded to such a degree that he is now ranked among the largest cattlemen of Tarrant county. He owns nearly two thousand acres of Tarrant county land and a ranch of ten sections in Hemphill county in the Panhandle, besides leasing several sections in Runnels county. As one of the prominent cattlemen of the state, he served for some time as vice president of the North Texas Live Stock Commission Company at North Fort Worth, and is a member of the Texas and the Panhandle Cattle-Raisers' Association.
Influential and active in the public life of his county, Mr. Clark has given his services to the public welfare in a way that marks him as one of the larger men of affairs. After serving several years as deputy sheriff of Tarrant county he was elected sheriff in 1896, and by successive re-elections, in 1898, 1900, served till November 17, 1902. During this time he was president of the Sheriffs' Association of Texas, and while in office it was his duty to hang the only white man ever legally executed in Tarrant county—a train robber.
Mr. Clark married Miss Sophia Putman, a daughter of J. J. and Julia (Moore) Putman, August 9, 1899. Her father came from Wisconsin to Texas in 1872 and settled on one of the oldest ranches in the county of Tarrant, the Captain Loyd ranch. Mr. Clark and wife have two living children, Mabel and Sterling P., Jr., their first child, Mattie Belle, having died at the age of one and one-half years. Mr. Clark is a member of the Masonic Order, No. 145, Fort Worth, also the Knights of Pythias and Woodmen of the World.
Source: B. B. Paddock, History and Biography of North and West Texas (Chicago: Lewis Publishing Co., 1906), Vol. II, pp. 177-178.