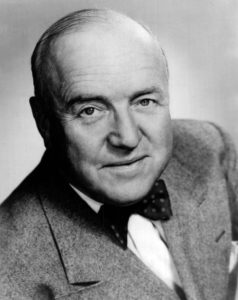 Best-known as Fred Mertz of I Love Lucy, William Frawley came from an Irish-American family. All four of the actor's grandparents emigrated from the Emerald Isle.
By James Pylant
Copyright © 2005, 2015—All rights reserved
Do not post or publish without written permission
Revised 24 March 2015
Best-known as Fred Mertz, the penny-pinching landlord on the 1950s television series, I Love Lucy, actor William Frawley starred in more than one hundred movies before landing that famous role. He later played a five-year stint on another series, My Three Sons as Michael Francis "Bub" O'Casey, a name more akin to the Irish-American actor than the Germanic sounding Fred Mertz.1
He was an Iowa native, born William Clement Frawley on 26 February 1887, to Michael A. Frawley and the former Mary E. Brady.2 At the time of his birth, the Frawleys had lived in the Hawkeye State for more than three decades.
Among the inhabitants of Burlington, Des Moines County, Iowa, at the time of the 1860 federal census was Irish immigrant recorded as Mrs Bridget Frauly, a 34-year-old supporting four children by working as a "washerwoman." Mary, age ten, was born in Ireland; John, age six, and Ann, age four, were Connecticut natives; and Michael, age two, born after the family came to Iowa. Living with the family was 30-year-old Mrs. Elizabeth Van Blair, who, like the head of the household, was an Irish washerwoman.3
Mrs. Bridget Frawley is found on the Burlington City Directory two years later as residing on Court and Main.4 Fifth and High is given for the address for Mary Frawley in 1866,5 but in 1868 Bridget's name appears at this address.6
In 1870, the census enumerator recorded the family, still residents of Burlington, mistakenly under the surname of Trowly. Bridget's age is listed as 40—rather than 44—but the remaining information is consistent with that supplied a decade earlier. Mary, "at home" at age 20; John, working as a "Train Boy," age 16; Ann, age 14, "at school," as was 12-year-old Mike. The birthplaces are recorded the same as they were in 1860.7
Irish-born Bridged Frawley, still claiming to be 40, is head of the household on the rolls of the 1880 federal census. Two others were enumerated in her Burlington household: Mike Frawley (age 23, born in Iowa), a fire insurance agent, and Anna (age 24, born in Connecticut).8
About 1890, Bridget Frawley moved to Kansas City, Missouri, where her son, John B., was an agent for the Union Pacific Railway.9 A decade later, at the enumeration of the 1900 federal census, 67-year-old Bridget Frawley (born in Ireland in March 1833) was residing in a rented home in Kansas City with son John Frawley (born September 1852 in Connecticut), a passenger agent for the railroad. John, a widower, his two sons, 15-year-old Edward Albert and ten-year-old Francis, shared the home with a servant. The date of Bridget's immigration is recorded as 1852.10
Meanwhile, Michael Frawley—Bridget's younger son—remained in Burlington, Iowa. He and Mary E. Brady wedded in that city on 14 June 1882 at St. Paul's Church. The marriage license shows both were natives of that city. M. A. Frawley, an insurance agent, identified his parents as Patrick Frawley and the former Bridget Troy. Mary E. Brady identified her parents as John Brady and the former Mary Green. 11 Two years earlier, 24-year-old Mary Brady appeared in the Burlington household of her parents, John and Mary Brady, in the 1880 federal census, which shows Mr. and Mrs. Brady were both born in Ireland.12
M. A. and Mary Frawley and their four children appear on the 1900 federal census enumeration for Burlington at the Sixth Street address. Michael and Mary E. are both forty. His birth date is difficult to read, but it appears to be 20 October. That of his wife is given as 5 March 1859. Their three oldest children—all sons—were listed as students. They were John J., born 1 July 1883; William, born February 1887; and Paul, born 11 June 1889. The youngest child (and only daughter), Mary, was born on 17 July 1897. Every family member was born in Iowa.13
Mike Frawley died in 1907, and he was buried in the North Sixth Street Catholic Cemetery, in Burlington.14
Bridget Theresa (Troy) Frawley survived her son by four years, dying in Kansas City on 31 October 1911.15 However, she was buried in Burlington's North Sixth Street Catholic Cemetery. Her tombstone inscription states that Bridget Troy Frawley was born in Dublin, Ireland. Also buried in that cemetery were Mary F. Frawley, in 1872, and Anna (Frawley) Lowe, in 1914.16 Mary (Brady) Frawley—the actor's mother—died in 1921 in Burlington.17
On 3 March 1966 William Frawley died in Los Angeles, where he had lived for more than three decades. He was buried at San Fernando.18
He had wedded Edna Louise Broedt in 1914, but that marriage ended in divorce in 1927.19
NOTES AND REFERENCES