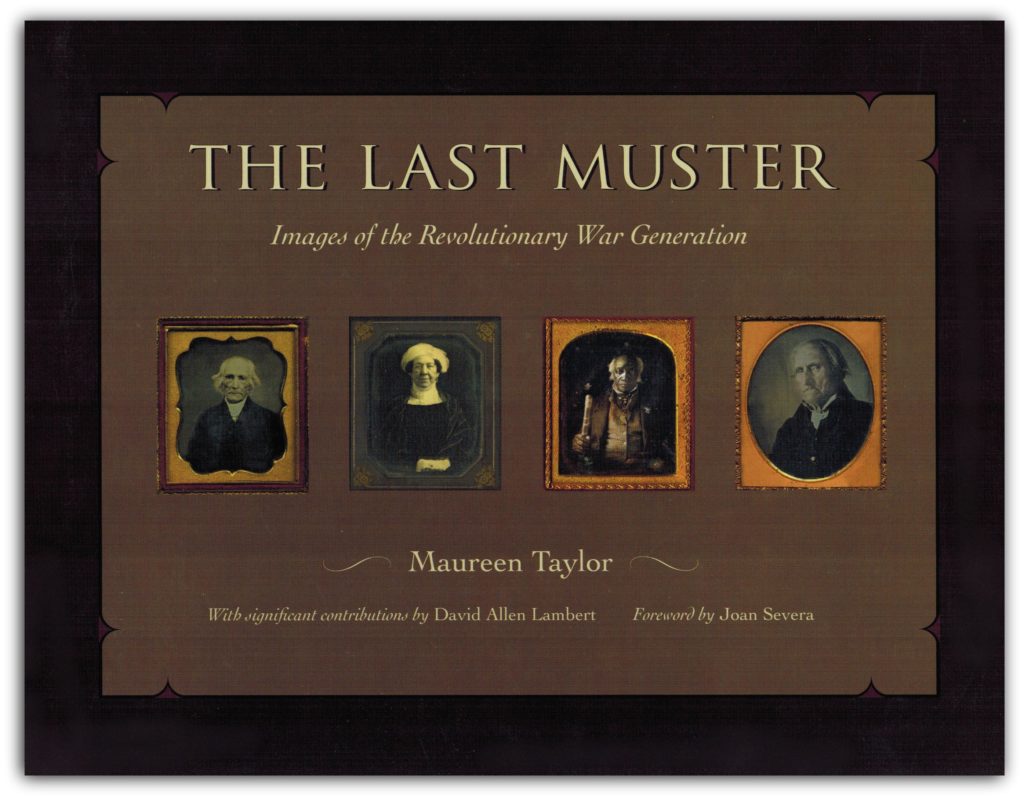 Beautifully printed, The Last Muster Roll: Images of the Revolutionary War Generation is a remarkable collection of portraiture—daguerreotype, ambrotype, carte de visite, engraving, lithograph, photograph print, and oil painting—capturing the faces of men and women, complimented with biographical sketches, with a connection to the American Revolution. Maureen Taylor, well-known photo identification expert and author of several books on the subject, has produced an excellent volume.
Among the many Revolutionary War veterans found in The Last Muster Roll is George Fishley's daguerreotype which depicts the sitter, who had enlisted in the Colonial Army at 17, proudly posing in uniform with an oversized hat on his 90th birthday. Others chronicled include Esther Damon (1814—1906), a member of the Daughters of the American Revolution, had the distinction of being called "The Last Widow of the Revolution," having married a 75-year-old veteran and pensioner in 1835 when she was 21; Tirzah (Whitney) Palmer, who received Bounty Land for her late husband's service as a private, although his own pension application had been rejected; Chainbreaker (aka Governor Blacksnake and Tah-won-ne-ahs), a Seneca chief who fought for the British during the American Revolution; Nikonah, from the Tutelo tribe, also fought for the British. Chief Sopiel Selmore, who joined the Sons of the American Revolution based on his father's interview about having served as an Indian scout for the Maine colonial militia; Caesar, born into slavery in 1737, he was owned by four generations of a family and was called the last slave to die in the North; Agrippa Hull, who joined the Colonial army as a free-born black in 1777 at age 18. When first applying for a pension, Hull wouldn't turn loose of his original discharge papers as evidence of his military service because they contained George Washington's signature.
Other portraits found in this volume include Molly Ferris Akin, James Allen Jr., Nathaniel Ames, George Avery, Anna Warner Bailey, Daniel Frederick Bakeman, Amos Baker, Mary (Seeley) Batterson, Hannah (Paxson) Betts, Jesse Betts, Josiah Brown,  Noah Callender, Ezra Carpenter, Lemuel Cook, Samuel Curtis, George Washington Parke Curtis, Elizabeth (Rockwood) Cutler, Simon Dearborn, Samuel Downing, Pierre Etienne DuPonceau, Ralph Farnham, Sarah (Stevens) Fellows, Albert Gallatin, John Gray, Dr. Ezra Green, Josiah Walpole Hall, Jonathan Harrington, Conrad Heyer, Ebenezer Hubbard, Margaret Timbrooke Hull, William Hutchings, Andrew Jackson, David Kinnison, John Kitts, Uzal Knapp, John Langdon, Enoch Leathers, Dr. Jonathan Leonard, Morgan Lewis, Adam Link, Dolley (Payne) Madison, John McCrillis, Alexander Milliner/Maroney, Nikomah (Native American), Thomas Handasyd Perkins, William Plumer, Jeremiah Powell, Isaac Rice, Samuel Fay, David Smiley (possibly), Isaac Snow, Clark Stevens, Flora Stewart, Jabez Huntington Tomlinson, Mary Hunt Palmer Tyler, Nicholas G. Veeder, Nathan Walden Jr., Daniel Waldo, Abraham Wheelwright, John Williams, Huldah Welles Wolcott, Joseph Jr., Sarah "Sally" Sayward Barrell Keating Wood, and a photograph identified as "Six Aged Citizens of Bennington," a faint daguerreotype of Vermont men—Benjamin Harwood, Abisha Kingsley, Aaron Robinson, Samuel Safford, Capt. David Robinson, and Samuel Fay—all of whom had a connection to the Revolutionary War. "All but one of these men was a child at the time of the Revolution, but several claimed to have fought beside their fathers, recollecting events of the days surrounding the skirmish," explains the author. "These are the faces of the sons of Ethan Allen's Green Mountain Boys."
The Last Muster Roll: Images of the Revolutionary War. By Maureen Taylor. Hardcover, 2010, 177 pp., $45. Published by The Kent State University Press.
The Last Muster: Images of the Revolutionary War Generation
is also available from Amazon.com (affiliate link).
Book Review and Material Connection Disclosure: GenealogyMagazine.com receives complimentary copies of books with the understanding that they will be considered for review without compensation. Some of the links published on this site are "affiliate links," meaning that if a site user clicks on the link and purchases the item, GenealogyMagazine.com will receive an affiliate commission. Regardless, we will only recommend products or services that we would personally use and believe will add value to our readers. We are disclosing this in accordance with the Federal Trade Commission's 16 CFR, Part 255: "Guides Concerning the Use of Endorsements and Testimonials in Advertising."