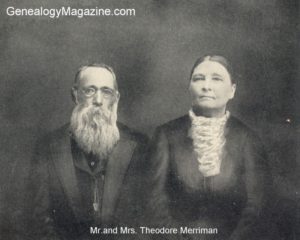 The pioneer blacksmith of Chico and the gentleman distinguished as the second person to locate on the townsite of that thrifty little metropolis is Theodore Merriman, the widely known citizen and farmer named in the introduction of this article. An active mechanic until his hammer pounded out the price of a piece of fertile land adjoining the new town, and since then busied with the affairs of a successful and systematic farmer, and, at times, with the administration of justice as one of the characters of Wise county and a citizen truly worthy of the name.
September 16, 1876, Mr. Merriman came to Wise county, and on the seventeenth of February following he opened his shop in the embryonic town. He had just passed a year in the southwest corner of Johnson county, where, on the banks of the Brazos, he practiced Vulcan's art for the period of one year. The nine years previous to this he had passed as a citizen of Mount Pelia and Union City, Tennessee, plying his trade, going there in 1866 from Columbus, Kentucky, where his post-bellum career as a citizen really began. Civil life opened with him at Claysville, that state, where, at the age of nineteen years, he took a position with a mercantile establishment, leaving their employ as bookkeeper and office man to take up arms for the Confederate government.
The Merrimans were among the pioneers of Allegheny county, Pennsylvania, where Frederick Merriman, grandfather of our subject, founded the family at old Fort Pitt. The latter was a native German and settled first in Maryland but accompanied J. W. Bonham, a gentleman of French extraction, to Fort Pitt and there passed the remainder of his life. Frederick Merriman was a shoemaker and was enlisted for service with the patriot army of Washington but was detailed at home to make shoes for the soldiers, at which patriotic duty himself and his good wife both labored until independence was actually won. The soldiers in camp at Sweetleyville, near his home wore this old patriot's shoes and his efforts in the direction of the achievement of independence were as effective as if he had carried a flintlock in actual battle. He died about 1846 at one hundred and three years old, the father of twelve sons and two daughters, thirteen of whom grew to maturity and married, namely: John, Samuel, David, Ezekiel, Richard D., Frederick, Abraham, Daniel, Reuben, Moses, Mary, Martha, William.
Richard D. Merriman, father of our subject, was born in Allegheny county, Pennsylvania, in 1808, and died in Saline county, Illinois, in 1885. He learned the machinist's trade in Pittsburg, serving a five-year apprenticeship, as was the custom of the day, and pursued his trade until 1856, when he bought a farm near the corners of Saline, Gallatin and White counties, Illinois, and remained a farmer until his death. He married Helen Bonham, a daughter of J. W. Bonham, mentioned in the paragraph above, who died in 1874. Of their four children who reached mature years, Theodore was the second, W. W., of Norris City, Illinois, the third, and Frank, the youngest surviving child.
Theodore Merriman had ample opportunity to acquire a good education in the Pittsburgh and Morgantown, Virginia, schools but his lack of concern for his future led him into paths and he reached manhood only fairly equipped. He left home in 1856 and secured employment for two years in a store at Carmi, Illinois, from which point he went to Claysville, Kentucky, as narrated above.
When the war broke out he entered Company I, Third Kentucky Infantry, under Sidney Johnston at the battle of Shilo. His command was passed at Vicksburg when the Confederate ram passed through the Federal fleet there, and fought in the battles of Chickamauga, Missionary Ridge, Lookout Mountain, Resaca, Pine Mountain, New Hope Church, Lovejoy Station, and Atlanta, at which time he left the artillery and was transferred to Forrest's cavalry. After the Shiloh fight he was made quartermaster of Cobb's Kentucky battery and later was a staff officer of Brig. Gen. Lyon in the cavalry service and the states of Tennessee and Alabama witnessed their military escapades until the surrender of the command near Selma at the close of war.
While in the army Mr. Merriman became acquainted with the lady who held his future in her hands and as soon as he became a civilian he hastened to Paris, Tennessee, and there, June 4, 1865, he was married. The lady of his choice was Miss Lizzie Ethridge, a daughter of J. L. Ethridge of an old and representative Tennessee family. Mrs. Merriman was born in Henry county, that state, January 6, 1847, and she and her husband are the parents of Allie D., of Chico; William D., of Paul's Valley, Indian Territory; T. Earnest, a merchant of Gibtown, Texas; Ed., of Gibtown; May, wife of C. A. Watson, of Chico; Ethel, widow of J. C. Goad, of Chico; Daisy, who married G. F. Holden, of Comanche, Indian Territory; and Cora M., widow of Frank Martin, a teacher in Munday, Knox county, Texas.
Mr. Merriman's blacksmith shop in Chico was situated where the livery barn now stands and he followed his trade until he had paid for a farm and was well equipped ready to begin its cultivation and improvement. He left the anvil in 1881 and the work he has done as farmer has strikingly beautified his immediate community. He owns seventy-five acres in the G. W. Cash survey, a well-tilled and productive farm. He served seven years as postmaster of Chico and was elected justice of the peace first in 1880, filling the office four years. In 1894 he was again elected and served a second term of four years. He is a well known Democrat and the family are members of the Cumberland Presbyterian and Christian churches. He is a charter member of Alvord chapter of the Masonic Order.
Source: B. B. Paddock, History and Biographical Record of North and West Texas, Vol. II (Chicago: Lewis Publishing Co., 1906), pp. 210-211.