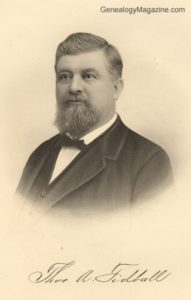 THOMAS A. TIDBALL was born in Lafayette county, Missouri, on the 24th day of March, 1838. His father, Joseph Tidball, was a native of Allegany county, Maryland, and was by occupation a farmer. His mother was Rose, daughter of Cromwell Orrick, or Morgan county, Virginia. Thomas grew up without educational advantages other than such were afforded by the country schools of the country in which he was born, at that time it being very difficult for a farmer boy to receive a higher education. He began to make his own living at the age of fourteen, when he became employed with Lightner & Miller, of Sibley, in Jackson county, Missouri, with whom he remained for about a year. Returning to Wellington, his then home, be became in a short time a clerk in the mercantile house of Porter & Ferrell, afterwards becoming the bookkeeper of their successors in 1857. In the fall of 1860 he visited Virginia to look after some property interests and to visit relatives, and was there at the time of the breaking out of the war between the states. He and his family had been ardent sympathizers with the south and immediately upon the call to arms, in May, 1861, he enlisted in a cavalry company known at the "Rockbridge Rangers," and served in western Virginia until the company was disbanded in 1862, but immediately in March, 1862, he enlisted with he Rockbridge artillery, which was attached to Stonewall Jackson's Brigade, and in the artillery he served until the end of the war. He is one of many men who served from the breaking out of the war until he was surrendered at Appomattox without every being wounded or taken prisoner, but it is probable that few men with such a record fought in the great number of important battles that he did. Beginning with Kernstown, he ended with Lee's surrender and fought at Winchester, Harper's Ferry (when the Federal forces were captured), Sharpsburg, the second Mananas, Gettysburg, Fredericksburg, Chancellorsville, the Wilderness, Spottsylvania Court House, Port Republic, Chantilly, Malvern Hill, Mechanicsville, Cedar Mountain, and was in all of the great fighting around Richmond before the surrender. Any one who knew him after he returned to the walks of private lie would never judge that his military experience had been so extensive.
At the closing of hostilities he returned to Missouri, and for two years was salesman in a store in Lexington, and in 1868 he became bookkeeper in William Morrison & Company's bank, which position he filled for four years. This was his first banking experience, and it was here that he acquired that training which enabled him afterwards to successfully manage that bank, which was the origin of the Fort Worth National Bank, in the organization of which he took such a prominent part. In 1872 he left Missouri and took up his residence in Fort Worth, where he lived until his death, on the 26th of October, 1899. In 1873 he formed a partnership with J. B. Wilson, and the two began the business of banking. At that time Fort Worth had no railroads, was a mere inland country village and this country was very sparsely settled, there being only a few houses between Fort Worth and Dallas. It was, however, being rapidly developed, and he saw the needs of the country as well as its future possibilities. His partner, Mr. Wilson, in a very short time was compelled to return to Virginia by reason of the death of his father, and the management of the banking business devolved solely on Mr. Tidball. His management was very successful, and Mr. Wilson, desiring permanently to retire, in the year 1874 Mr. Tidball organized the banking firm of Tidball, Van Zandt & Company. The firm was composed of Thomas A. Tidball, K. M. Van Zandt, J. J. Jarvis and J. P. Smith, and under that name for many years they did a most successful private banking business; in fact, the most successful banking business in North Texas, and the name was only changed when, by reason of the expansion of the business of the firm, it was thought advisable to have the bank nationalized. The capital of the firm of Tidball, Van Zandt & Company had from time to time been increased, and when the Fort Worth National Bank was organized the capital was increased to the sum of five hundred thousand dollars. On the nationalization of the bank Mr. Tidball took the office of vice president, K. M. Van Zandt being president and N. Harding cashier, but for many years he was in the same active management of the national bank that he had been in the private bank which had preceded it and of which he was the founder. In 1891, after having been in the active banking business for about twenty years and after having given such active attention to both the detail and the mechanical workings of the bank that it began to affect his health, and believing that a life of less responsibility would have a beneficial effect upon his general health, he resigned as an office of the Fort Worth National Bank, though continuing to be a director, and he then proceeded to manage his investments and seek in a quiet manner to retain his health, which continued gradually to fail until the time of his death.
Mr. Tidball was a man of striking appearance, being six feet in height and weighing over two hundred pounds, but his appearance was not nearly so striking as were those characteristics which endeared him to his friends, made him a power in the financial world of North Texas and made the enterprise to which he had given his life work such a success. True, not all of the credit for the phenomenal rise to prosperity of the Fort Worth National Bank can be given to him, but it can be truly said that without those characteristics of sterling worth, of business integrity, of close attention to details, of the ability of make true and lasting friends, the enterprise could not have grown from its inception without any check or hindrance, and to him must be ascribed in some great measure and prosperity which now marks that bank as the leading financial institution in this part of the state. Not only in business circles, but in the circle of his friends, was he greatly loved, for no man was ever more loyal to his friends or did more to help those who needed it, and his death was an occasion to them, as well as to his financial associates, or great sorrow.
On October 21, 1873, he was united in marriage with Miss Lelia F. Arnold, of Lexington, Missouri. Three daughters bless this union, Anna, Virginia and Edna. Anna married Jerry F. Ellis of Fort Worth, Texas, and Edna married Edward C. Hoadley of Lewes, Sussex, England. His wife and daughters still survived him.
On the death of Mr. Tidball it may truthfully be said that not even his family could have mourned his loss with greater sorrow than did his host of friends, to whom he had endeared himself by individual kindness, and that for years to come his memory will be kept very green by those who knew and loved him.
Source: B. B. Paddock, History and Biographical Record of North and West Texas (Chicago: Lewis Publishing Co., 1906), Vol. I, pp. 207-209.