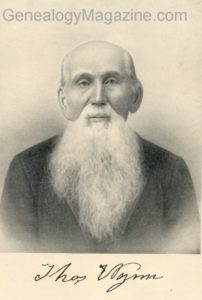 THOMAS WYNN, a prominent fruit farmer of Palo Pinto, Texas, and one of the most progressive citizens in this part of the state, was born in Schuylkill county, Pennsylvania, November 2, 1820, his parents being Jonathan and Mary (Wynn) Wynn. The father was born in Schuylkill county and in early life located at Pottsville, Pennsylvania, in the coal region. Subsequently he removed with his family to Chester county, Pennsylvania, his home being about thirty-five miles from the city of Philadelphia. In 1834 the family emigrated to Indiana, settling about thirty-five miles north of Indianapolis, and their next place of residence was in Edgar county, Illinois, Mr. Wynn taking up a farm about thirty miles west of Terre Haute, Indiana. His death occurred at Monticello, Illinois. Throughout the greater part of his life he had carried on agricultural pursuits and was a successful farmer. His wife, who belonged to a different branch of the Wynn family, died in Pennsylvania, prior to the removal westward.
When the family went to Edgar county, Illinois, and the father secured land there, Thomas Wynn of this review took part of the farm, which he conducted in capable manner, winning prosperity with his well directed efforts and unremitting diligence. He continued a resident of Illinois until 1877, when he came to Texas. With his sons he made a trip of investigation through this state, traveling from the northern portion southward almost to the Gulf. They made the journey in a wagon in search of a favorable farming location that would suit their purpose. Mr. Wynn finally decided upon the place which has since been his home, his farm being located three miles east of Palo Pinto, in Palo Pinto county at the foot of Wynn Mountain. Here he began making extensive improvements which he has industriously and systematically continued from year to year, his labors resulting in the development of one of the finest vineyards and fruit farms in Texas. He at first owned over one thousand acres of land and not wishing to engage in general farming or in the cattle business he sold off all except that which he used in his horticultural interests, a place of three hundred acres. He built a beautiful residence of two stories and basement, but this house was destroyed by fire. With characteristic energy, however, he replaced it by the present substantial home, one of the finest country residences in all Texas. It is equipped with every modern convenience, is built of excellent materials, has splendid interior finishing, and is elegantly furnished. The house is also arranged so as to furnish the maximum of convenience with the minimum amount of labor. Upon starting this place Mr. Wynn took advantage of a fine spring in the ravine above his residence, constructed an extensive system of piping, not only to supply the bath-room, kitchen, and other parts of the house, but for also for irrigating the vineyard and orchard, for which purpose there is twelve hundred feet of piping. The vineyard is very extensive and most attractive in appearance, and together with the orchard is the highest state of cultivation in accordance with the most modern and scientific methods of cultivating grapes and other fruits. Mr. Wynn has been assisted in the management and improvement of his fine fruit ranch by a competent German horticulturist, Mr. F. W. Bester, who has had long years of experience. He has one hundred bearing apple trees, also pears and peaches and an orchard of Japanese persimmons. There are also twenty-two different varieties of plums on his place, together with apricots, strawberries and blackberries. There is a greenhouse filled with beautiful flowers and it would be difficult in any part of the country to find a more attractive or desirable country home than this.
Mr. Wynn was married to Miss Lida Mitchell, a native of Ohio, who presides with gracious hospitality over their home. They have two living sons and four daughters: Isaac Newton, who is cashier of the bank at Mineral Wells, Texas; John, who is living on the old homestead farm in Illinois; Mrs. Mary Southers, a resident of Kansas; Mrs. Rachel Moyer, of Weatherford, Texas; Mrs. Viola Hudson, and Mrs. Linnie Watson, deceased.
Mr. Wynn is probably one of the oldest Masons of the country, for he was made a Master Mason at the age of twenty-one years, or in 1841. He is also a Knight Templar, having been formerly actively connected with Palestine Commandery No. 27, at Paris, Illinois. His is a notable career for many reasons, not the least of which is that he is still active in the business affairs of life, although he has reached the eighty-fifth milestone on life's journey. Such a career should be put to shame many a man of younger years who has grown weary of the trials and struggles of business life and would relegate to others the duties that he should bear. Mr. Wynn has also been very successful, owing entirely to his own enterprise, persistence and business sagacity. He has not attained success at the sacrifice of other men's fortunes, but has gained his wealth through honorable business methods and commands the entire respect and confidence of the business community.
Source: B. B. Paddock, History and Biographical Record of North and West Texas (Chicago: Lewis Publishing Co., 1906), Vol. II, pp. 434-435.