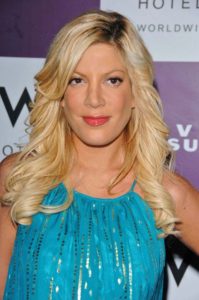 Actress Tori Spelling's grandfather, a Polish-Jewish immigrant, changed last name from Spurling to Spelling after coming to America.
Photo: s_bukley/Shutterstock
By James Pylant
Copyright © 2007—All rights reserved
Do not post or publish without written permission
Posted 19 June 2007; Updated 18 November 2014
Actress Tori Spelling, best-known as Donna Martin in the television series, Beverly Hills, 90210, also has credits as producer and director.1 One of her most impressionable performances was as a murdered high school cheerleader in 1994's Death of a Cheerleader, based on a true story.
Born in Los Angeles, California, on 16 May 1973, Victoria Davey Spelling is the oldest child of the late television producer Aaron Spelling and his wife, Candy. Her younger brother is actor Randy Spelling.2
Aaron Spelling's first wife was Janice Carruth.3 Following their separation, he married actress Carolyn Jones, whom Spelling credited for insisting that he pursue his writing career. After seeing him playing the role of a beggar in Kismet, she said, "Good-bye, acting; hello, typewriter."4 His third wife—the mother of Tori Spelling—is Carole Gene "Candy" Marer, born 20 September 1945 in Los Angeles County, California.5
Aaron Spelling was born on 22 April 1923 in Dallas, Dallas County, Texas.6 His mother was the former Pearl Wald, who came from a prominent Russian Jewish family. As told in Aaron Spelling's autobiography, his mother had fallen in love with a Polish Jew named David Spurling, whom her grandfather had forbidden her to marry. Soon after, she came with her family to America, arriving at Ellis Island, and from there they migrated to Texas. Here, she married a professional boxer and had two children.7 Her husband, Sam Seltzer, was stabbed to death by a stranger in Dallas on 16 September 1911.8 Concerned for the welfare of their widowed daughter and her two children, the Wald family is said to have written David Spurling, asking him to come to America. He did, and with a new name—Dave Spelling— immediately married their widowed daughter.9 Dave Spelling and Pearl Wald Seltzer wed on 18 February 1912.10 Aaron Spelling was the couple's youngest child.
In 1920, Dave Spelling's family is shown in the federal census enumeration living at 2214 Caroline Street, in Dallas. He was thirty-six and a taylor [sic]. Wife Pearl, age twenty-eight, had three children (all born in Texas): Max Seltzer, age eleven; Becky Seltzer, age seven; and Sam Spelling, age three months. "Poland Russia" is listed as the birthplace for both Mr. and Mrs. Spelling, with 1912 as his year of immigration and 1907 given for her immigration.11
The next decade, D. Spelling, age fifty, born in Poland, a tailor, had eight other individuals in his home: wife Pearl, age forty, born in Russia; daughter Rebbecca, age twenty; son Sam, age fourteen; son Daniel, age nine; son Aron, age eight (all Texas natives) and three roomers: E. A. Giller, a twenty-three-year-old auto supply clerk, born in Nebraska to Russian parents; Sam Irvin Giller, age seven months, born in Texas; and Sam Giller, age nineteen, born in Texas. Mr. Spelling was twenty at his marriage, and Mrs. Spelling's age at her first marriage was sixteen. Rebecca, is listed as married (since age seventeen), though Spelling is recorded as her last name.12 E. A. Giller, the "roomer," was actually her husband.13
Dave Spelling, born 22 April 1885,14 worked as a tailor in Dallas for fifty years. He and his wife were members of the Shearith-Israel Congregation. He died in Dallas on 27 July 1967.15 Pearl Spelling, born on 13 January 188516 in Russia, died in a Dallas nursing home at age ninety on 10 October 1977.17
The Wald family also went by the surname Wall. Pearl Wald Seltzer Spelling was the daughter of Harry Wall,18 who is found on the 1920 census as a neighbor to the Spellings, living at 2222 Caroline Street. His age is listed as fifty-three, and 1906 was the year of the immigration. His wife, Ethel, was fifty-four. "Poland Russia" is given as the couple's birthplace.19
Harry Wall, a dry goods merchant, was born in 1870 in Russia. His father's name, according to Morris Seltzer, was Aaron Wall [Wald]. He died on 31 October 1931 in Dallas and was buried at White Rock Cemetery two days later.20 His widow, Etta Wall, died 15 July 1938, also in Dallas, and she was buried in White Rock Cemetery two days later. Morris Seltzer, as informant, gave Russia as Mrs. Wall's birthplace, but the birth date given, 1 August 1874, is clearly in error. (Based on the 1920 census, 1866 is more likely her correct year of birth.) Mr. Seltzer stated her maiden name was Zlman, and her mother's maiden name was Bila.21
Aaron Spelling's prolific career as a television producer is legendary. His credits included such series as Charlie's Angels, The Love Boat, Starsky and Hutch, Dynasty, Family, 7th Heaven, and Beverly Hills, 90210. Mr. Spelling died at age eighty-three on 23 June 2006.22 Candy Spelling is currently Commissioner of the Board of Recreation and Parks for the City of Los Angeles.23
NOTES AND REFERENCES