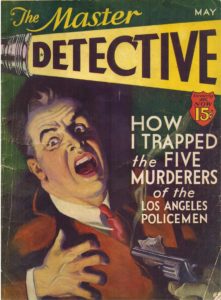 Detective magazines that first came into print more than 80 years ago are a unique, untapped goldmine for family history.
By James Pylant
Copyright © 2006, 2013—All rights reserved
Do not post or reprint without written permission
Dedicated genealogists are relentless when seeking facts on our families. We want to be thorough and consider every source available, even the obscure and unconventional. Oftentimes the history of a family has been impacted by crime, whether a relative was victim or perpetrator. My own grandfather, for instance, was brutally murdered when his daughter (my mother) was a small child. For many genealogists, though, these events are unknown until genealogical research enters the picture.
In 1924, a new genre entered the canvas of magazine publishing: "true crime." The first was True Detective Mysteries (better known as True Detective), and the concept spread like wildfire. Over the years around 100 periodicals devoted their pages to true-crime stories. And regardless of the magazine's name, their covers offered attention-grabbing graphics and shocking article titles, such as "The Crimson Crime in Glenburney Manor" and "The Corpse Swam Upstream."
The era of the true-crime magazine has virtually ended. Yet those countless articles that first came into print more than 80 years ago are a unique, untapped goldmine for family historians.
Antiquarian bookseller and publisher Patterson Smith, based in New Jersey, specializes in true-crime publications. "I had in mind only collectors of materials on famous cases," the bookseller tells me. But then he noticed a trend. "After getting a number of inquiries from people whose lives had been personally touched by crime—themselves, their ancestors or their friends—I realized that there was a large number of people seeking articles in detective magazines that they could not even identify by name and date, let alone find on the market."
To satisfy this growing demand, Patterson Smith began amassing a database of articles from detective magazines. The database now approaches 20,000 entries, though that figure represents a small portion of the total number of such articles published. Smith adds about 100 cases a week to his database. GenealogyMagazine.com recommends this service as a great source. Even in cases where we could provide few details about a crime, Smith quickly found what we needed.
How do genealogists access this source? The database is not online, but inquiries are welcomed and free of charge. To request a search, send an e-mail to Patterson Smith with any known details, such as:
Name of victim(s)
Name of perpetrator(s)
Location of the crime (city and state)
Year of the crime and brief account
Although it would be helpful to include the name of the magazine and issue date (if known), it is not a requirement.
Patterson Smith offers more than vintage true-crime magazines, however. A visit to the bookseller's website, www.patterson-smith.com/index.htm, shows an array of other items relating to criminal history, including "wanted" posters.