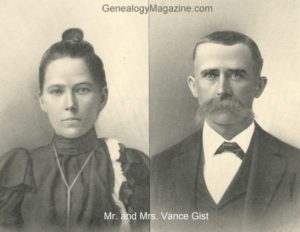 VANCE GIST, M. D. In a profession where success and prominence depend entirely upon individual merit, comprehensive knowledge and close application Dr. Gist has won a notable and creditable position. He makes his home in Red River Valley and is accorded a liberal patronage, which comes to him from a wide territory. He was born in Tennessee, March 4, 1854, and is a representative of one of the old families of Kentucky. His paternal grandfather, Joseph Gist, was a pioneer of that state, going there soon after Daniel Boone had made his explorations. He became a leading agriculturist of that section of the country and was closely identified with its early development. His son, Belew Gist, was the only child born of his first marriage. For his second wife he chose Belle Freeman and they had one son, Joseph, who died in the Blue Grass state.
Belew Gist was born in Kentucky, there spent his youth and after his marriage, which occurred in that state, he settled on a farm there and became a leading agriculturist of his community. He was a veteran of the Confederate army, serving throughout the war and participating in many important engagements and skirmishes, at the same time undergoing hardships and exposure that are always meted out to a soldier. He was a Royal Arch Mason, true and loyal to the teachings of the craft, and was a man whose word was as good as his bond. He was ever faithful to his honest convictions and neither fear nor favor could swerve him from a course which he believed to be right. Both he and his wife were consistent and devoted members of the Christian church. He first married Miss Nancy Davis, a native of Tennessee and a daughter of Isaac Davis, a representative farmer of that state, where he remained at home during the period of the Civil War, taking part with neither side. In his younger days he was noted as an athlete and he became an earnest, enterprising farmer without aspirations for public office or notoriety of any kind. His children were: Mrs. Elizabeth Johnson; Nancy, who became Mrs. Gist; and Mrs. Mitchell. To Belew and Nancy Gist were born eight children: Joseph, a merchant, shoemaker and saddler; Isaac, a school teacher and prominent mathematician; William, a farmer now living at Nocona; Vance of this review; Mrs. Sarah Eden of Kentucky; Ezell, a farmer of Arkansas; Mrs. Mattie Smith of Tennessee; and Robert, a farmer of western Texas. After the loss of his first wife, the father, Belew Gist, married again.
Dr. Gist, whose name introduces this record was reared in the usual manner of farmer lads, working in the fields through the summer months and attending school throughout the remainder of the year. He is largely self-educated in a literary way but through his reading he has become well informed. He taught school when about twenty-one years of age and also began reading medicine under the direction of Dr. B. S. Plumbly, who continued as his preceptor for two years. He next matriculated in Vanderbilt Institute, becoming a student in the medical department. Later he returned home and rode with the preceptor in his practice, assisting him at his work, so that he added practical knowledge to his theoretical training. The following season he returned to Vanderbilt Institute and was graduated in the class of 1880. He then located for practice in his home neighborhood, but after a few months on account of his own health he went to Slick Rock Springs, Kentucky. There his health improved and the people of the locality, recognizing his professional skill, urged him to remain. He did so and for years successfully followed his profession there. Through a correspondence, however, he was induced to come to Texas and made his way to Greenville, but he was disappointed in the physician of whom he was to become a partner and he remained at Greenville for only a few days. He then went to Cooke county, locating at Erie, where he entered into partnership with Dr. B. R. Thomerson, with whom he remained for a year, after which he went to Thackerville in the Indian Territory. There he also spent a year and on the expiration of that period returned to Valleyview, Texas, where he spent about twelve months. Again he located in Thackerville in 1886, remaining there in active practice until 1890, when he went to Roff in the Territory, spending nine years at that place. In 1899 he arrived in Montague county and located in the neighborhood of Red River valley, where he yet resides. He has been quite successful in his practice and at each place in which he has located he has built up a large business by strict attention to his profession and by reason of his skill in the administration of remedial agencies. In 1898 he took a post-graduate course at the West Side Hospital in Chicago, Illinois, and by reading and investigation he has continually promoted his efficiency and thus rendered his service of greater value in the alleviation of human suffering.
When in Roff Dr. Gist leased a farm for ten years, employing a man to carry it on. He handled much stock and was quite successful in his agricultural interests there. On coming to Montague county he purchased near his present place of residence, becoming owner of a valley farm of two hundred and ten acres, which he operated in connection with his practice. Eventually, however, he sold out and bought a gain where he now resides, having here two hundred and sixty acres of fine valley land, well improved with good buildings, modern equipment and an orchard. He also bought a forty-acre wood lot. The doctor greatly enjoys the outdoor air and exercise that farm labor gives and would really refer to abandon professional service and give his attention to the farm on account of health, but his many patrons are opposed to this plan and demand his services as a medical practitioner.
In May, 1894, in Cooke county, Texas, was celebrated the marriage of Dr. Gist and Miss Allie Phillips, who was born in Cooke county, February 25, 1876. She is an estimable lady of natural refinement and attractive graces of character, who presides with charming hospitality over their pleasant home. Her parents were Dan and Sally A. Phillips, the former a native of Tennessee and the latter of Arkansas, Crawford county. They were prominent residents of Cooke county, where her father was engaged in the cattle business for a number of years. Later he became a member of the King Cattle Company, which subsequently failed. Mr. Phillips, however, rallied from his financial reverses and gained a fair measure of prosperity. He continued his residence in Cooke county up to the time of his death, which occurred December 28,1888. He was an active and interested member of the Methodist church and was a man of upright principles who fully merited the confidence and good will that was uniformly extended him. His wife survives him and now resides in Montague county. In their family were eight children, namely: Fannie, Claude, Allie, Nora, Charles, Wid, Anna and Tennie.
Dr. and Mrs. Gist have three children: Gladys, born October 25, 1897; Ruby, born November 12, 1901; and Elsie, born March 13, 1903. The doctor and his wife have many warm friends in Nocona and Montague county and he is well known as a successful and capable physician and surgeon and enterprising farmer. His labors have been well directed and through his own efforts he has achieved success and an honored name.
Source: B. B. Paddock, History and Biographical Record of North and West Texas (Chicago: Lewis Publishing Co., 1906), Vol. II, pp. 308-309.