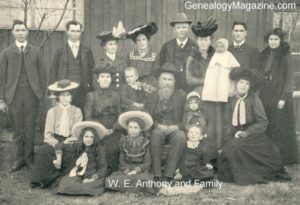 W. E. ANTHONY, a pioneer of Saint Jo, Texas, who has been prominently identified with the development and progress of the county, was born in Georgia, August 25, 1841, and was reared to farm pursuits, which claimed his attention when he was not occupied with the duties of the school room. His parents were Mark and Mary (Montgomery) Anthony, both of whom were natives of Georgia. The grandfather, Lewis Anthony, was a farmer, who died in Georgia, and his children were Mark, Richard and Samuel, the last named a prominent Methodist minister and the present of Americus College.
Mark Anthony was reared in the state of his nativity and after his marriage began farming on his own account, continuing his residence in Georgia up to the time of his death, which occurred in 1844. He had no aspiration for public office, but was content to devote his time and energies to his agricultural pursuits and to his work as a member of the Methodist church. He was one of its leaders and filled various offices within the gift of the church, being most devoted to its work and upbuilding. His fidelity to principle and his upright manhood gained him the respect and honor of all whom he was associated. His wife survived him, afterward removed to Alabama and subsequently came to Texas with her son W. E. Anthony, with whom she found a good home throughout the remainder of her days. She was a daughter of Robert Montgomery of Georgia, who was a well known agriculturist and slave owner there, remaining in that state until his death. He was very popular in his home locality and was regarded as a leader in public affairs of his community. His wife was an earnest Christian woman, belonging to the Methodist church. To that worthy couple were born eleven children: John, James, William, Cicero, Nancy, Sally, Elizabeth, Amanda, Anna, Louisa and Mary.
The last named became the wife of Mark Anthony and by this marriage there were eight children: Elizabeth A., who became Mrs. Keets and after his death married J. Roberts; Robert, who died in the army; John, who entered the Confederate service from Texas at the beginning of the war and was never heard from again until 1904, when W. E. Anthony learned of his whereabouts and visited him in this state; Nancy, who died in childhood; James, who served throughout the war and is now in Atlanta, Georgia; Mrs. Amanda Mount; W. E., of this review; and Chapple, who was killed in the battle of Baker's Creek, while serving in the Confederate army. Four of the number are yet living. The mother reared her children in a most creditable manner and in her last days found a good home with her son, W. E. Anthony, and others of the family, her death occurring in this county in 1878.
W. E. Anthony was born and reared in Georgia and subsequently to his father's death assisted his mother in the management of her business affairs until 1861. He then responded to the call of the Confederacy for soldiers and joined the field artillery, first under Captain Yeiser and later under Captain Corpit, with whom he continued until the close of the war. His battery was attached to the army of the Tennessee and he participated in most of the engagement fought in the state of Tennessee. He was captured in Bakers Creek fight together with many others and was sent to Camp Morton at Indianapolis, Indiana, and afterward to Fort Delaware, remaining there for three months, when he was exchanged. He then joined his command at Stone Mountain, Georgia, and the first engagement in which he afterward participated was at Chattanooga. He was later in the engagement of Lookout Mountain and after the battle retreated to Atlanta, passing all through the siege there. Later he was at Nashville and subsequently returned to South Carolina, being in many of the movements of the army in that state as well as at Salisbury, North Carolina. At that place he was again captured, but by his ingenuity managed to slip away from the guard and make his escape. Three months after the close of the war he received his parole. He was always on active duty at the front and he saw hard service and bore many deprivations such as are meted out to a soldier. Subsequently he returned home and found his mother without help, for the slaves had gone and she had no one to assist her. He then resumed farming and remained in Georgia for four years.
In 1870 Mr. Anthony removed to Texas, settling in Montague county before Saint Jo had been platted. He bought land on Mountain Creek, seven miles from the present site of Saint Jo. He found few settlers in the locality and was a pioneer settler of the typical type, having to brave the hardships and trials incident to life in a frontier district. He cut logs, had the lumber sawed and built a house and in the course of time was placing his land under cultivation, his labors proving that farming was not an unsuccessful experiment, but could be made a profitable and permanent industry. For six years he successfully conducted his land then sold out, at which time he removed to a farm about five miles north of Saint Jo, purchasing a tract of land on which he built the first cotton gin in this locality, continuing its operation for ten years. He also carried on blacksmithing, for there were few mechanics in the locality and customers came to him from twenty miles around. He likewise placed his land under cultivation, carried on farming to some extent and was the pioneer ginner in his locality. In 1888 he sold out and came to Saint Jo, where he bought a gin surrounded by a tract of six acres. This he conducted for ten years, when once more disposed of his and then bought farm, to which he removed, continuing its cultivation for a few years. He then again became owner of the cotton gin at Saint Jo and yet retains it in his possession together with the six acres of land, on which he has erected a commodious residence. He yet conducts the gin and does some farming, but has abandoned blacksmithing. The capacity of the gin is sixty-three bales per day and it is well equipped with modern machinery, thoroughly up to date in every particular.
In 1872 Mr. Anthony was united in marriage to Miss Elizabeth Jones, an estimable lady who has proved an excellent helpmate to her husband. She was born in Denton county, Texas, October 3, 1857, a daughter of Jackson and Ruth (Wisdom) Jones of Tennessee, who removed from that state to Missouri and later to Texas. They were pioneer residents of the Lone Star state and settled in Kaufman county, where Mr. Jones developed and improved a farm, but later he disposed of his property there and took up his abode in Denton county, where he also opened up a good farm. In 1870 he removed to Montague county, settling north of Saint Jo, where he improved at third farm. Later he rented his land and retired to Saint Jo, where he died in April, 1903, at the advanced age of eighty-two years. He was a veteran of the Mexican war and also of the rebellion and was in the One Hundred and Sixteenth Regiment, wherein he displayed the valor and loyalty which always characterized him in his relation to any cause that he espoused. He was a staunch Democrat, but without desire or aspiration for the honors and emoluments of office. He belonged to the Methodist church and was ever most loyal in his advocacy of its teachings. His wife, who died in 1897 at the age of sixty-three years, was a daughter of Thomas Wisdom of Tennessee, who died in Missouri, where he was well known as a prominent and highly respected man. His children were: David, William, Thomas, Pollard, Elizabeth, Margaret, Sarah and Ruth. The brothers and sisters of Jackson Jones were: James, William, John, Robert, Wisdom, Cynthia and Mary. To Mr. and Mrs. Jackson Jones were born the following sons and daughters: Mrs. Cynthia Bronson; Thomas, of Arizona; Newton, who is living in Jackson county, Texas; Mrs. Elizabeth Anthony; Mrs. Esther Mitchell; Carroll, who is living in Jack county, Texas; Mrs. Mina Rudolph; Mrs. Sarah J. Shanklin; John, of Mexico; and Mrs. Molly Bellis. All are yet living and with one exception all are married.
Mr. and Mrs. Anthony have a family of eleven children: Chapple, who married Miss Maggie Whaley; Ophelia, the wife of William Broome; Ada, the wife of Theodore Whaley; Maud, Newton, Belva, May, Mable, Alice, Mark and Scott, all yet with their parents.
Mr. Anthony exercises his right of franchise in support of the men and measures of the Democracy. He has seen the development of Saint Jo and all the surrounding country. There has been but one Indian raid since he settled in this part of the state and he did not suffer any loss at that time. He has enjoyed good health, has been well pleased with the country and in his business affairs has prospered. He is well known as the ginner of Saint Jo and as a public-spirited citizen devoted t the welfare and progress of his community.
Source: B. B. Paddock, History and Biographical Record of North and West Texas (Chicago: Lewis Publishing Co., 1906), Vol. II, pp. 281-282.