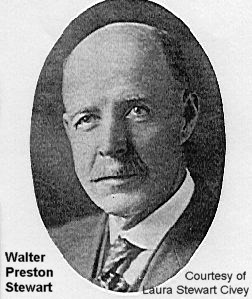 WALTER PRESTON STEWART is numbered among the leading business men of Jacksboro, where he is extensively engaged in a real estate and financial business, and is a large land owner in the county. He was born in Kentucky, between Frankfort and Louisville, his parents being Malcolm G. and Gertrude (Reynolds) Stewart. The family is of Scotch ancestry. The extensive land interests of W. P. Stewart in Texas are inherited from the large holdings established in Jack county by his grandfather, Willis T. Stewart, a prominent business man of Louisville, Kentucky, and one of the members of the old Texan Emigration & Land Company organized in the early '50's to make extensive purchases of land and establish colonies in Texas. It was the successor of the Peters Colony, well known to old pioneers, which was proprietor of a large tract of land in western Texas. It was also in the '50's that Willis T. Stewart acquired as his interest in the company the large body of land in Jack county, deeded him by the state of Texas, a portion of which now belongs to Walter P. Stewart. The former never lived in this state, but continued in business in Louisville until his death, in 1860. He, however, made several trips here, and at his death left nearly sixty thousand acres of these lands. The property which belonged to him in Jack county lay idle for many years, but in 1874 Malcolm G. Stewart, a native of Louisville, came from Kentucky to take charge of and improve the same. Settling on the land in its virgin state and commencing its improvement, he built thereon one of the largest log cabins in Texas, bought cattle, and in a short time had a prosperous cattle and farming business operation. But [h]ere he had had time to long continue his labors death claimed him, passing away in 1883. His wife died in Kentucky when her son Walter was a young child. She was born in Clark county, Kentucky.
In the schools of Kentucky Walter Preston Stewart received his literary training, attending for five years the Kentucky high school at Frankfort, and after coming to this state entered upon a business course in Prof. Prewitt's Business College at Fort Worth. In 1878 he came to Jack county and with his brother, Willis T. Stewart, took charge of the Stewart lands after their father's death, their business being conducted under the name of Stewart Brothers. The post office and settlement of Gertrudes, established about 1878 on their land, grew out of the development work of this firm, and there they conducted a general mercantile business for several years. Later, however, Willis T. Stewart became a cashier of the First National Bank at Graham, Texas, and still later was cashier of the Beckham National Bank at the same place, holding the latter position until his death. Since 1898 Walter P. Stewart has made his home in Jacksboro, where he is conducting an extensive business in real estate, loans, insurance and collections. The Stewart land is now located in what has been for many years known as Lost Valley. At the present time it consists of twenty-five thousand acres, and embraces some of the richest and most productive soil in Texas. From a scenic standpoint Lost Valley is beautiful and picturesque, making it an ideal place for homes, its location being a little north of west of Jacksboro, the nearest corner of the valley being twelve miles from the town. It is well supplied with an abundance of good, pure well water at a depth of from sixteen to one hundred and twenty feet, the latter in most cases fine artesian water, while nearly the entire section is underlaid with a vein of as good coal as this state produces. An important branch of Mr. Stewart's business now consists of selling the Lost Valley land in small tracts to desirable farmers, the richness of the soil being a sufficient guarantee of success. The placing of this land on the market will result in giving Jack county a greater agricultural development than it has ever before known. In addition to the lands mentioned he also has extensive pastures northwest of town, on which he has some fine full-blooded and registered cattle, his specialty being shorthorns. The Stewarts have been breeding fine cattle for more than twenty years, much of which is obtained from the fine stock farms of Lafayette county, Missouri.
After disposing of his business at Gertrudes and previous to locating in Jacksboro, Mr. Stewart resided at Waco for about a year, and was there married to Miss Frances Graham, a niece of Colonel E. S. Graham, who, with Mr. G. A. Graham, founded the town of Graham, the county seat of Young county. She was born at Waco, Texas, the family having come to this state from Kentucky, and by her marriage she has become the mother of three children— Gertrude, Edwin and Walter Preston, Jr.
Source: B. B. Paddock, History and Biographical Record of North and West Texas (Chicago: Lewis Publishing Co., 1906), Vol. I, pp. 235-236.