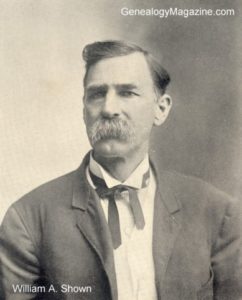 The executive head of the Jacksboro National Bank, mentioned as the subject of this article, has within the past score of years attained a wide prominence over Jack and Wise counties in the grazing industry and as a business man and a citizen has won a strong hold upon the confidence and affections of their citizenship. A gentleman yet little past middle life, a creature largely of his own forming and the rough hewer and shaper of his own destiny, the efficiency of his work is apparent in the tiny, the efficiency of his work is apparent in the achievement of a safe, conservative, progressive and successful man.
The years 1870, 1882, and 1898 represent the advent of Mr. Shown to Parker, Wise and Jack counties respectively and in the first he reached mature years and began life, in the second he has established a stable and permanent citizenship and formed business and social ties which bind him to the municipality for years to come. A native of Dallas county, Missouri, he passed his boyhood in a sort of migratory movement over central Texas, in Burleson, Limestone and perhaps other counties as his father happened to pause, finally reaching Parker county and completing this youth in the northeast corner of the county on the parental estate. While thus rambling about h picked up some knowledge of books, and those elementary principles, with the practice of later years in business affairs, grounded him in the fundamental principles of an education.
At twenty years of age he began the shaping of his independent course, in company with a young and industrious wife and with the good will of his associates. Without means, he contracted for land and primitively undertook its cultivation and improvement. He was schooled in the cow business in boyhood and, with the lapse of time and the slow accumulation of wealth he found himself acquiring a hold on the business he felt most friendly to and in which his chief success has been achieved. When he located in Wise county he took a small bunch of cattle with him from Parker, bought lands there and carried on stock-farming for a few years. He early formed a partnership with Stewart Castleberry, another young man of integrity and promise, and the two, as Shown and Castleberry, have retained a happy and prosperous business relation ever since. His first brand of "Shon" and his subsequent one of "H," have identified the thousands of animals which have passed through his hands and his two thousand acre pasture in Jack county and the Hunt Creek ranch of twenty-four hundred acres in Wise speaks pointedly of the substantial success which accompanied his efforts since twenty years ago.
In the above-named Missouri county William A. Shown was born October 27, 1854, and in 1865, Joseph L. Shown, his father, brought the family to Texas and first located in Burleson county. The father was born in Johnson county, Tennessee, in 1822, and moved out to Missouri. He was ever a farmer, and died upon his Parker county farm in 1875. He served a year in the Confederate army during the rebellion, as a citizen was quiet and unambitious beyond success in his favorite vocation, was a Democrat and of the Missionary Baptist faith in religion. John Shown, his father, died on the old homestead in the state of Tennessee about 1880. His forefathers were German and among his children were sons, Samuel, Peter, Baker and Joseph L. The two former passed their lives in Tennessee and the two latter died in Parker county, Texas.
Joseph L. Shown married Barbara Howard, who was a daughter of a Tennessee farmer and still survives. The children of this union are: Susan, wife of John B. Dotson, of Wise county; John and James, who were killed in the Confederate army; Hulda, who died in Parker county as the wife of James Parsons and left no issue; Cornelia, who married J. V. Bounds, of Freestone county, Texas; William A., of this notice; and Joseph L., of Jack county, with whom the mother makes her home.
February 25, 1875, William A. Shown married Mary M. Ratton, a daughter of Hampton Ratton, who came to Texas in the early time. January, 1901, Mrs. Shown died, the mother of John H., a young stockman of Jacksboro, who married Electa Gibson and has a son, Joseph P.; Joseph, who died just a few days before his mother, and Doddie Delmah, a young lady at home. October 23, 1903, Mr. Shown married Mrs. Mary G. Carpenter, widow of J. C. Carpenter and a daughter of Dr. Stewart, of Wise county. Mrs. Shown has sons, Robert and Jesse, of Wise county and a daughter Doddie, wife of J. H. Partwood, of the same county.
Mr. Shown has not permitted his interest in civil affairs to lag, notwithstanding his large interests in business matters. He is a Democrat and the voters of his precinct in Wise county elected him a member of the board of county commissioners, where he served two years. In his new home he was one of the prime movers in the organization of the Jacksboro National Bank, in 1905, with a capital of $25,000, one-half paid up. Its directors are William A. Shown, C. O. Hess, E. A. Gwaltney, Ward B. Lowe, J. H. Timberlake and Hickman Hensley, of Jacksboro; J. G. Mullens, of Antelope, A. G. McClure, of Cundiff, J. H. Walters, of Gibtown, and J. W. Spencer and W. G. Turner, of Fort Worth. At the organization of the institution and the election of officers William A. Shown was chosen president, a guarantee to its patrons that the bank will be safely, wisely and economically managed.
Source: B. B. Paddock, History and Biographical Record of North and West Texas (Chicago: Lewis Publishing Co., 1906), Vol. II, pp. 128-129.