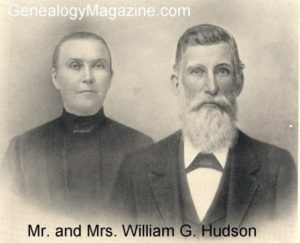 It is the province of this personal sketch to relate in brief the career of a most worthy citizen of Wise county, who, since the year 1884, has been connected with the religious as well as the agricultural work of the county and has established himself, through his exalted character and genuine personal worth, ineradicably in the hearts of the citizens of a wide locality. In the person of William G. Hudson we have a gentleman whose rural achievements mark him as an intelligent farmer and whose spiritual work has led to the awakening of souls surcharged with sin and their regeneration for the world to come. In his dual capacity as a minister-farmer he goes about his work with a determination to effect results, to which his financial and social standing in this community amply testify.
Before his advent to Wise county and his locating one mile east of Bridgeport Mr. Hudson passed six years in Johnson county, Texas, and prior to that as many years in Tarrant county, in both of which he followed farming, the vocation he acquired in youth. He came to the state from Cherokee county, Alabama, in 1872, having grown up there from his birth, April 17, 1842.
About the year 1832 the family was founded in Alabama by William B. Hudson and his father, father [sic] and grandfather, respectively, of our subject, and they were emigrants from Tennessee. Both passed their remaining years in Alabama and were identified with the work of building up country homes and in promoting the spirit of domestic progress which lay practically dormant in that day and time. The grandfather was a mill man as well as a farmer, and tradition tells of his claim to English antecedents, but does not fix the place nor the date. He married a Miss McClure, a lady of Irish blood, and their eight children were: Thomas, Robert, John, William, Eliza, who married William Hegler; Sallie, wife of Richard Milner; Jane, who died unmarried; and Mary, wife of John Snyder.
William B. Hudson was born in Tennessee, in 1804, had mill and farming interests, like his father, and owned a tanyard too. He had a good business mind but possessed only a fair education and left an estate at his death in 1857. He married Mary McClure, who died in 1844, the mother of Sylvester M., of Arkansas, Robert L., who was killed as a Confederate soldier; Holbert, who died at twenty-four years; Mary, who passed away unmarried; William G., of this article; and Rebecca, who became the wife of Job Lawler of Talladega county, Alabama, both deceased. William B. Hudson married Priscilla Loftus for his second wife and five other children were added to his household, viz: Allen and Leonidas, deceased; Oliver and Samuel, farmers of Wise county, and Fannie, wife of Frank McMinn, of Cherokee county, Texas.
The rustic schools of the fifties had to do with the limited education William G. Hudson secured and when his father died he made his boyhood home with John Hudson, an uncle. He was a tall and ungainly youth when cession caused the war between the states and was busy with the commonplace affairs of the farm, but he responded to the call to arms early and enlisted in Company C, Seventh Alabama Infantry, for twelve months and was mustered out at Corinth, Mississippi when his enlistment expired. He rejoined the army, entering the Nineteenth Alabama for three years and remained till the breakup occurred. He took part in the Murfreesboro and Chickamauga battles and in many minor engagements and in May, 1864, while at Cassville, Georgia, was captured and shipped to Rock Island, Illinois, and kept in a Federal military prison until the end of the war. He reached home in June of 1865 and resumed the work of the farm.
After the war our subject started life at the bottom of the ladder and began slowly to climb. When he came to Texas he has little more than enough to defray the expense hither by wagon. He brought with him a wife and plenty of homespun clothes, made by the wife after the war, and when they had fairly settled in Tarrant county and ready to resume the burdens of life fifteen cents in money was all they had. They were hardly more than renters until they settled in Wise county and here Mr. Hudson bought a hundred acres of land, with two small cabins, and took possession of his first permanent home. All hands began the task of clearing the farm, wife and children, too, and many was the time that the family was went on the line before the industrious wife took up her station "in the new ground" and encouraged the little folks to hold fast. In time ample fields were opened out and the modern cottage took the place of the pioneer cabin and the children married off and the father and mother were again alone.
February 18, 1865, Mr. Hudson married Miss Mary E. High, a daughter of John W. High and Catharine (Taylor) High. Mr. High was originally from North Carolina, of Dutch and English descent, but Mrs. Hudson was born in Cherokee county, Alabama, June 15, 1845. Of their children, Martha died in Comanche county, Texas, as the wife of Andrew Morrison; Juda married Frank Hudson and died in Hunt county, Texas; Sarah married John A. Matthews, of Huntsville, Alabama; William P., died aged twenty-four years, a farmer; Nancy married William Mitchell and died in Hunt county, Texas, and Emma died there as the wife of "Bud" Lida; Amanda, wife of James McLaren, of Huntsville, Alabama; Maggie became Mrs. John Roberts, and passed away in Brown county, Texas. Mr. and Mrs. High came to Texas in 1873 and the former died in Comanche county, while the latter resided in Hunt county when she died. John W. High's father was T. Whitehead High, who married Juda Walker, a native of North Carolina and daughter of very wealthy parents. John W. High's brothers and sisters: Nancy Cobb, Felix, Jane Taylor, Narcissus Cobb, William P., Sarah E., Cynthia Ann Farr, Rebecca, Perry, Jacob, Van Buren. Catherine (Taylor) High was daughter of Charles and Elizabeth Taylor, whose children were: James, Mary, Susanna, John, Elizabeth, Catherine, Ann, William, Nancy Jane.
Mr. and Mrs. Hudson's family comprise one child that died at birth; Rebecca C., died aged sixteen months; William E., died ten weeks old; Samuel L., died aged twenty-two months; John S., died aged eight months; Oliver L., of Indian Territory, who married Olivia Couch and has children, J. Granville, Thomas H. and Ed W.; Ida, wife of J. H. Greer, of Wise county, has issue, John Elbert; Edra; and Versia B., who married Minnie M. Barnett, is the father of Mary A., John William, Herman O. and Robert J.; Wilda, wife of Joseph Blewitt, of Wise county, has a daughter, Dera O.
While Mr. Hudson's parents were of the Cumberland Presbyterian faith, in the fall of 1865 he joined the Missionary Baptists and grew into interest and enthusiasm in the work of the church. For the past quarter of a century he has been qualified to preach and for some twenty years he has done the work of a regular charge. In his limited sphere he has been a busy man and those who have come under his spiritual guidance and influence know and appreciate him for his real worth.
Source: B. B. Paddock, History and Biographical Record of North and West Texas (Chicago: Lewis Publishing Co., 1906), Vol. II, pp. 530-532.