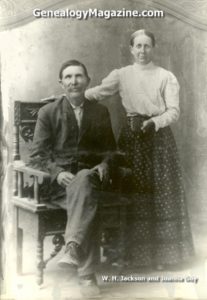 Historical Images Collection

Ref. No.
P001-580
Subject
W. H. Jackson and Joanna (Guy) Jackson
Location
Texas
Date
unknown
Caption
W. H. and Joanna (Guy) Jackson
Notes

According to family tradition, Joanna Guy was fourteen years-old when she married William Harrison Jackson. He was the son of John Kean Jackson and Jane Ainsworth. Joanna Guy, daughter of Peter Guy and Martha O'Neal, was born 2 November 1858 and died in Erath County, Texas, on 23 August 1939. Their children were:

Sedora, who married Will Moorehead.
Tom
Newton Cornelius, Farmer, born 9 May 1879, Leon Co. Texas – died 3 Nov. 1965, Erath Co. Texas.
Robert
Elizabeth, who married William Goolsby.
Bud, who married Myrtle Woods.
Ethel, who married Alfred Stacy.
Martha Emma Leona Jane, who married John Henry Shannon.
Guy
Eunice

Sources
Interview with J. W. Shannon by James Pylant; Birth and death data from death certificate of Joanna Jackson, Death Records, Vol. 3, p. 237, Erath County Courthouse, Stephenville, Texas; Death certificate of Newton Cornelious Jackson, Vol. 12, p. 235, Erath County Courthouse. Names of parents of William Harrison Jackson and Joanna Guy from Edwin Shannon, Hico, Texas.