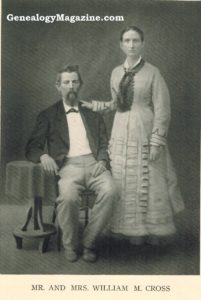 WILLIAM M. CROSS, a well-known agriculturalist and prominent citizen of Tarrant county, is a native of Arkansas, his birth having occurred in Hempstead county on the 13th of July, 1840. He is a son of Robert and Ann H. (Wood) Cross, both of whom were natives of Kentucky, while their ancestors lived in Virginia. Robert Cross continued his residence in Arkansas until 1851, when he came with his family to this state, settling in Lamar county, where he remained until the fall of 1852, when he came to Tarrant county. He found here a pioneer district in which the wild prairie was unbroken, hardly a settlement having been made within its borders. The native prairie grasses grew to considerable height and it was only at rare intervals that the home of a settler was seen, indicating that the seeds of civilization had been planted in this locality.
William M. Cross was reared to manhood in this county amid pioneer surroundings and his education was acquired in such early subscription schools as existed in Birdville at that day. His uncle, Hon. Edward Cross, was a lawyer by profession and a member of congress from Arkansas and at one time he served as governor of Arkansas when it was still under territorial rule. Of the members of the family of Robert Cross five are still living: Thomas E., who makes his home at Fort Worth; Nancy G., who is the wife of Robert Drum; also of Fort Worth; Laura F., now Mrs. James, a widow of Parker county; Margaret A., the wife of Thomas Daugherty, a resident of this state; and Robert L., who is living in Denton county, Texas.
William M. Cross, although receiving limited educational privileges, had ample training at farm labor and was instructed concerning the value of industry and integrity as forceful factors in an active business life. He was but twenty-one years of age when in the spring of 1861 he offered his services to the Confederacy and became a member of Company A, Ninth Texas Cavalry, with which he participated in the battle of Pea Ridge, Arkansas. He also saw active service in Indian Territory, but later was honorably discharged on account of illness at Horsehead Bayou in Arkansas. When he had sufficiently recovered his health, however, he once more enlisted, joining Company F of Waller's battalion of Texas troops, Captain Terrell. This command was assigned to General Green's division and saw service in Louisiana and Arkansas, taking part in numerous engagements. In fact, was continuously in active duty until the close of the war, after which Mr. Cross returned to Texas and finally to Tarrant county. Here he has resided continuously to the present time. He made an excellent record as a soldier by reason of his valor and his loyalty to the cause which he espoused and he fought in many battles and endured the usual hardships of the soldier's life.
Mr. Cross has been married twice. He first wedded Nancy J. Allen, a native of Tennessee, and he afterward married, April 12, 1876, Malinda E. Stovall, a native of Texas. He reared Martha J. Stovall from a small child.
In political circles in Tarrant county Mr. Cross has figured quite prominently and his opinions have carried weight in local and county councils of the Democratic party. He served as county commissioner for one term of two years. Fraternally he is associated with Grand Prairie Lodge, No. 455, A. F. & A. M., at Smithfield, and he belongs to the Methodist Episcopal church there, in which he is now serving as a trustee. The consensus of public opinion places him in the ranks of prominent men in the northern part of Tarrant county and his genuine worth entitles him to the warm esteem which is so uniformly accord him by all who know him.
Source: B. B. Paddock, History and Biographical Record of North and West Texas, Vol. II (Chicago: Lewis Publishing Co., 1906), p. 287.