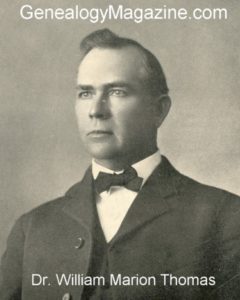 Prominent among the professional men of Palo Pinto county is numbered Dr. William Marion Thomas, who is engaged in the practice of medicine and surgery at Mineral Wells. He was born near Athens, McMinn county, Tennessee, and is a son of S. M. and Abigail (Pierce) Thomas. His boyhood days were spent on the home farm and his education was begun in the public schools and continued in the Grant Memorial University, at Athens, Tennessee, where he was graduated in 1888. During this time he had been studying medicine and he finished his professional course in the College of Physicians and Surgeons, at Saint Louis, Missouri, where he was graduated in 1891. He then came to Blue Ridge, near Farmersville, Texas, where he entered upon his practice, and although he located in a district where he was a stranger and had a cash capital of only twenty-five cents at the time of his arrival he soon won his way into public favor and gained a constantly growing patronage. His close application to his business combined with his thorough and practical knowledge of the principles of the science of medicine, and his skill in demonstrating remedial agencies, soon brought him success, his practice reaching proportions in excess of that of any other country practitioner of Northern Texas.
In 1902 Dr. Thomas came to Mineral Wells and here success attended his efforts as it had in Collin county. He is now engaged in the construction of a fine sanitarium to be known as the Texas Bath House. It is a story-story brick structure, equipped with the most modern conveniences and furnishings known in the best sanitariums of the country, and it is also supplied with every facility for the treatment of patients with the healing waters of Mineral Wells. The sanitarium is being erected at a cost of twelve thousand dollars and Dr. Thomas has his office located in the new building. Dr. Thomas is also the owner of a very fine and valuable ranch of sixteen hundred acres in the Brazos river bottom in Palo Pinto county and he likewise has other valuable real estate, mostly rich farm lands.
Dr. Thomas was united in marriage in Farmersville, Texas, to Miss Mary Honaker of that place and they have five children: Horace Honaker; William Marion; Andrew Orin; Lillian; and Felix. Dr. and Mrs. Thomas occupy an enviable position in social circles and their home is justly celebrated for its gracious and charming hospitality. The Doctor belongs to the Odd Fellows society and to the Methodist church. He has never been active in politics as an office seeker, but in early life before he entered the medical profession he engaged in teaching in McMinn county, Tennessee, and was elected and served there as county superintendent of schools. In his profession he has made continued advancement and the favorable judgment which the world passed upon him at the outset of his career has been in no degree set aside or modified, but on the contrary has been strengthened as the years passed an he has demonstrated his ability to cope with the intricate problems that continually confront the physicians.
Source: B. B. Paddock, History and Biographical Record of North and West Texas (Chicago: Lewis Publishing Co., 1906), Vol. II, p. 673.