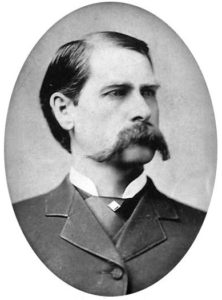 While gambler and lawman Wyatt Earp may appear in your family tree, you can't be a direct descendant for although he had three wives, he did not have any offspring. 
By Myra Vanderpool Gormley, CG
Copyright © 1994, 2013—All rights reserved
Do not post or reprint without written permission
Reprinted from American Genealogy Magazine, Vol. 9, No. 4
The Wild West was chock-full of colorful characters and it was natural as ticks to a hound dog that Hollywood would fall in love with them. Of course, in certain instances some were actually just creations of the silver screen, while in others, there were embellishments of the historical facts pertaining to various heroes and heroines—not unlike some of our own family legends.
Many families have stories about being connected to or descended from renowned Wild West personalities. My Uncle Teck went to his reward believing his father had once encountered Jesse James hiding train robbery loot in the Cookson Hills of eastern Oklahoma—even though I pointed out that the notorious outlaw-folk hero was killed in 1882 when his father was a nine-year-old boy living in Georgia. Some family legends are hard to kill.
The genealogist often has to spend a great deal of time sorting conflicting facts from obvious fiction before the genealogical research can be conducted. Even biographies and autobiographies of the famous and infamous may contain inaccuracies and discrepancies. Nevertheless, it is fun to research the possible links to a historical figure, and even if you disprove the family legend, you learn a lot of American history along the way. For example, the movie, Wyatt Earp and the video Tombstone created renewed interest in the legendary sometime-lawman. While Wyatt Earp may appear in your family tree, you can't be a direct descendant for although he had three wives, he did not have any offspring.
Tracing Wyatt Earp and his family as they zigzagged across the heart of America back and forth to California and other Western states in the 19th and 20th centuries provides a fairly representative illustration of the migration trails that many of our ancestors took.
Wyatt Earp was born in Monmouth, Warren County, Illinois in 1848. However, his family moved to Pella, Marion County, Iowa, when he was about two years old. He appears with his parents (Nicholas Porter Earp and Virginia Ann Cooksey) and his four older siblings in the 1850 census of that county.1 The 1860 census of Marion County, Iowa shows this Earp family consisting of the parents and six children and a 17-year-old female (Lucinda Davis) whose relationship to the Earps has not been established. The Earp children at that time were: James C., Virgil W., Wyatt B., Morgan, Warren B. and Virginia. The youngest child, a daughter named Adelia, was born in June of 1861 in Pella, Iowa.2
Wyatt Berry Stapp Earp was named for his father's commanding officer under whom Nicholas Earp served during the Mexican War. Wyatt was too young for Civil War service, but his father and brothers, James and Virgil, and half-brother, Newton, served—all on the Union side. The 13-year-old Wyatt was left in charge of bringing in an 80-acre corn crop, with the help of younger brothers Morgan and Warren.3
Nicholas Earp, Wyatt's father, went to California in the 1850s—not for gold—but to find agricultural land with an ample water supply, and decided to settle in San Bernardino County.4 He returned to the Midwest to move the family to California, but his daughter, Martha, became ill and died. Then the Civil War started, delaying the move. In 1864-65, according to family accounts, Wyatt drove one of the wagons when the family removed to the vicinity of Colton, San Bernardino County, California. However, somewhat later Nicholas Earp decided to go back and dispose of his land in the Midwest (apparently the real estate market was depressed at the end of the Civil War) and then to return to California to settle permanently. So, in 1868 they went back to the Midwest—this time to Lamar, Mo. (Whether Nicholas Earp owned property in both Iowa and Missouri at this time has not yet been ascertained.) In 1870, the Earp family was enumerated in Lamar Township of Barton County, Missouri,5 with Nicholas listed as a grocer. The then 22-year-old Wyatt Earp is shown with his wife, "Rilla," whose real name was Urilla Sutherland.6 They were married 10 January 1870 in Barton County, Missouri, according to marriage records there. Urilla died later that year in childbirth, along with the infant. Wyatt got into a serious quarrel with her brothers, left town and drifted into Kansas.7
In May, 1871, Wyatt Earp was arrested and charged with larceny—horse stealing in the Indian Nation—he skipped bail and was never tried.8 From 1871—75 he tried buffalo hunting in Kansas and roamed around various towns in that state, and during this time met Bat Masterson. In 1875 he was appointed city policeman of Wichita ($60 a month), but on April 19, 1876, he was dismissed from the position and his final salary was withheld until 'all collected fines are submitted.'9
On May 16, 1876, he was hired as assistant marshal of Dodge City, Kansas at a salary of $100 a month and $2.50 per arrest.10
Ever restless, in 1878 he went to Texas to check out ranching possibilities. While in Fort Griffin, Texas, Earp met John Henry "Doc" Holliday and "Big Nose" Kate (Doc's companion) for the first time. When Wyatt Earp returned to Dodge City in 1878, after learning that Marshal Ed Masterson had been killed, he was accompanied by Celila Ann "Mattie" Blaylock,11 a friend of "Big Nose" Kate. No marriage record has been found for Wyatt and "Mattie," leading to speculation that she was his common-law wife—a not uncommon occurrence in the West at that time. Wyatt was appointed assistant marshal of Dodge City again. However, his stay was brief—he left Dodge City for good in June of 1879, along with Mattie and Doc Holliday. They, and some of Wyatt's brothers, all eventually wound up in Tombstone, Arizona.12 The gunfight at OK Corral, which made the name of Earp famous in Western lore, took place Oct. 26, 1881. It was in Tombstone that Wyatt met Josephine "Sadie" Marcus, a theatrical performer for whom he abandoned Mattie Blaylock. Mattie committed suicide July 17, 1888 in Pinal County, Arizona, and her belongings were shipped to Mrs. Sarah Blaylock (her sister) in Fairfax, Linn County, Iowa.13
Wyatt and Josephine spent their lives traveling, gambling, mining and living the "sporting" life. Whether they were legally married is open to speculation.14 They lived in Idaho, California, Alaska and Nevada. In 1900 they were enumerated on a ship in Nome, Alaska. In 1910 and 1920 they were living in Los Angeles. Wyatt died in 192915—Josephine in 1944.16
Allie Earp, the widow of Virgil, outlived them all and told her versions of their adventures in The Earp Brothers of Tombstone.17
No marriage record has been found for Allie and Virgil either, and it is assumed she was his common-law wife, particularly since evidently she did not apply for his Civil War pension after his death. Virgil Earp's first wife was Magdalena C. 'Ellen' Rysdam. They supposedly were married in 1860 at Oskaloosa, Mahaska County, Iowa.18 The young couple—Virgil was about 17 and Ellen was 16—eloped. Ellen's father and Nicholas Earp (Virgil's dad) were furious with them, managed to scare the young couple half to death and supposedly had the marriage annulled, though this has not been proven. Virgil then ran off and enlisted in the Union Army to fight in the Civil War and Ellen's father took the family to Oregon, later telling Ellen that Virgil had been killed in the war. Virgil was told that Ellen had died. But, in the meanwhile Ellen had Virgil's child—a daughter, named Nellie Jane, who eventually made contact with her father after reading newspaper accounts of his escapades in Tombstone, Ariz.
Virgil Earp married secondly Rosella Dragoo in 1870 in Lamar, Barton County, Mo.19—a fact evidently his third wife, Allie, did not know. What happened to her is one of the mysteries yet to be solved for this family history. He met his last wife, Alvira Packingham "Allie" Sullivan#151;an orphan of Irish immigrants—in Council Bluffs, Iowa, about 1874. She died 14 Nov. 1947 in California. Allie's brief obituary appeared in the New York Times on Tuesday, Nov. 18, 1947, noting she was 98 years old. The gateway ancestor of the renowned Earp family is said to be a Scots-Irishman named Thomas Earp Jr., who was born 1656 in Ireland and came to America before 1680. According to Jean Whitten Edwards, compiler of the Earp Family Genealogy,20 Thomas Earp Jr. probably came to this country—like many of our Ancestors—as an indentured servant.
Earp is not an Irish surname. A British surname expert lists only one reference for it spelled Erpe in 1561—and claims its origins are unknown. However, American sources note that references to Earp can be found under the spelling of Harp. Being aware of the British's propensity to drop their "H's," genealogists must consider this possibility when researching a surname beginning with a vowel. Wyatt Earp's great-great-grandfather appears on a 1776 Maryland enumeration as William Harp.21 William Earp, born 1729 in Maryland, along with three of his sons&151;Philip, Joshua, and Josiah—participated in the Revolutionary War. William's wife was Priscilla Nichols. William was the son of Joshua Earp and Mary Budd. Joshua Earp, born ca 1705, died ca 1760 in Fairfax County, Virginia was the son of John Earp and Rebecca [—?—]. John Earp, born 1680 in Maryland, was the son of the gateway ancestor.
Philip Earp, a son of William Earp and Priscilla Nichols, was born in 1755 in Frederick County, Md., and was a great-grandfather of Wyatt Earp. Philip Earp died in Caswell County, North Carolina in 1810—he was the father of Walter Earp (1787—1853). Walter Earp was a teacher, lawyer, judge of Illinois Circuit Court, justice of the peace and a licensed preacher in the Methodist Episcopal Church. In 1808 he married Martha Ann Early in Pittsylvania County, Virginia. They removed first to Tennessee and then in 1813 to Kentucky, living in Logan, Butler and Ohio counties. In 1847 they made a final move to Warren County, Illinois. Nicholas Porter Earp was the third child and second son of Walter Earp and Martha Ann Early, and father of the famed Tombstone Earp brothers.
Nicholas Earp was almost as colorful as his well-known sons and just as restless. As a deputy sheriff of Warren County, Illinois, he established a precedent for fearless efficiency which might well have motivated his sons. Nicholas was involved in the Black Hawk War of 1831, was a sergeant in the Mexican War, and during the Civil War served the Union army in Iowa as a provost marshal for recruiting. Born in Lincoln County, North Carolina in 1813, Nicholas grew up in Ohio County, Kentucky, where he married first Abigail Storm in 1836. By her he had a son, Newton Jasper, and a daughter, Mariah Ann. Abigail and the baby girl died, and in 1840 Nicholas married Virginia Ann Cooksey. They had five sons and three daughters.
Of their eight children — James Cooksey, Virgil Walter, Martha Elizabeth, Wyatt Berry Stapp, Morgan S., Baxter Morgan, Virginia A., and Adelia Douglas—only three, perhaps only two,22 of them had children. Virgil had a daughter by his first wife, Magdalena C. "Ellen" Rysdam; and Adelia married William Thomas Edward and had a son and daughter. Two were killed—Morgan and Warren—and two daughters, Martha and Virginia, died in childhood.
This preliminary search clears up a few discrepancies in the Western Earp's saga, but it also throws glaring lights on some of the family skeletons. Additionally, it raises nagging questions pertaining to the conflicting versions of the family's history. And, like most genealogies, it has some holes.
NOTES AND REFERENCES