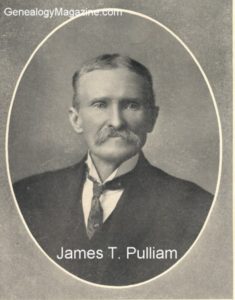 CAPTAIN JAMES T. PULLIAM, well known in real estate circles of Fort Worth, has been identified with Tarrant county and Northwest Texas more than a quarter of a century. During a lifetime of more than three score and ten years he has experienced the variety of a career of self-achievement and well merited success, and is esteemed as one of the leading citizens of the twentieth century city of Fort Worth, with those later development he has had much to do of a beneficial character.
Born in Franklin county, Georgia, November 28, 1834, on a farm where his father, Benjamin S., and his mother, Eleanor (Turman), then lived, he was taken, in 1837, to their new home in Chickasaw county, Mississippi, near Houston, where the father kept an inn for a year. At their home, thus opened to the public, were entertained during that period many prominent men of that day, among them as now recalled being W. S. Featherstone, a member of Congress and later a general in the Confederate army.
It was at Houston, Mississippi, that the son James received his first school privileges, and among other interesting reminiscences of his youth he recalls how he was dressed for school in the white bonnet and dress also worn by the girls, this method of appareling the schoolboys being in vogue in that part of the country at that time. And all this clothing was of course homespun by his mother. While attending school and for some years afterward, until he was twenty-three years old, he lived at home on the farm. From 1857 to 1860 he was engaged in the mercantile business in Houston, and in the latter year moved to Egypt on the Mobile and Ohio Railroad, but still in Chickasaw county, where besides conducting a general merchandise business he was also postmaster. January 14, 1861, this career came to an end by his enlisting in Company H, Eleventh Mississippi Infantry, of the Confederate army. After twelve months' service, during which he was in Virginia, in the Harper's Ferry campaign under Joseph E. Johnston, and turned home in 1862, selling out his stock of merchandise, re-enlisted, this time in Company C, Thirty-first Mississippi. This time he went in for three years, and remained till the close of the war, being discharged May 11, 1865, at Meridian, Mississippi. Courageous and efficient service brought him advancement, and when he finally returned home it was with the rank of captain. He had participated in many important battles, being at Shiloh, and at Flat Woods every man in his company was either killed or wounded, he being at that time third lieutenant. He was also wounded at the battle of Peach Tree Creek, Georgia, July 20, 1864. Despite such a long and arduous service he was never sick a day nor absent without leave. Besides the incidents and dangers of the regular service he on three different occasions volunteered for special duty, which led him into perilous skirmishes and he was wounded each time.
War time over, he returned to Egypt to find his home and store to have been destroyed in the General Smith raid, band he was one of the brave sons of the south who were compelled to begin all over again to build up the structure of personal success, and it is to his everlasting credit that prosperity has in later years rewarded his efforts and that he can enjoy it notwithstanding early misfortunes. On January 25, 1866, he married Miss Eliza Ann Ware, who was born in South Carolina, October 22, 1844, and who died in 1894. She was the beloved mother of family of ten, all but two of whom are living; namely, Thomas M., James E., Theodore C., Benjamin O., Lenora Y., Emma L., Frank L., Joseph T., and Williamson L. and Mary L., both deceased.
After conducting his business at Egypt for three years he took up his residence at the home of his boyhood, and was engaged in farming there seventeen years, until 1879. Altogether he lived forty-two years in Chickasaw county. When he came to this state in 1879 he settled on a farm near Azle in Tarrant county, and for seventeen years was known as one of the most successful and enterprising of the farmers in that fertile section. His removal to Fort Worth was made in order that he might the better educate his children, and since taking up his home in the city, he was engaged in the real estate business.
In public affairs Captain Pulliam's most important service for the welfare of his fellowmen was performed during this term as county commissioner of Tarrant, in 1877—78, when he justly earned the title of father of the good roads system in the county. He was one of the first to bring into practical success the employment of the county criminals in road building, and the results of the movement thus inaugurated are regarded as one of the great achievements in the progress of Tarrant county, and are ground for no ordinary gratulation on the part of Captain Pulliam and his friends. In religion the Captain is a member of the Missionary Baptist denomination.
Source: B. B. Paddock, History and Biographical Record of North and West Texas (Chicago: Lewis Publishing Co., 1906), Vol. II, p. 135.