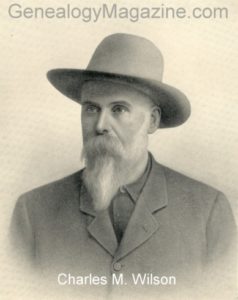 Although in more recent years Texas has become imbued with business activity in every line, for a long period the state found its chief source of living in its stock-raising interests and today its broad prairies and plains still offer splendid opportunity to the cattle raiser. A representative of this class of business men is found in Charles M. Wilson of El Paso. He was born in Girard county, Kentucky, a son of Samuel and Elizabeth Wilson, the former a native of North Carolina and the latter of Tennessee. In the early boyhood of their son Charles they removed to Salem, Illinois, where they spent their remaining days.
Mr. Wilson of this review was reared upon a farm near Salem and acquired his education in the public schools there. Immediately after the breaking out of the Civil war he responded to the call for troops, for he had watched the progress of events in the south, had noted the threatening attitude of certain southern states and had resolved that if a blow was struck he would stand by the Union and fight manfully in its defense. He enlisted April 7, 1861, becoming a member of Company G, Twenty-second Illinois Infantry, commanded by Colonel Dougherty, of Carlisle, Illinois. The regiment went to Bird's Point, Missouri, thence to Island No. 10 and participated in the battle there under General Grant. With his command the proceeded to Fort Donelson and afterward took part in the battle of Shiloh, subsequent to which time Mr. Wilson was engaged in the battles of Corinth, Big Springs and Florence, Alabama. He then went to Nashville, Tennessee, where the army encamped during the winter of 1862-3 and in the spring of the latter year he went to Murfreesboro with his regiment and took part in the fierce engagement there known in the south as the battle of Stone River. Later he was a participant in the engagements at Tulahoma, Lookout Mountain, Missionary Ridge, Chattanooga, the siege and battle of Atlanta and afterward went with General Sherman on the celebrated march to the sea, being mustered out at Springfield as sergeant of his company on the 5th of July, 1865. He was a brave and loyal soldier, never faltering in the performance of any duty or in his allegiance to the old flag.
When the war was over Mr. Wilson returned to his home at Salem and soon thereafter went to Atchison, Kansas, where with a company he joined the "bull train" of Stebbins & Porter for the overland trip across the plains to California. They were a little over a year making this trip, starting from Atchison in October, 1865. At length they arrived in San Francisco but Mr. Wilson remained there only a short time, after which he took passage on a steamer for New Orleans, arriving there in the latter part of 1866. He next traveled northward and after being in St. Louis, Missouri, for some time he came to Texas in 1870 by way of Baxter Springs, Kansas, Fort Gibson, Indian Territory, Sherman, Jacksboro and Fort Griffin, Texas, to the Concho river country in what is now Tom Green county. He located at Fort Concho near where the little town of Ben Ficklin, later destroyed by a flood, was just being started. There he arrived in September, 1870, in which month he went to work as a driver on the stage line of Sawyer & Ficklin, driving a stage to the head of the Concho. It was not long after this that he located at Fort Davis still farther west in what is now Jeff Davis county, and in 1871 he took up his abode at Fort Quitman. He drove a stage for nearly three years, after which, in 1873 and during a part of 1874, he was deputy collector of customs at Presidio del Norte under Collector Colwell of El Paso. His subsequent step in the business world was as a cattle dealer. He furnished beef under contract to the military offices at Fort Hancock and Fort Quitman and filled such contracts for about fifteen years. He has continued steadily in the cattle business to the present time, owning and operating in El Paso county, which is regarded as one of the best places in the valley. Since 1902 he has made his home in the city of El Paso, operating his ranch from this point. He annually makes large sales of cattle, his business returning him an excellent income.
Mr. Wilson recalls associations with many of the men who in later days became prominent in public life and who during his youth were residents of Salem, Illinois. His brother-in-law, J. M. Martin, is president of the First National Bank of Salem. Since coming to the frontier of Texas Mr. Wilson has enjoyed pleasant relations with many of the well known army officers who have been stationed at the forts in western Texas. He was married in El Paso county to Miss Rosa Cassares, and they have a family of twelve children.
Mr. Wilson was presiding officer of elections at Fort Hancock for ten or twelve years and was also deputy for six years under Sheriff James H. White and for a similar period under Sheriff B. F. Simmons. He has a wide and favorable acquaintance with men and events which shape the history of this part of the country and his mind bears the impress of the historic annals of Texas as it has emerged from pioneer conditions to take on all the advantages and improvements known to the older and longer settled east.
Source: B. B. Paddock, History and Biographical Record of North and West Texas (Chicago: Lewis Publishing Co., 1906), Vol. I, pp. 487.