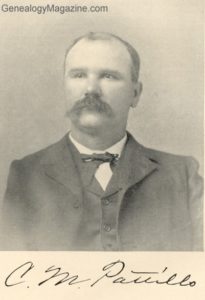 CHARLES MILTON PATTILLO, president of the C. M. Pattillo Hardware Company of Stamford, vice president of the Citizens National Bank and president of the board of school trustees, is a citizen whose value and worth are greatly appreciated and whose labors have been an effective element in the substantial improvement and progress of the locality in which he makes his home. His life record began at West Point, Georgia, on the 27th of June, 1857. His father, Dr. Charles T. Pattillo, was a practicing physician who followed his profession throughout his entire life. He was also a native of Georgia, born at West Point, and in early manhood he married Miss Mattie Ward, whose birth occurred in Salem, Alabama, where they were married. They resided at West Point from the time of their marriage until called from this life. They lived on a farm near the town until the time of the Civil war and after the close of hostilities took up their abode within the city limits, where the doctor continued to practice his profession until his life's labors were ended, in March, 1901, when he was sixty-eight years of age. He served as a surgeon in the Confederate army throughout the entire war. His wife passed away about a year previous to his death when sixty-four years of age. They had six children, three sons and three daughters, all of whom reached years of maturity, but one son and one daughter have now passed away.
Charles Milton Pattillo, the second in order of birth, was reared upon his father's farm until twelve years of age, when the family took up their abode in the city of West Point. He had the advantages afforded by the common schools and for four years he also attended the West Point Male Academy. Subsequently he entered upon his business career as a clerk at West Point, being thus employed for two years or until eighteen years of age. He afterward went to Salem, Alabama, where he engaged in farming for two years and while residing there was married on the 4th of December, 1877, to Miss Mattie Brewington, a daughter of William J. Brewington, now a resident of Stamford.
After devoting two years to agricultural pursuits Mr. Pattillo turned his attention to the grocery business in Salem, Alabama, where he continued until the fall of 1880. In the winter of that year he and his wife, accompanied by the Brewington family, came to Texas, arriving at Calvert, Robertson county, on the 24th of December of that year. There Mr. Pattillo was employed as a clerk for a short time in a mercantile store, after which he became connected with the lumber business as an employe [sic] of S. S. Whittemore. Mr. Whittemore died a few months later, and Mr. Pattillo then conducted the business for Mr. Whittemore's widow for two years, at the end of which time it was sold to Siddall Carroll & Company, with which firm Mr. Pattillo was connected for about four years. On the expiration of that period he removed to Valley Mills, Bosque county, where he purchased a lumber yard and engaged in the business for himself for six years, from 1886 until 1892. In that year he removed to Hico, Hamilton county, where he conducted a lumber yard for five or six years, when he sold his business and bought a stock of hardware, the time spent there covering ten years. The town of Stamford, having recently been established, was becoming a thriving and prosperous place attracting wide attention. Mr. Pattillo on selling his business interests at Hico removed to Stamford and opened a hardware store, which has proved a profitable financial venture, Stamford being the center of a large area of business trade extending into the surrounding country for many miles. In the spring of 1905 the hardware business was incorporated under the firm name of C. M. Pattillo Hardware Company, capitalized at twenty thousand dollars, with C. M. Pattillo as president and general manager. He is also the vice president of the Citizens National Bank of Stamford, which was organized on the 28th of February, 1905, and opened its doors for business on the 17th of March.
Mr. and Mrs. Pattillo have a family of six children, three sons and three daughters: Mary L., the wife of S. B. Tadlock, a member of the C. M. Pattillo Hardware Company and its vice president; Milton, who is secretary of and bookkeeper for the company; Kate S.; Gary L.; Thomas B.; and Mattie, the last named being so called for her mother and her grandmother.
Mr. Pattillo has been prominent and influential in community affairs and is especially interested in the cause of education. He has been a member of the school board for twelve years, covering the period of his residence in Valley Mills and in Stamford. He was also a member of the board of aldermen while residing in Hico and is now president of the board of school trustees of Stamford. Fraternally a Royal Arch Mason, be belongs to Stamford lodge and is in hearty sympathy with the teachings and tenets of the craft. He holds membership in the Methodist church, with which he became identified in his boyhood days and has been a Sunday school superintendent since 1887. He has always taken an active part in all matters pertaining to religious work and his efforts in this direction have been very beneficial and helpful. Mr. Pattillo is one of the substantial business men of Stamford and the hardware firm of which he is a leading figure is well known throughout western Texas and has a remarkable trade, extending for many miles over this section of the state. His labors in behalf of public progress have also been recognized and appreciated by his fellow townsmen and he occupies an enviable position in the regard of his fellow men.
Source: B. B. Paddock, History and Biographical Record of North and West Texas (Chicago: Lewis Publishing Co., 1906), Vol. I, pp. 601-603.