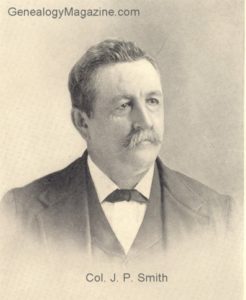 COL. J. PETER SMITH is probably best known to history for his connection with railroad building. His contributions to the various roads that centered at Fort Worth and gave this city its pre-eminence in North and West Texas were always generous and to the extent of his resources. When the Gulf, Colorado and Santa Fe bonus was raised to attract that line to Fort Worth, Col. Smith's name appears at the head of the list of subscribers, and that was only a sample of the liberality that marked his efforts for his upbuilding of his favorite city. A brief summary of his career is given elsewhere, and his name has been mentioned again and again in connection with the building of the railroads, and here it remains to describe some of the phases of his personal career.
He was born in Owen county, Kentucky, September 16, 1831, a son of Samuel and Polly (Bond) Smith, both Kentuckians by birth. His paternal and maternal ancestors were agriculturalists, slaveholders and well-to-do people. He himself was reared on a farm and after the death of his father and mother in 1844 went to live with his cousin W. H. Garrett, of Owen county, whom he selected as his guardian. His guardian kept him in the best schools of the neighborhood, and in 1849 entered him in Franklin College, Indiana, where he remained then months. In September, 1850, he went to Bethany College, Virginia, where he remained three years, Alexander Campbell being president of the college during this time. Sharing the first honors of his classes in ancient languages and mathematics, he graduated from Bethany with the class of 1853.
He left Kentucky in November, 1853, for Texas. In December he visited Fort Worth and was so fascinated with the beauty of the place and the surrounding country that he determined to make it his future home. In January, 1854, he obtained possession of the old post hospital and opened the first school taught in Fort Worth. After three months he closed the school on account of failing health. He needed outdoor employment, and turned his attention to surveying an occupation he pursued an intervals until the year 1860. While he was engaged in surveying he also read law with A. Y. Fowler in Fort Worth, and without attending any law school was admitted to the bar in 1860. He opposed secession, but in 1861 assisted in raising a company of one hundred and twenty men in Tarrant county, and with them was mustered into service at San Antonio, as Company K, 7th Texas Cavalry, Sibley's brigade, which served during the war in New Mexico, Arizona, and western Louisiana. He participated in the principal engagements of the army in western Louisiana, was at the recapture of Galveston from the Federal forces, January 1, 1863; was severely wounded June 23, 1863, near Donaldsville on the Lafourche, and slightly wounded at the battle of Mansfield. In 1864 he was promoted colonel of his regiment, which he disbanded in Navarro county, Texas, May 16, 1865. The regiment then numbered about six hundred men, well armed and equipped, and was on the march from Louisiana to Texas. In September, 1865, he returned to Fort Worth to resume the practice of law and dealing in real estate, and entered upon a remarkable career as a business man. In 1874 he became a partner in the banking house of Tidball, Van Zandt and Company, so well known during the seventies and eighties. He built and for a time owned the gas works in Fort Worth; was a principal stockholder in the El Paso Hotel Company, the El Paso House being the leading hotel of Northwest Texas for many years. He was interested in street railways, cotton compresses, and many other enterprises, and did more for North Texas in this direction than any other one man. In his death a few years ago, Fort Worth lost one of its greatest men, and his name belongs with those of Captain Daggett, K. M. Van Zandt and other leaders during the time when Fort Worth was building the foundations of its present greatness.
Source: B. B. Paddock, History and Biographical Record of North and West Texas (Chicago: Lewis Publishing Co., 1906), Vol. I, pp. 188-189.