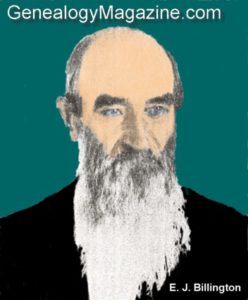 Every state in the Union has helped to people Texas, and usually the best citizens are contributed. This time it was Kentucky. Elder Billington was born in Bedford county, Tenn., Jan. 11, 1826, but moved with his parents to Ballard county, Ky., in 1830, where he grew up. In his eighteen year he was baptized into the Lovelaceville Baptist church by Elder Willis White. In 1847 Elder Billington was married to Miss Kittie Ann Rosco. They came to Texas in 1854 and settled in Limestone county. Here they found a sparsely settled population, many of them very kind and hospitable. There were some Baptists. The Trinity River Association had been organized six years, and was doing active work. Bro. Billington collected $25 and bought a log house in which to worship. He then rode 25 miles to get Elder W. J. Bowden to aid in the organization of Mt. Antioch church. Bro. Bowden lived near where the town of Groesbeck now stands. Bro. Billington was recognized as deacon of the church. He lived in the Mt. Antioch church 34 years. By this church he was ordained to the gospel ministry in 1862. In 1869 he organized a church on Christmas Creek, seven miles north of Horn Hill, and organized the Horn Hill church in a log school house, with 7 members. At one time he baptized 17 into this church. Among them the beloved Hon. L. L. Foster. In 1869 Bro. Billington was pastor of Clover Dale church (now Hubbard City), continuing two years. These were years of prosperity at Clover Dale. Bro. Billington lost his first wife March 30, 1864. This sad affliction made it necessary for him to give up three churches and remain at home with his six children.
On June 4, 1865, he was married to Mrs. Amanda A. Stokes, and on April 24, 1874, this lady died.
On Feb. 24, 1875, he married Miss Louisa Jane Polk. Three children are the result of this last marriage.
In the early days of Bro. Billington's ministry they had no fine houses. On one occasion he preached in a grove and the sun burned his scalp so badly that the skin peeled off. He fell asleep in Jesus Aug. 5, 1896. He knew his time had come and asked his children to sing, "We shall meet beyond the river," and "Death is only a dream." The town Billington perpetuates his memory.
Source: J. L. Walker and C. P. Lumpkin, History of the Waco Baptist Association of Texas (Waco: Byrne-Hill Printing House, 1897), pp. 239-241.