GenealogyMagazine with James Pylant
Episode # 2: Family Bible Records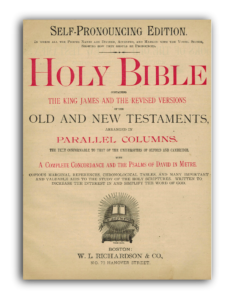 Begotten and Forgotten: Finding Long-Lost Family Bibles
Often what's written in a family Bible record is the only known document of an event such as birth, marriage, or death, but how reliable is that information? In GenealogyMagazine, Episode 2, learn how to evaluate data written in a family Bible record.
Tips for finding family Bible records online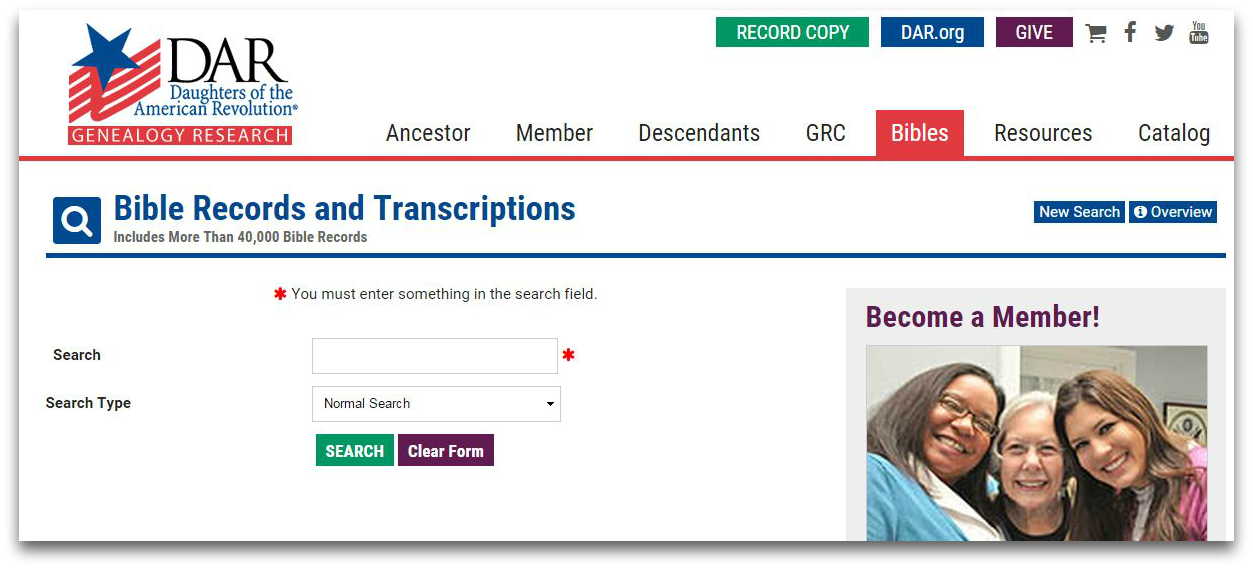 DAUGHTERS OF THE AMERICAN REVOLUTION BIBLE RECORDS AND TRANSCRIPTIONS
dar.org 
In 1913 the DAR's Genealogical Research Committee began collecting and transcribing unpublished historical sources, which included Family Bible records. Often these records appeared in the pages of the organization's DAR magazine. Now, more than 40,000 Family Bible records are searchable on the website. Search results give the surname, source, book title and description, and page number.

THE NGS BIBLE RECORDS COLLECTION
ngsgenealogy.org
The National Genealogical Society's collection of Family Bible records is being indexed and digitized. It's fully searchable, and most of the records have been scanned and are available for downloading as a PDF. You must be a member of the society to access this database.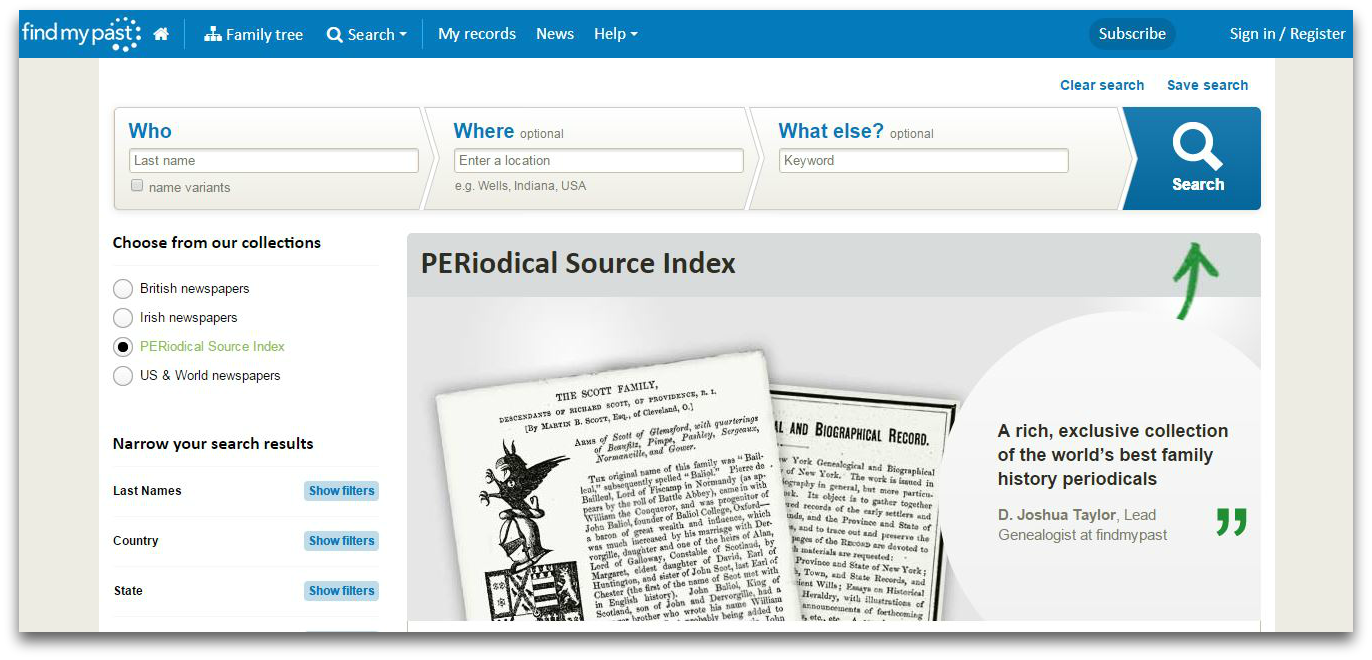 ALLEN COUNTY PUBLIC LIBRARY'S PERIODICAL SOURCE INDEX (PERSI)
http://search.findmypast.com/search/periodical-source-index
By arrangement with FindMyPast.com, this fully searchable master index to articles published in thousands of genealogical and historical periodicals, including abstracts of family Bible records. In fact, a search for the word "Bible" pops up more than 50,000 results. Images of some articles are linked with the search results, but you can also order copies from the Allen County Public Library's Genealogy Center. The search through the FindMyPast site is free, but a subscription is required to access the images.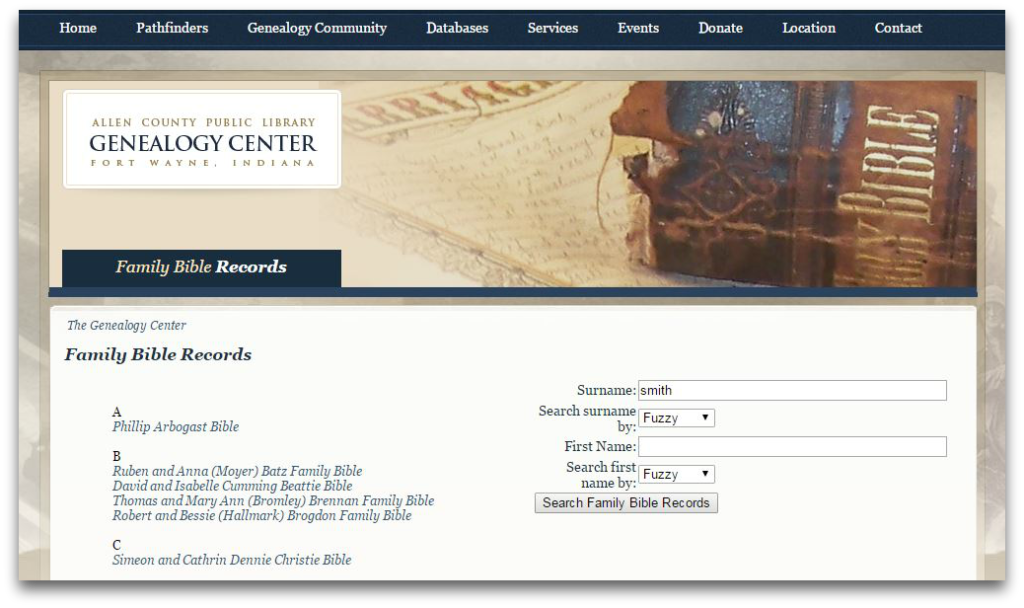 THE ALLEN COUNTY PUBLIC LIBRARY GENEALOGY CENTER
genealogycenter.info/bibles/
The Allen County Public Library, creator of PERSI, has published abstracts of family Bibles on its site, genealogycenter.info. While an alphabetical listed is found for each Bible, the site also has a search engine that indexed every name found in each record.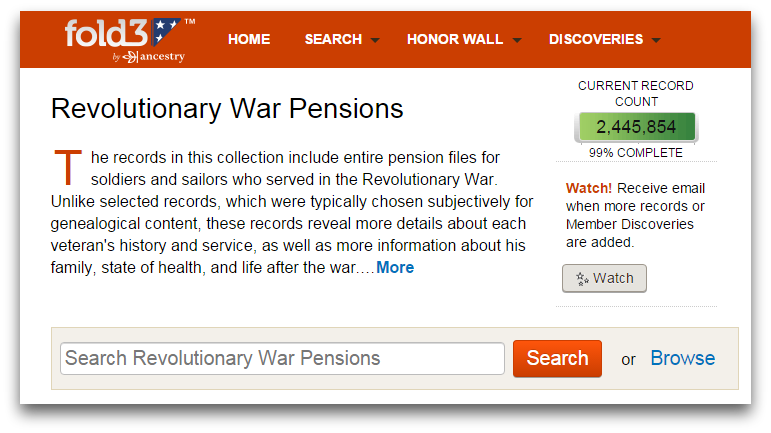 FOLD3 REVOLUTIONARY WAR PENSIONS
Fold3.com
Many Revolutionary War pension application files include a transcript of the family Bible or even the actual pages, which were removed from the Bible. These were submitted with the pension application to prove a widow's marriage to the veteran. Alternatively, you can search the same records on Fold3.com's sister site, ancestry.com. Better yet, Dr. Debbie Duay compiled an extremely useful step-saver that's available on the site learnwebskills.com/patriot/biblerecords.htm, which lists each of the applications that contain family Bible records.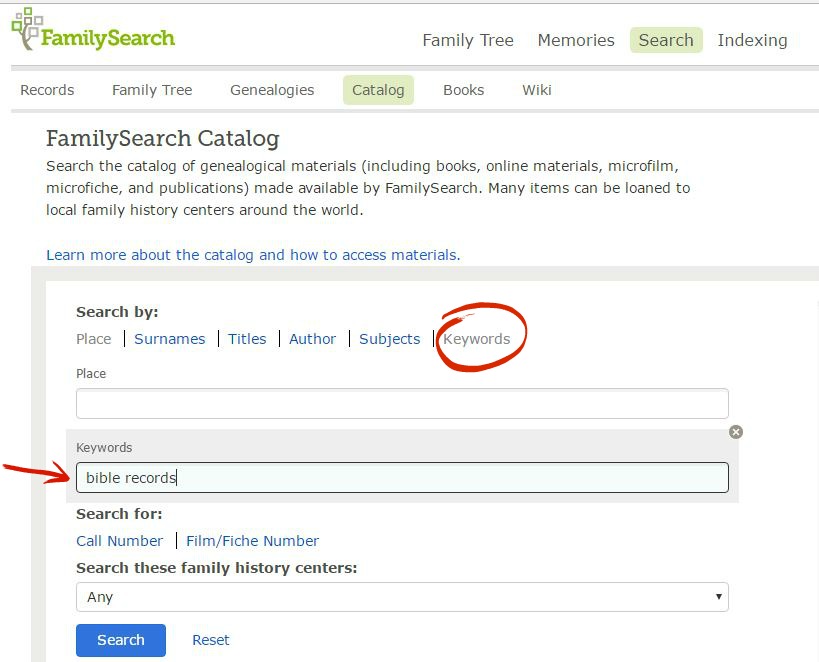 FAMILYSEARCH CATALOG
www.familysearch.org/catalog/search
By entering "family bible" as a search term in the FamilySearch catalog, you'll receive more than 11,000 results. Try narrowing that search by adding a surname or place.